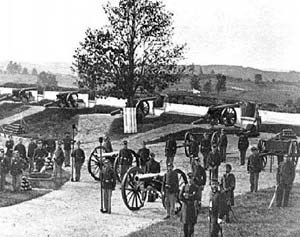 Fieldwork has recently been completed for the third year of a four-year archeological survey and inventory of Rock Creek Park in Washington, DC, funded by the NPS, National Capital Region (NCR). The finds to date include a series of extraordinarily rich Native American camp sites used repeatedly between 2500 BC and AD 1400, colonial tenancies, nineteenth-century dwellings, and Civil War military artifacts from the Battle of Fort Stevens in 1864. Documentary research has uncovered many interesting details about the history of the park, and many of the archeological sites can be associated with known historical characters, from John Carroll of Annapolis to African-American tenants of the
1890s. The story of the park is long and fascinating, and this study is helping to bring it to light.


The Rock Creek Park Archeological Survey
Rock Creek Park is a 1755-acre wooded oasis in the heart of Washington, DC. Besides the main block of land along Rock Creek, the park includes numerous parcels scattered across northwest Washington which total an additional thousand acres. Before the park was established in the 1890s this land had been inhabited for thousands of years, and dozens of people still lived there. An archeological survey of the park has been underway since 2003 and should be completed in 2007. The project has been funded through the NPS Systemwide Archeological Inventory Program, and the work is being conducted by The Louis Berger Group.