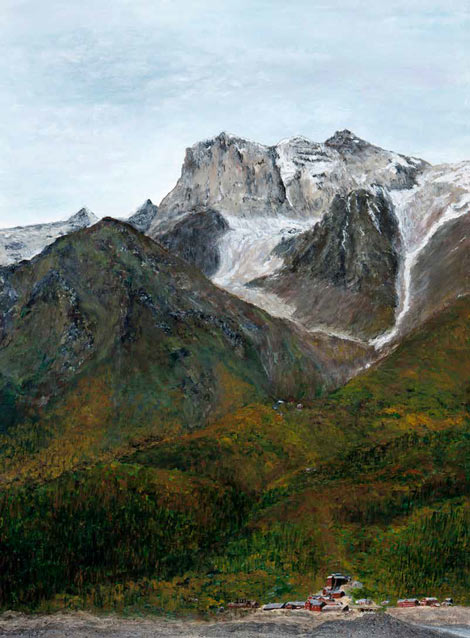 This issue of Alaska Park Science covers a lot of ground: land status, mining history, natural and cultural resource protection, reclamation, and hazard abatement. Our articles are drawn from Alaska where mining and oil extraction are generally separate activities, and Canada where oil sand operations involve both. There's no denying that energy and mineral extraction have been and will continue to
be important across the North for a long time. Mining and energy-related industries provide direct and indirect employment for thousands of people, taxes and other revenues that support governments, and supplemental income for Alaska's residents through the Permanent Fund Dividend. Small-scale mining, mineral collecting, mining lore, and history are also popular activities.
The National Park System has a long and varied history with mining and energy development.  Many parks contain prehistoric evidence of mining and quarrying activities, traditional practices that remain important today for many cultures. Stephen Mather, the first director of the National Park Service (NPS), earned a fortune in mining "20-Mule Team Borax" before redirecting his efforts
to building the National Park System. Today, there are existing mining claims in NPS areas across the country, and oil and gas extraction activities in 13 areas. Although staking of new mining claims is no longer allowed in parks, NPS recognizes existing claims and honors the ingenuity and determination of countless miners, processors, transporters, and the communities they helped to build, through historic preservation and interpretation (Beckstead 2005; Kain and Brease 2006; and Ringsmuth 2011).
Personally, I've been intrigued by mines and mining since childhood, when I searched for crystals around an abandoned colonial-era mine near home. My university coursework in geology, a career in natural and human ecology, and countless visits to mining and energy-related sites helped me to understand that responsible resource development depends upon information gleaned from many fields of study. I'm also old enough to remember when unprofitable mining and drilling sites were sometimes shut down or even abandoned with scant attention to long-term safety hazards, contaminants, and off-site resource damage from mine drainage. Some old mine sites have been reclaimed, restored, and even repurposed as parks and recreational sites (Figure 1), while others became eyesores, environmental and safety hazards, economic liabilities, or "all of the above."
Figure 1. Three Mines Below Castle Mountain. This painting by the author shows the Kennecott Mill complex and mine-related structures on the mountains and glaciers overhead. Kennecott is a popular tourist destination within Wrangell-St. Elias National Park and Preserve and is our best remaining example of early 20th-century copper mining. Nearly $200 million worth of copper was removed from these mountains between 1911 and 1938, employing up to 500-600 people in the McCarthy, Alaska, area during peak operations.