Dark Sky Defender Leaves Legacy of Stars
When night descends on the Colorado Plateau, it gets dark. Really dark. Encompassing 130,000 square miles across the states of Arizona, Colorado, New Mexico, and Utah, the plateau is considered to be one of the darkest places in the country. Sparsely populated and home to 27 National Park Service units, it is a refuge for wildlife, and a haven for stargazers. National Park Service science technician Nate Ament has worked hard to keep it that way, and his efforts have not gone unnoticed.


In March 2017 the International Dark Sky Association (IDA), a worldwide leader in combating light pollution, recognized Ament with a 2016 Dark Sky Defender Award for his leadership in protecting night sky viewsheds. From 2013 to 2016 Ament served as the NPS coordinator of the Colorado Plateau Dark Sky Cooperative, an association established to be a model of dark night protection for lands both inside and outside protected park boundaries. The NPS is among the contributors to the effort. The NPS mission includes night skies as a resource and value worth preserving—protection that matters in an era when light pollution is increasing.
Engaging parks, communities, schools, citizens and partners, Ament put mission into action by:
raising awareness around the ecological value of night skies and the impacts of light pollution
organizing night sky programs, presentations and conferences
training guides and outfitters to lead night sky-related trips
collecting data on night sky conditions and lighting in parks and communities
introducing sustainable lighting solutions to reduce and eliminate unneeded light.
His outreach extended to city planners and officials at all levels of local government, school teachers and students, astronomers, neighborhood representatives, scientists, park visitors, rangers and managers, lighting engineers, industry leaders, and citizens from diverse backgrounds.
"Nate's grassroots involvement brought a lot of people to the table who otherwise might not have been on board with night sky issues," said Bob Meadows, an NPS scientist with the Natural Sounds and Night Skies Division. "I have worked with Nate in the field in different capacities, from evaluating outdoor lighting and taking sky quality measurements to engaging land managers, and always believed that the NPS was fortunate to have him as our representative in this cooperative effort."
Ament's contributions have made a meaningful difference for night skies and nocturnal habitat. And he has inspired countless people to embrace the night skies cause and promote its protection.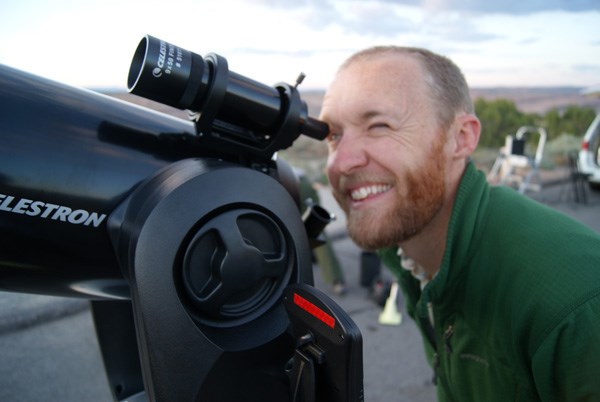 "I am grateful for being at the forefront of these efforts, but my accomplishments were completely a result of the collective work of many partners, including the NPS Natural Sounds and Night Skies Division, the NPS Intermountain Region, parks, and IDA. All of these groups gave me a leg up in carrying out the work. I learned so much and am proud to have been a part of this mission."



Ament currently works for Arches National Park as a backcountry ranger/biological science technician. He continues to enjoy hiking remote desert terrain both alone and with friends, "especially at night, where you can see some of the darkest skies you have ever seen in your life, with no trace of light pollution," he said.
Learn more:
Article by Julie West, communications specialist with the NPS Natural Sounds and Night Skies Division
Last updated: January 9, 2018