Article
Essay 17: AAPI Political Mobilization and Participation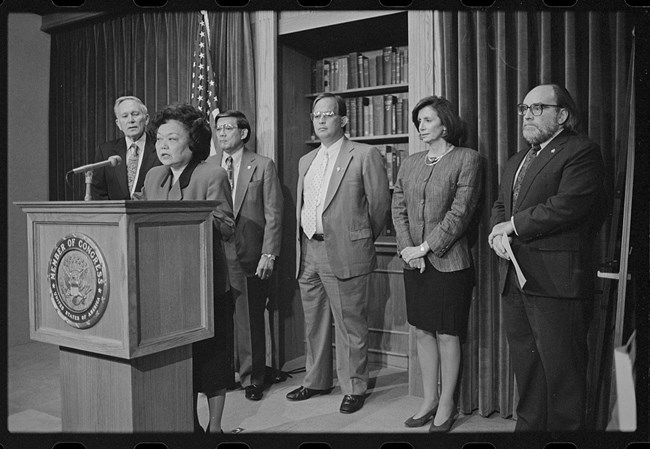 By
Kim Geron
, California State University, East Bay
This essay focuses on the emergence and participation of Asian American and Pacific Islanders in the US political landscape. Chinese immigrants arrived in the US as low wage workers with limited knowledge of the nation they were entering and found they were denied virtually all political rights. As part of this political assault, in 1882 Chinese laborers were singled out for immigration exclusion, as they were viewed as an economic threat by white working people and the larger society that viewed them as unassimilable to US values. However, despite being marginalized by discriminatory laws, Chinese Americans and, later, other Asian immigrants were undeterred and engaged in ethnic group political activities, sought civil rights guaranteed by the US Constitution, and some second-generation Asian Americans began to vote and participate in traditional political activities by the 1930s. World War II was a watershed for Asian Americans politically, as for the second time in the US an Asian ethnic group was singled out for the denial of civil rights. This time it was Japanese Americans, who were forced to leave their homes and farms on the west coast, including Hawai'i, interned in isolated camps with few political rights, and guarded by the military throughout the war. During this same period, the US government eliminated the exclusion of Chinese American labor as part of its war efforts against Japan, with no apology or acknowledgement of the harm it caused.
Asian Americans emerged from World War II politically marginalized in communities isolated from the larger society. Yet in a single generation, many Asian Americans moved from the margins to political activism...
Read more >>
(.pdf 2.8MB)
The views and conclusions contained in the essays are those of the authors and should not be interpreted as representing the opinions or policies of the U.S. Government. Mention of trade names or commercial products does not constitute their endorsement by the U.S. Government.
Last updated: May 24, 2018