The 35 acre landscape of McCarthy Creek Airstrip was significant to the development of aviation and air travel in the eastern region of Alaska. It played a vital role in the development of the Chitina and Copper River Valley by serving as a focal point for initial flights. Built in 1929 by the Alaska Road Commission, McCarthy Creek Airstrip became one of the first taxiways in the isolated region. Features of the historic district include the airstrip, hangar, and Mudhole Smith cabin.
A trip from Cordova or Valdez to the Chitina River Valley could take days by train or even weeks by dogsled or packhorse. With the establishment of the McCarthy Creek Airstrip, it took only hours. Samson Ferreira, McCarthy Airstrip: Cultural Landscape Inventory, NPS, 2011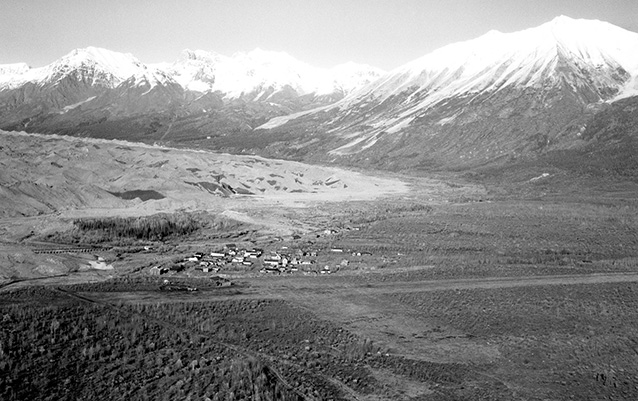 The 1938 closure of the Kennecott mines led to the discontinuation of the rail service in the region. With the closure of the Copper River & Northwestern Railway, travel to eastern Alaska was severely hampered and air travel became a crucial mode of conveyance. The McCarthy Creek Airstrip played an indispensable role in supplying the residents of the region. In addition, reliable transportation and mail service was finally available after its construction. Locals could access regular flight schedules for the first time, revolutionizing freight and passenger transportation.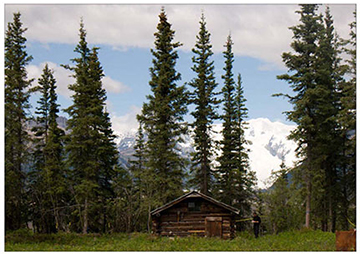 The airstrip was utilized regularly by many of the pioneer aviators of Alaska, such as Bob Reeve, Harold Gillum, Merle 'Mudhole' Smith, and M.D. Kirkpatrick. Passenger flight travel afforded by the airstrip allowed Ernest Gruening and Bradford Washburn, significant figures of territory's history, to explore the eastern region of Alaska.
The airstrip also played a significant role in the logistical operations for many of the regional mines. The Bremner Mining Company had acquired the title to the airstrip for a period of time in the early 1930s. Merle Smith's repeated trips to the Bremner district had earned him the nickname 'Mudhole'.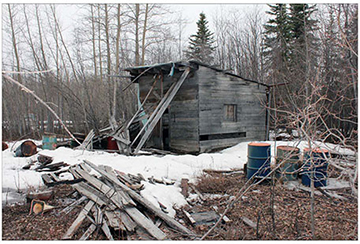 McCarthy Creek Airstrip was used as a transportation hub for eastern Alaska until a larger airstrip was built in McCarthy in 1965, at which point the historic airstrip fell into disuse. In its lifetime, the historic airstrip maintained an important link between the region and the port cities of Valdez and Cordova, and supplied local mines and miners with reliable transportation, mail, and supplies. After WW II, it served as a hub for tourist activity, preventing McCarthy from collapsing into a ghost town.
Today, McCarthy Creek Airstrip maintains the integrity of location, design, setting, and feeling associated with the Alaskan frontier. The airstrip's small scale and grass landing presents a window into air travel at its infancy. In addition, the landscape provides the region and the Park with a unique opportunity to interpret a unique piece of aviation history.
Quick Facts
Cultural Landscape Type: Vernacular
National Register Significance Level: Local
National Register Significance Criteria: A
World Heritage Site

Period of Significance: 1929-1965
Landscape Links
Last updated: October 12, 2016