Cold Springs Campground is located in the central eastern section of the Platt National Park National Historic Landmark District, approximately one half mile east of the intersection of the Perimeter Road and Hwy 177 in Chickasaw National Recreation Area, Oklahoma. The 22-acre cultural landscape is a popular camping area.
The original workmanship on the buildings and small scale features in this landscape was skilled and meticulous, particularly in the realm of stone masonry. Cultural Landscapes Program, NPS, 2016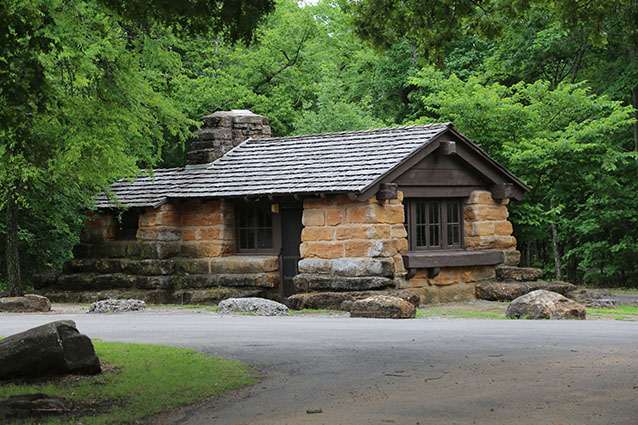 In addition to the campground itself, the landscape area also includes sections of the Perimeter Road, Travertine Creek, and the trail running between Pavilion Springs and Buffalo/Antelope Springs. 

Currently, the Cold Springs Campground area has 65 public campsites along its oblong, almost symmetrical layout. Designed and built in the 1930s, the campground features several Rustic style features built by the Civilian Conservation Corps (CCC). Within the campground are two comfort stations and a checking station from the 1930s, as well as a pre-1930s "Community House." Small scale features include stone-walled trash can enclosures, which also date to the CCC-era design.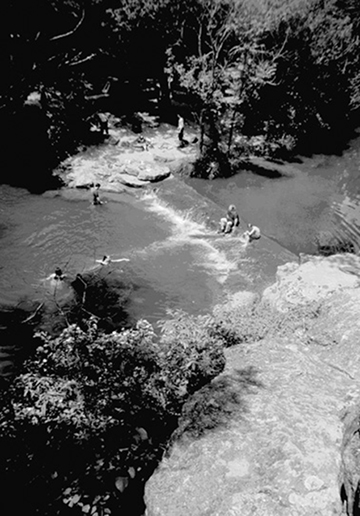 Cold Springs Campground is significant for its location within the former Platt National Park (a National Historic Landmark District), which is now part of Chickasaw National Recreation Area. The district is important for its association with the development of national park landscapes completed during the Great Depression and funded as part of Franklin Delano Roosevelt's "New Deal" programs. 

The area also embodies the characteristics of the type, period, and methods of construction typical of the rustic style of park design developed by the National Park Service in the years between World War I and World War II (1916-1942) under the leadership of Thomas Vint. In general terms, Rustic park design limited development to preserve natural scenery, and buildings and structures were designed in harmony with the natural landscape. This meant using hand craftsmanship, local architectural styles and natural materials such as stone, wood, and native plants in the design of each park structure or element.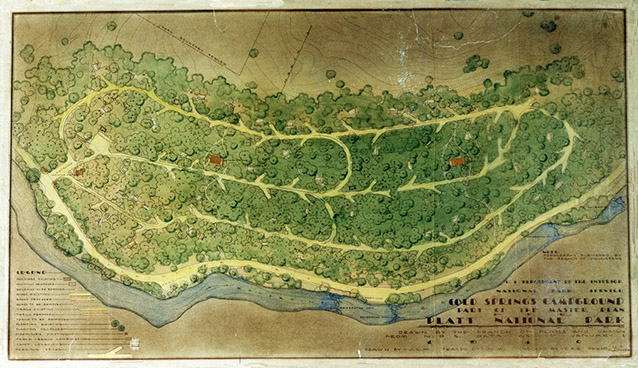 As part of the larger district, the Cold Springs Campground exemplifies all of these aspects of National Park Service development, planning, and design. Though used by visitors from as early as 1913, the majority of the extant campground elements were constructed between 1935 and 1938 by CCC crews working under the direction of NPS landscape architects. 

In its site planning, architectural style, landscape architectural design, and small scale features, the Cold Springs Campground explicitly reflects the NPS principles of Rustic design and construction, in both overall layout and design of the campground and camping sites and in the design of buildings and features. A particularly notable example of this Rustic design is the checking station, which is made of local stone and wood to blend into its surroundings in color, scale, and appearance.
Quick Facts
Cultural Landscape Type: Designed
National Register Significance Level: National
National Register Significance Criteria: A,C
National Historic Landmark
Period of Significance: 1933-1940
Landscape Links
Series: Cultural Landscapes of Chickasaw National Recreation Area
Last updated: May 20, 2019