Flower Park and Black Sulphur Springs
The Flower Park and Black Sulphur Springs landscape is located in the western half of the Platt National Park National Historic Landmark District in Chickasaw National Recreation Area, Oklahoma. It is located just west of State Hwy 177 and south of Broadway Avenue. Rock Creek divides the landscape into two parts: Flower Park to the east and Black Sulphur Springs to the west.
Flower Park and Black Sulphur Springs remain one of the district's most highly used and most charming areas. Flower Park and Black Sulphur Springs: Cultural Landscapes Inventory, NPS, 2007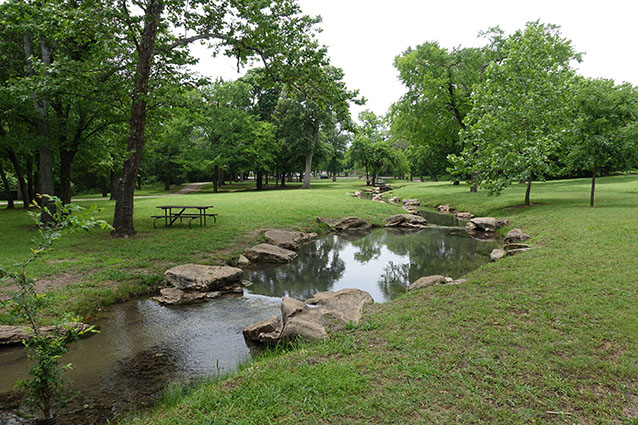 Flower Park is a pedestrian park. The landscape consists of wooded stream banks, upland slopes, and floodplain habitat that provide visitors a range of leisure activities. With its meandering streams, curving walkways, and pastoral quality, it is reminiscent of Romantic landscapes.
The Black Sulphur Springs area, with its crescent shaped, lake-like beach (once known as Beach Springs), has maintained its primary historic use as a place for sunbathing, wading, swimming, and picnicking. The focal point of this area is a pre-CCC era, Neo-classically styled pavilion.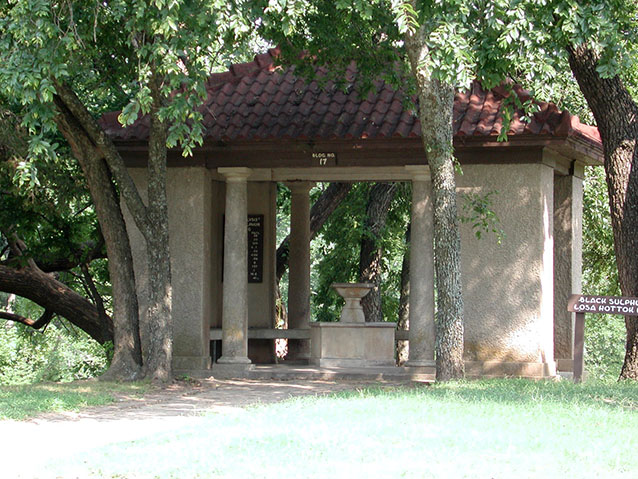 Flower Park and Black Sulphur Springs are significant for their association with the former Platt National Park (a National Historic Landmark District), now part of Chickasaw National Recreation Area. The district is significant for its association with the development of national park landscapes completed during the Great Depression and funded as part of Franklin Delano Roosevelt's "New Deal" programs. 

The district embodies characteristics of the type, period, and methods of construction typical of the "Rustic style" of park design developed by the National Park Service in the years between World War I and World War II (1916-1942) under the leadership of Thomas Vint. In general terms, Rustic park design limited development to preserve natural scenery, and buildings and structures were designed in harmony with the natural landscape. This meant using hand craftsmanship, local architectural styles and natural materials such as stone, wood, and native plants in the design of each park structure or element.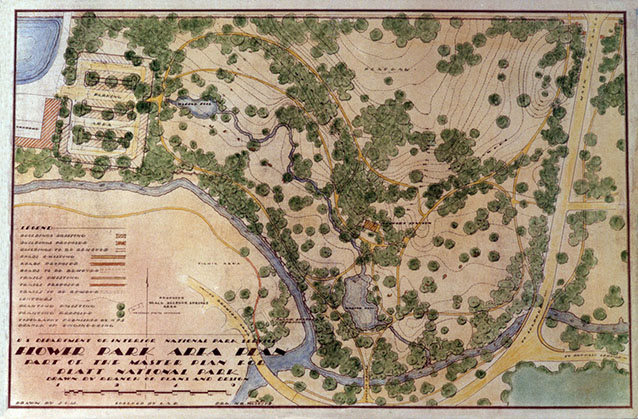 In its site planning, architectural style, landscape architectural design, and small scale features, the Flower Park and Black Sulphur Springs area explicitly reflects the NPS principles of Rustic design and construction. The design of the meandering creek from the overflow of the adjacent Vendome Well, the area's footpaths and stone steps, its comfort station, and its not-so-evident creek stabilization work (a stone revetment wall along Rock Creek) are all excellent examples of the CCC-era landscape engineering projects undertaken in Platt National Park.
Quick Facts
Cultural Landscape Type: Designed
National Register Significance Level: National
National Register Significance Criteria: A,C
National Historic Landmark
Period of Significance: 1933-1940
Landscape Links
Series: Cultural Landscapes of Chickasaw National Recreation Area
Last updated: May 20, 2019