Bromide Springs/Bromide Hill
The Bromide Springs and Bromide Hill landscape is located near the western edge of the Platt National Park National Historic Landmark District along the park's Perimeter Road, east of Rock Creek Campground and west of Walnut Grove. The 59-acre landscape is part of Chickasaw National Recreation Area in Oklahoma.
The area received its name [from] two springs that historically . . . provided medicinal waters for public consumption. Bromide Springs/Bromide Hill: Cultural Landscapes Inventory, NPS, 2007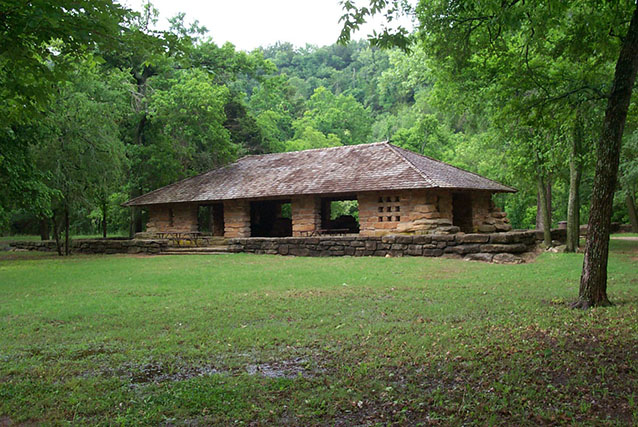 In addition to the springs, the landscape contains a large picnic area and entry landscape located on a flat terrace to the north of Rock Creek, as well as the steep bluff to the south, where the Bromide Hill overlook and associated parking area are located.

Formerly used as a campground and gathering area, the area south of Rock Creek is a park-like landscape of grass and canopy trees, used primarily for picnicking. This zone contains an entry landscape of piers and fountains, as well as a number of structures, including a pavilion and comfort station. There are a number of roads crossing the level area below the bluff, including the Perimeter Road, which then circles south to provide access to the bluff overlooking the picnic area.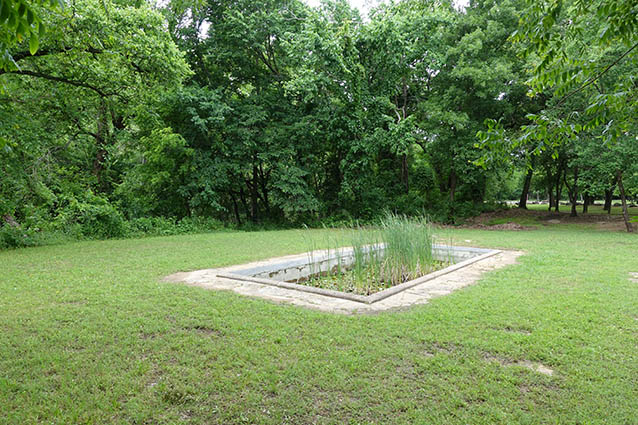 The overlook area includes a small parking lot and several trails. The trails further connect with the Pavilion Springs, Buffalo Pasture, and Bromide or Cliffside Trails, which provide access to the landscape from many other areas of the district. 

The Bromide Springs and Bromide Hill cultural landscape is significant for its association with the former Platt National Park (a National Historic Landmark District), which is now part of Chickasaw National Recreation Area. The district is important for its association with the development of national park landscapes completed during the Great Depression and funded as part of Franklin Delano Roosevelt's "New Deal" programs.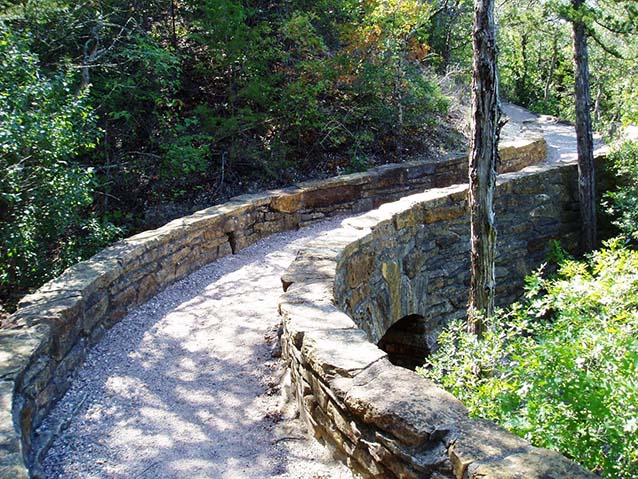 The district also embodies the characteristics of the type, period, and methods of construction typical of the "Rustic style" of park design developed by the National Park Service in the years between World War I and World War II (1916-1942) under the leadership of Thomas Vint. In general terms, Rustic park design limited development to preserve natural scenery, and buildings and structures were designed in harmony with the natural landscape. This meant using hand craftsmanship, local architectural styles, and natural materials such as stone, wood, and native plants in the design of each park structure or element.

As part of the larger district, Bromide Springs and Bromide Hill explicitly reflects the NPS principles of Rustic design and construction. The design of the pavilion, the area's rugged trails and stone steps, its comfort station and entry piers, and fountain are all excellent examples of the CCC-era landscape engineering projects undertaken in Platt National Park. Because of these elements, the extant landscape features are representative of the finest CCC work in existence, in terms of rustic design, the number and variety of structures, and construction techniques and materials.
Quick Facts
Cultural Landscape Type: Designed
National Register Significance Level: National
National Register Significance Criteria: A,C
National Historic Landmark
Period of Significance: 1933-1940
Landscape Links
Series: Cultural Landscapes of Chickasaw National Recreation Area
Last updated: May 20, 2019