Ship on the Desert Cultural Landscape
The Wallace E. Pratt Residence, also known as Ship on the Desert, was designed in 1941 by the New York City architecture firm of Milliken & Bevin and constructed between 1941 and 1943. The long axis of the rectangular structure is oriented south-southeast to provide each room with east-west exposures, allowing optimal air, light, and views. It incorporates locally-quarried stone and wide expanses of glass to blend into the surrounding landscape.
The cultural landscape is an outstanding example of early 20th-century high-style modernism in the Trans-Pecos region, notable for its architecture and for its association with petroleum geologist Wallace E. Pratt.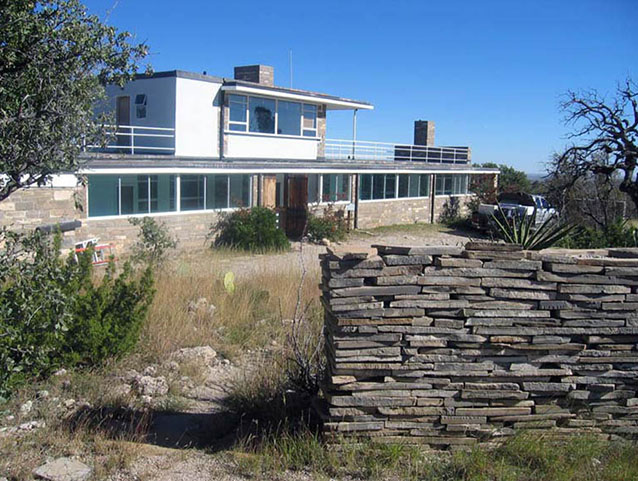 The single-story residence is constructed of locally quarried stone, tied together with steel trusses and filled in with walls of stucco. In the middle of the structure is a very small, second-story glassed-in room. It is accessible from the ground floor by a circular staircase of metal with maple wood treads. This room provides access to the roof decks. On the north end of the building is a 2-car garage with an attached, one bedroom apartment.

In addition to the residence, a number of landscape features were also constructed during the Pratt era. These include the entrance drive, stone entry gate, access drive to an airstrip, horse corral and tack room, greenhouse, powerhouse, garden areas, stone garbage incinerator, irrigation system, water tanks, underground cistern, metal clothesline, and numerous small-scale stone features.
Together with the main residence, these features characterized the property throughout Pratt's tenure until 1959. At that time, Pratt donated his property to the National Park Service, forming the core of what would eventually become Guadalupe Mountains National Park. Since then, the Ship on the Desert has continued in its residential function, housing park researchers.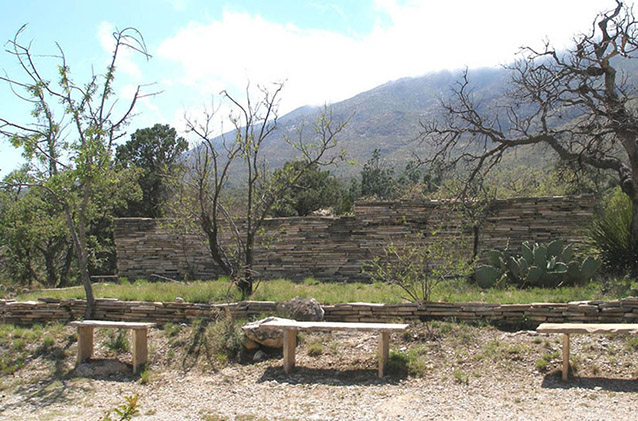 The Ship on the Desert is significant as an early modernist house in an astonishingly dramatic and remote high desert landscape. As an outstanding example of early 20th century high style modernism in the Trans-Pecos region, the house is significant in the area of architecture at the state level. It is also important for its association with Wallace E. Pratt, a petroleum geologist who pioneered in the techniques of scientific oil exploration and who subsequently became vice president of the Humble Oil & Refining Company and later of the Standard Oil Company. 

Today, the property remains relatively unchanged and retains a number of original residential and landscape features constructed by the Pratts. The only notable change has been the decline of both naturally-occurring and planted vegetation due to drought, disease, and crowding.
Quick Facts
Cultural Landscape Type: Designed
National Register Significance Level: State
National Register Significance Criteria: B, C
Period of Significance: 1941-1959
Landscape Links
Last updated: January 2, 2020