Historic Designed Landscape
The Historic Designed Landscape within Chiricahua National Monument is primarily a rustic landscape that was built by the Civilian Conservation Corps in the 1930s. Although the monument was established to preserve and protect natural rock formations known as "The Pinnacles," the subsequent development of the park infrastructure from 1924 to 1940 is also significant.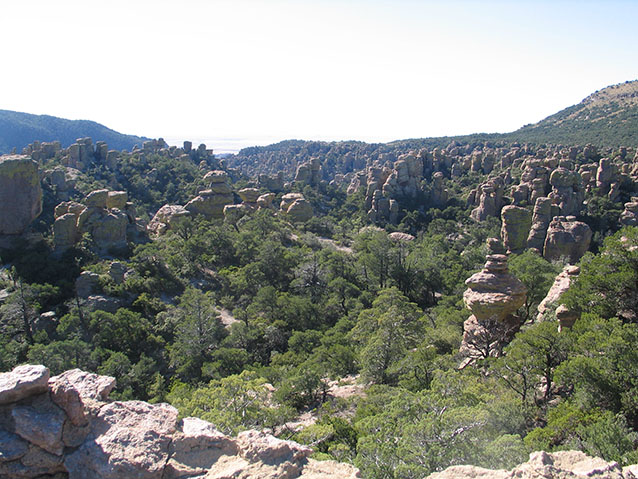 Construction of the landscape and its multiple trails, shelters, roads, and other structures was primarily carried out by the Civilian Conservation Corps (CCC), as part of New Deal Era Work Relief Programs. On a national level, the CCC was employed to continue the construction of recreational facilities within multiple national parks, forests, and monuments. Development on these federal lands accelerated dramatically with the availability of labor and funding in 1933. 

At Chiricahua National Monument, CCC enrollees at Camp NM-2-A were responsible for the construction of access facilities (roads, parking areas, and trails), the L-4 Lookout, and extensive telephone communication systems. While most trails were designed primarily for recreation, they were constructed through some of the most densely forested areas of the monument, which also provided access to these areas for firefighters. One example of this is the Sugarloaf Trail, which had the dual purpose of providing fire lookout access as well as recreational opportunities. In contrast, the Natural Bridge Trail was initially constructed for the sole purpose of firefighter access into Picket Park.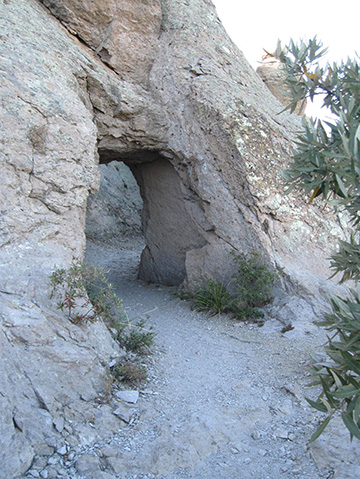 The Rustic design and architectural style of the CCC features is also important to note. The landscape features built by the CCC are sited and constructed according to principles articulated by the designers of Chiricahua National Monument, including Albert Good. The buildings themselves are strong statements of the 'Government Rustic' style of architecture used in units of the National Park Service. The Rustic Style was employed in most park structures built between 1916 and 1942. Park Service designers applied this architectural style along with the complementary naturalistic landscape design in order to create built environments that appeared historic and melded with the surrounding environment.

Overall, without the availability of CCC labor, Chiricahua National Monument would have likely remained substantially undeveloped. The importance of the CCC contribution to the monument and the community cannot be overstated.
Quick Facts
Cultural Landscape Type: Designed
National Register Significance Level: National
National Register Significance Criteria: A, B, C
Period of Significance: 1924-1940
Landscape Links
Last updated: December 30, 2019