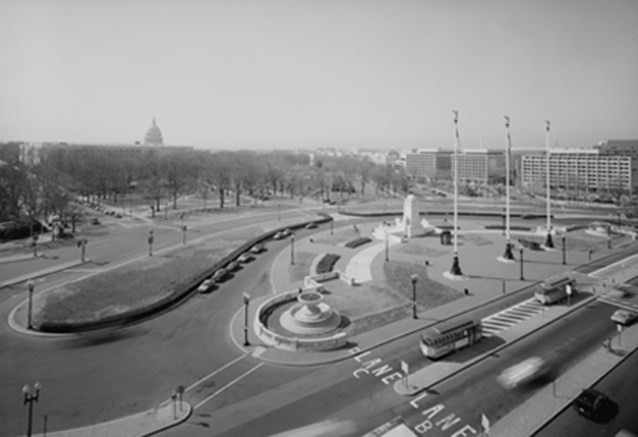 Columbus Plaza, U.S. Reservation 334, is a semi-circular two level plaza located at the intersection of Massachusetts, Delaware, and Louisiana Avenues, and E and 1st Streets, NE. The 940-foot long by 540-foot wide brick plaza is the forecourt of Union Station and includes two granite bowl fountains, three highly elaborate 112-foot flagpoles, and the Christopher Columbus Memorial Fountain located in the center of the plaza.
Designed by Union Station architect Daniel H. Burnham, Columbus Plaza was constructed following the opening of the station in 1907. Burnham was a member of the McMillan Commission. Organized in 1901 under the leadership of Senator James McMillan, the commission set out to improve the public spaces in Washington, DC. The commission's 1902 report recommended building a train station fit for the nation's capital; it served as a grand entranceway to Washington and the nearby Capitol building. Burnham and fellow architect Pierce Anderson designed the station.

Columbus Plaza was designed to provide a space where large crowds could gather to welcome visiting dignitaries or to hold public events. For many, the station and the plaza provided visitors with their first view of the Capitol and Burnham designed a space that was well-suited to this purpose. Burnham's design consisted of a two-level plaza with three fountains, including two granite bowl-shaped fountains at opposite ends of the plaza surrounded by stone balustrades, and one large fountain at the center to serve as the focal point. Three flagpoles inspired by those at the Piazza di San Marco in Venice flank the northern end of the plaza. Rostral columns and lightposts separate traffic traveling between the plaza and the station.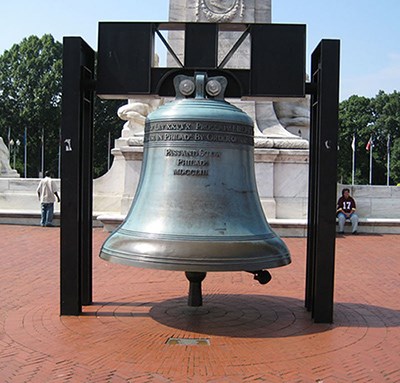 Originally, eight circular and elliptical traffic islands separated the roads on the outside of the plaza. By about 1910, all of Burnham's features, except for the central fountain, were in place on the plaza. In 1907, an act of Congress authorized the erection of a memorial to Christopher Columbus in Washington. In 1908 the plaza was selected as the location for the memorial and sculptor Lorado Taft's design was chosen.
Columbus Plaza was listed on the National Register in 1980 with a 2007 revision. Columbus Plaza is also included in the 1997 National Register listings for the L'Enfant Plan of Washington, DC and the 2007 Memorials in Washington, DC. The National Register lists the period of significance for Columbus Plaza as 1903 to 1912.
The plaza's grass panels and the brick paving have remained largely unchanged since the period of significance. The traffic islands included in Burnham's design have been altered dramatically since the historic period. The original eight elliptical and circular islands were reconfigured or removed beginning in the mid-1920s. These features, along with the rostral columns and stone balustrades at the north of the plaza, are maintained by other agencies.

Quick Facts
Cultural Landscape Type: Designed
National Register Significance Level: Local
National Register Significance Criteria: C
Period of Significance: 1903-1914
Last updated: May 22, 2019