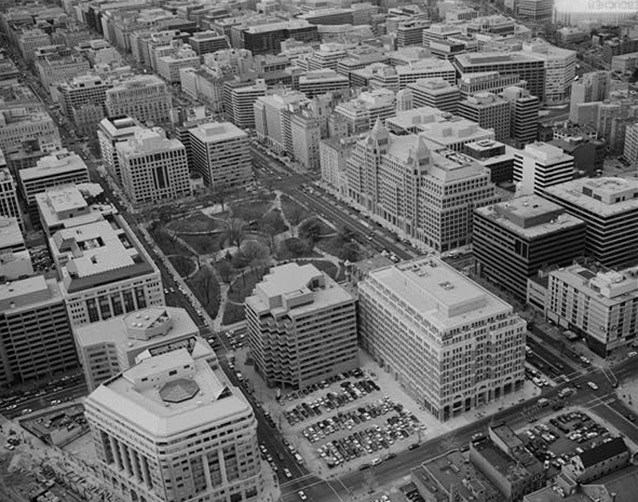 This land was set aside by Congress in 1832 to protect the fresh spring on the site that were used to supply water to the White House. Rows of trees surrounding Franklin Park on all sides create a distinct boundary. The three ellipses that define the park's circulation system create 3 open areas, the flagstone plaza in the middle being flanked by two large elliptical walks enclosing east and west lawns. The 1936 circulation system replaced an 1868-1872 picturesquely curving walk plan.
The focal point of Franklin Park is the elliptical, flagstone-paved plaza with an elliptical fountain surrounded with simply molded sandstone coping in its center. Four curvilinear planting areas are evenly spaced within the plaza around the fountain. Flights of three broad stairs lead to the plaza on the north, east, and south sides. On the west, the plaza is entered at grade. A statue commemorating the Revolutionary War hero, Naval Commodore John Barry, occupies a site at the mid-point of the park's west side. The bronze sculpture stands on a marble pedestal ornamented with a female allegorical winged victory figure. The park's east end is the former site of the lodge; this structure has been removed, along with sections of the 1936 cast-iron fence.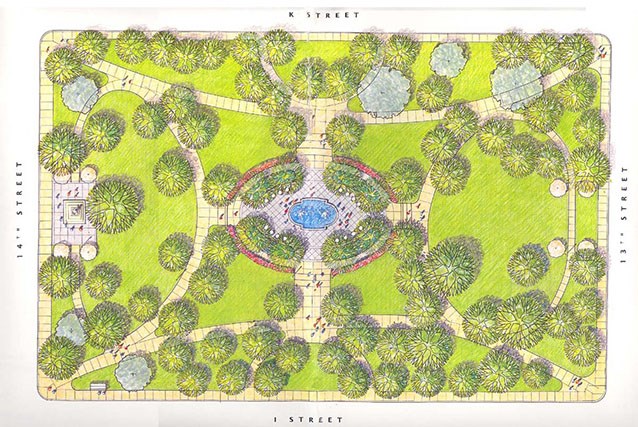 Franklin Park is planted with large trees, mostly deciduous. The primary canopy species is willow oak. Other major species include zelkovas, sophoras, lindens, other oaks, and cedars, and there are many large specimens. The earlier, Victorian design of Franklin Park included a similar tree layout, as well as numerous shrubs and flower beds within the lawn areas. Decorative urns were planted with flowers and specimen plants. The park had a lusher appearance than it does today.
Though simpler, the planting plan implemented in 1936 included some features that have since been eliminated, such as hedges surrounding the plaza and along some walks leading to it. Dense beds of azaleas were once planted against the outer sides of the hedges around the plaza. The current planting plan retains most features of the 1936 plan. Certain specimen trees, as well as the general tree layout, were retained from the Victorian park. The 1936 rehabilitation eliminated the more ornamental features, such as the eighteen flower beds, concentrating on the large trees growing in small clusters, lines, or as individual specimens, and open expanses of lawn.
Quick Facts
Cultural Landscape Type: Designed
National Register Significance Level: National
National Register Significance Criteria: C
Periods of Significance: 1791; 1867-1936
Last updated: May 25, 2018