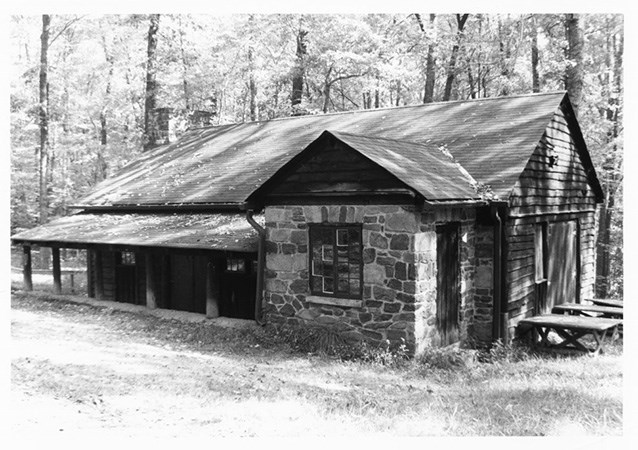 Compacted earth roads lead from the central core to four camp units. Each unit has sleeping cabins, a bath house and a lodge with a covered porch. The camp is located in primarily first and second successional mixed deciduous forest. President Franklin D. Roosevelt introduced the Recreational Demonstration Area (RDA) as part of the New Deal in 1933. Forty-six RDAs were chosen for their proximity to large cities and availability of resources. Chopawamsic's resources, size, and proximity to the nation's capital became a model for RDAs to follow. The NPS created plans for the site utilizing rustic architectural styles where urban dwellers could connect with nature. Cabin Camp 1 was the first of five organized camps built and was designed to house 150 campers each at Chopawamsic.
The CCC built and lived in a temporary camp in what is now the playfield at CC1 from 1935 to 1939. Skilled and unskilled laborers used indigenous materials to construct over 49 buildings, roads and trails, infrastructure and a dam in Quantico Creek that served as a swimming hole for campers. The first campers were underprivileged white children from inner city DC, but eventually CC1 was designated for use by black children.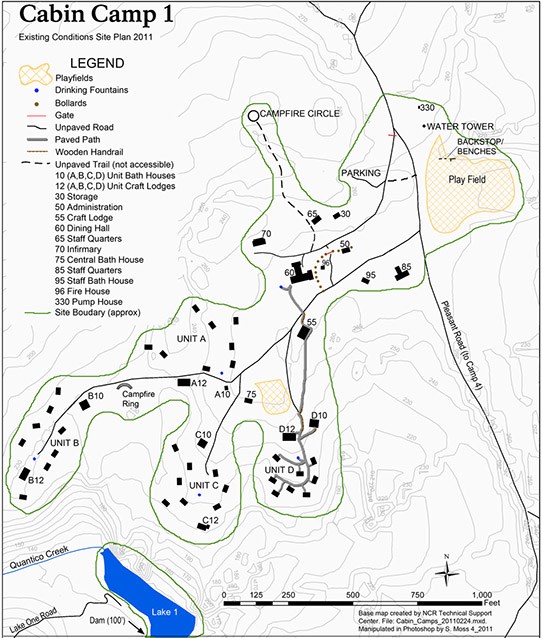 In 1938, it was commonly known as Camp Lichtman for its sponsor Abe E. Lichtman, a well-known philanthropist, and used by the 12th Street branch of the Washington, DC YMCA, the first black YMCA in the country. In 1942, use of the camps were transformed when the nation's first intelligence agency, the Office of Strategic Services (OSS) established training facilities at Chopawamsic. The OSS winterized the park structures, improved kitchen facilities and built additional buildings to accommodate their needs. For security reasons, Chopawamsic was closed to the public. By October of 1945 the OSS vacated CC1. Camp activities resumed the following summer and the park was renamed Prince William Forest Park (PRWI) in 1948. Most of the RDAs became state parks.
Today, CC1 no longer serves as a youth camp, but is rented out for group camping. A National Register of Historic Places Multiple Property listing for architecture at Prince William Forest Park was approved in 1989. A National Register of Historic Places Registration for Chopawamsic RDA Camp Goodwill Historic District was created, and includes Cabin Camp 1. The period of significance is noted as 1933-1942.
Quick Facts
Cultural Landscape Type: Vernacular
National Register Significance Level: National
National Register Significance Criteria: A,C,D
Period of Significance: 1935-1945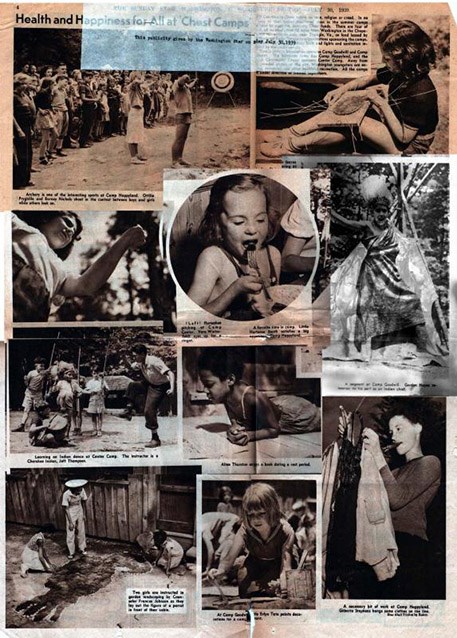 A comprehensive National Register nomination for Prince William Forest Park was approved in 2012. It also finds CC1 significant for Criteria A, C and D. The period of significance is 1935, the year Chopawamsic RDA and CCC Camp SP-22 were established, to 1945, the year that the OSS left Chopawamsic.
Several structures have been replaced with modern structures overtime. However, contributing features generally date to the primary planning/CCC era of the camp and retain integrity in all seven aspects recognized the National Register.
Last updated: May 13, 2019