Doughton Park Maintenance Area Cultural Landscape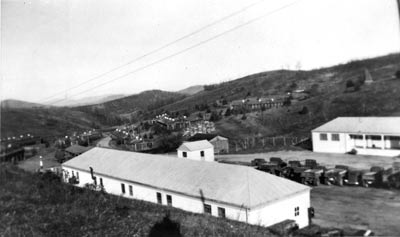 Doughton Park Maintenance Area is a 17-acre component landscape set within 6300-acre Doughton Park, a Blue Ridge Parkway developed area in North Carolina. An entry road at parkway mile marker 245.5 gives access to the site. Crossing a narrow meadow, this road leads past Civilian Conservation Corps (CCC) Campsite NP-21 (1938) to the forested residence area, then terminates at the maintenance complex. 
The Doughton Park Maintenance Area was one of the first four maintenance areas to be planned and built along the parkway, and much of the early construction was completed by CCC & Works Progress Administration (WPA) labor in 1940 and 1941. While the entry road is visible to motorists along the parkway, the residence and maintenance clusters are obscured from view by their postion in a steeply-sloping ravine and the vegetative buffers planted in the early 1940s. The siting and the rustic, utilitarian style of this development is consistent with the original design intent of maintenance areas along the parkway.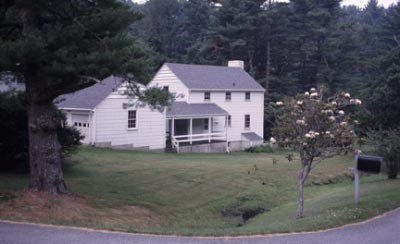 All major construction at the Doughton Park Maintenance Area occurred during the first periods of Blue Ridge Parkway development (1936-1955), contributing to the historical significance of the parkway. Construction at Doughton Park Maintenance Area began in 1938, and all primary features were completed by 1952.
The buildings are utilitarian and rustic, and the site's design obscured views of the area from passing motorists. These features are consistent with design of maintenance areas in the park at that time. Structures and features of the complex include the roads and yards, equipment storage and warehouse, blacksmith & repair shop, gas & oil house, incinerator, residence, radio substation, hose reel house, and post & shingle mill.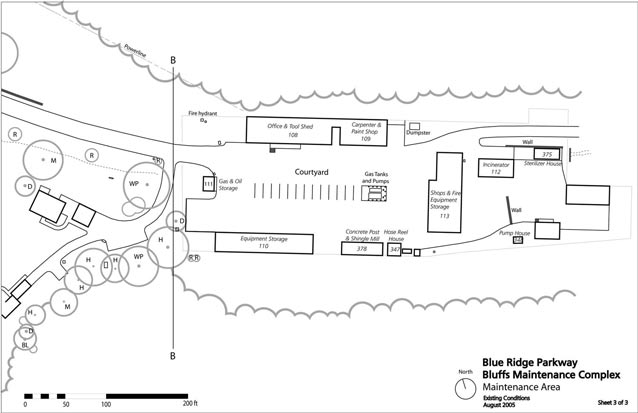 Doughton Park Maintenance Area retains all major features from the period of significance. More recent development is small in scale, compatible with the original design intent, and appears largely unobtrusive. The property possesses historic integrity in all seven criteria as defined by National Register standards. Buildings are sited in the same formation planned in the 1930s and 1940s, circulation follows the same routes, and the vegetation patterns planned for in the 1940s largely exist today.
Quick Facts
Cultural Landscape Type: Designed

National Register Significance Level: National 

National Register Signifance Criteria: A, C

Period of Significance: 1933-1987
Landscape Links
Last updated: December 31, 2020