Doughton Park Campground Cultural Landscape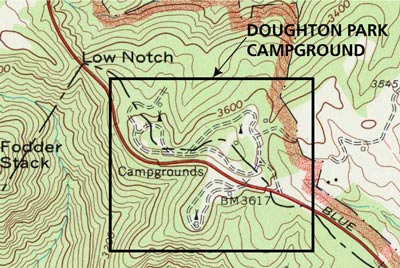 Doughton Park Campground is an 84-acre component landscape set within 6300-acre Doughton Park, a Blue Ridge Parkway developed area in North Carolina. The site straddles the parkway road and is accessed at Milepost 239.2. Major features that contribute to the site include five loop roads, four comfort stations, a water tank, amphitheater, trailer and tent campsites, trails, and numerous drinking fountains.
As one of the first campsites to be designed and built along the Blue Ridge Parkway, the property contributes to the route's historical significance as a National Historic Landmark. Development occurred during the first three periods of parkway history, spanning 1936-1955. Construction at Doughton Park Campground began in 1938, and most major features were in place by 1955. All the features dating to this period contribute to the character and significance of Blue Ridge Parkway. Comfort Station #396 and the eastern loop road date to 1963-4, and may have historical significance of a lesser degree.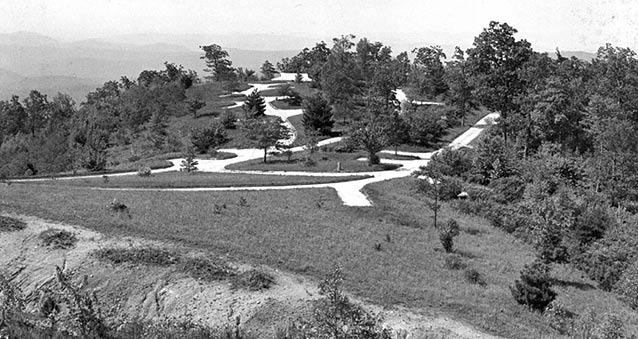 Doughton Park is part of one of the first developed areas to be planned for the Blue Ridge Parkway. Three camping areas in the Doughton Park Campground - hilltop loop 'A,' tent loop 'B,' and trailer loop 'C' - were completed in 1939. By 1943, two comfort stations (Buildings #97 and #98) and several drinking fountains were in place. Planting plans also appeared at this time that call for additional trees and flowering shrubs, enhancing the existing pattern of tree cover and open space.
By 1950, another loop road was added beyond the tent loop. Five years later, a third comfort station was added to the hilltop loop, along with several more drinking fountains. The final, eastern loop road and an additional comfort station were built during 1963-4. The camping loops, tent sites, trails, and comfort stations #97 and #98 all follow established National Park Service (NPS) standards, as drafted by Albert H. Good and Frank A. Waugh in 1935. Built in the Rustic style, they contribute to the overall Blue Ridge Parkway design theme. The two comfort stations added in 1955 and 1963 represent the parkway transition to more streamlined and economical materials and building style.
Doughton Park Campground retains all major features from the period of significance. Later additions are minor in scale and do not detract from the cultural landscape. The landscape remains much the same as it was original designed, with a series of loop roads radiating from a prominent knoll.
The varied topography, combination of open areas and tree canopy, and building design all continue to represent the original layout of this area as a part of this period in Blue Ridge development.  Finally, the property maintains its historic association, continuing to be used as a campground for parkway visitors.
Quick Facts
Cultural Landscape Type: Designed

National Register Signifiance Level: National

National Register Signifiance Criteria: A, C
Landscape Links
Last updated: December 31, 2020