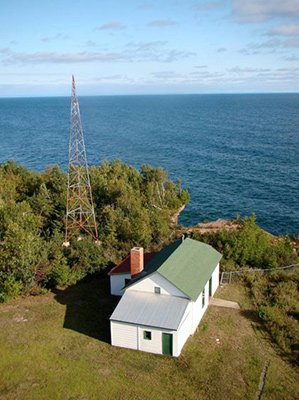 The light station landscape occupies approximately sixteen acres on the north shore of the 318-acre Devils Island, which is situated at the northern edge of the cluster of islands that comprises the park.
The cultural landscape is a collection of features that remain from its development as a light station, including two keeper's dwellings, two hipped-roof brick oil houses, a gable-roofed wooden building housing fog-signal equipment and electrical generators, a pump house, and a small metal truss tower formerly used as a radio tower. The lighthouse complex also includes a boathouse and dock at the south end of the island approximately one mile from the lighthouse, connected to the rest of the complex by a single-lane dirt road. A tramway was built in 1893 to transport goods and fuel around the light station, similar to those built on Michigan and Outer Islands.  This was also associated with the 1901 Tramway Engine Building, housing a hoisting engine for the purpose of moving tram carts up and down the inclined tramway.   

The Devils Island Light Station was included in a National Register of Historic Places nomination of the Apostle Islands Lighthouses listed in the National Register on March 8, 1977. Five lighthouses were listed with state level of significance in the areas of transportation and commerce and varying periods of significance spanning from 1852 to 1929.
The Devils Island Light Station landscape reflects the culture and lifestyle of the keepers and changing technology associated with navigation, contributing to an understanding of the broader patterns of history related to navigation, shipping, and commerce on Lake Superior.  The latest built and farthest north of the archipelago's light stations, Devils Island Light Station was continuously inhabited from its development in 1891 until its automation in 1978.