American Camp at San Juan Island National Historical Park
The American Camp cultural landscape is a site in the southeast corner of San Juan Island within the San Juan Island National Historical Park. The site is significant as the location of a United States Army camp during the joint occupation of the island by British and American Troops from 1859 to 1874. The cultural landscape also includes the sites of the Hudson's Bay Company agricultural outpost, Bellevue Farm, and San Juan Town.
"(Casey's camp) is very strongly placed in the most commanding position at this end of the island, well sheltered in the rear and one side by the Forest and on the other side by a Commanding eminence" Captain James Prevost, commander of the H.M.S. Satellite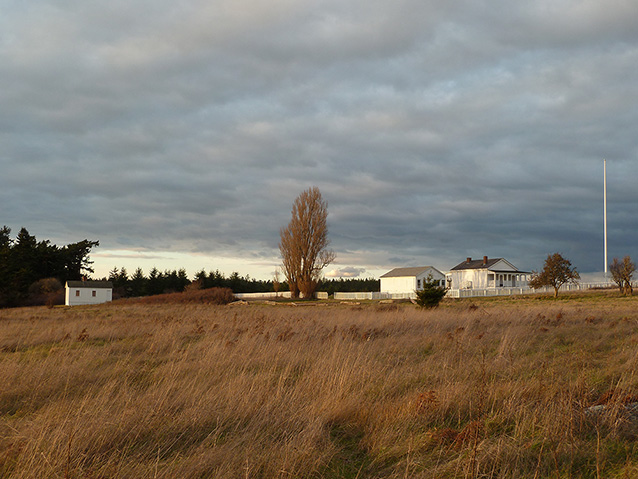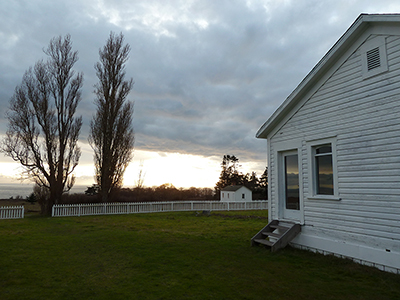 The site occupies a portion of the southeast peninsula of San Juan Island and is comprised of a broad ridge overlooking Griffin Bay to the north and Haro Strait to the south, surrounding scrub prairie land, and Puget Sound shoreline. American Camp features significant historic resources, including an earthwork (or redoubt), two of the original military buildings, the reconstructed military fence and flagpole, and numerous archeological sites.

American Camp is a historic site eligible for listing on the National Register under criteria A, C, and D. In meeting criterion A, the site is significant at the national level for its association with the border dispute and military standoff between the United States and Great Britain commonly known as the Pig War. The subsequent joint military occupation of the island preserved peace between the two countries for twelve years while a negotiated settlement could be reached. In meeting criterion C, the site is significant at the national level as rare physical evidence of a mid-19th century American frontier military encampment.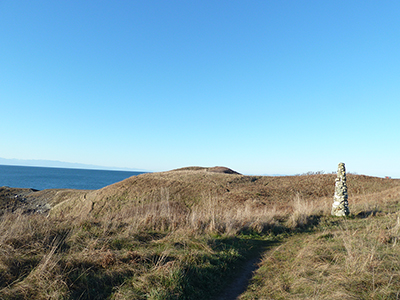 Although the bulk of its structural fabric has vanished, the framework of the camp's design is discernible through its array of extant and reconstructed features. The earthen redoubt in particular retains a great deal of integrity and conveys the design and workmanship of Civil War era fortifications. The massive earthwork effectively embodies the scale, scope, and significance of the San Juan Crisis. Finally, American Camp meets National Register criterion D with significance at the national level. A wealth of information about the design and methods of construction of the military encampment and the day to day life of the American soldiers has been gleaned through archeological investigations of the site.
Quick Facts
Cultural Landscape Type: Historic Site
National Register Significance Level: National
National Register Significance Criteria: A,C,D
National Historic Landmark
Period of Significance: 1859 - 1874
Landscape Links
Last updated: August 3, 2016