2018 Coho and Steelhead Smolt Migration Begins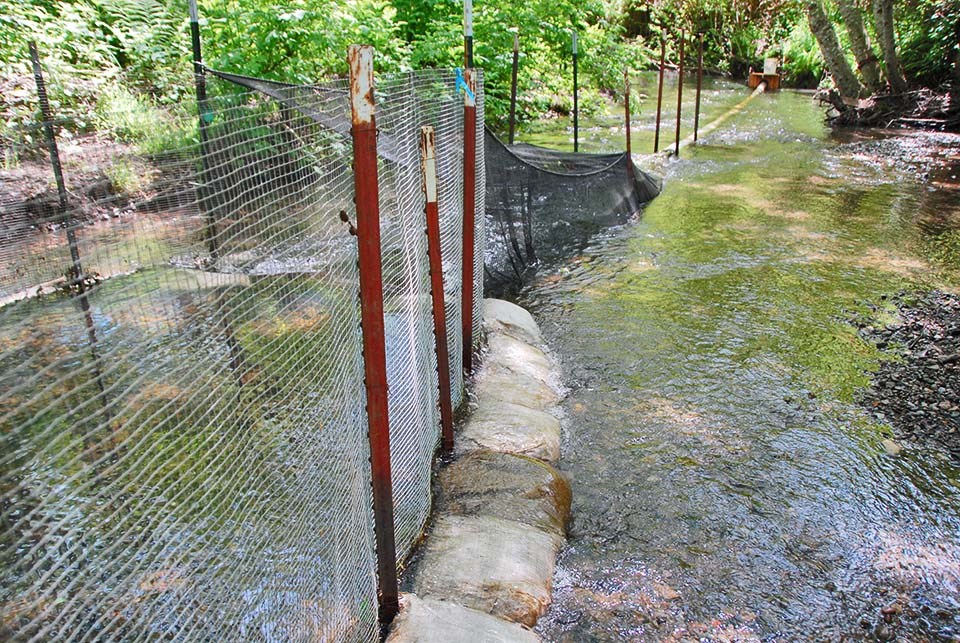 March 2018 - Coho and steelhead smolt monitoring traps have just been installed on Redwood and Olema Creeks, but not before a few smolts were seen getting ready to head to the ocean even earlier in the month. Even more surprising were a few large schools of steelhead smolts and seven hatchery-reared adult coho spotted still hanging out in a pool in Redwood Creek in early March.
Not only does the steelhead smolt migration seem like it may be larger than normal in Redwood Creek, but the fish are also bigger. In some cases, much bigger. One beach seine sample captured a 239mm steelhead smolt, and ones as large as 350mm were seen during snorkel surveys. The average is more like 160 to 180mm, with only a few reaching over 200mm.
Larger smolts have a better chance of surviving their time at sea and returning to spawn. They may also indicate that conditions in the stream were good enough to allow the juvenile fish to find ample food and shelter. A smolt trap in Redwood Creek will be used to evaluate the success of the large backwater that was constructed as part of the lower Redwood Creek restoration project, and results will help guide future fish habitat restoration activities in this area. Contact Michael Reichmuth for more information.
Last updated: March 30, 2018