2016 Harry Yount National Park Ranger Award
In the tradition of Harry Yount, the National Park Service honors rangers who have the skills to perform a wide scope of ranger duties - protecting resources and serving visitors.
Congratulations to the 2016 recipient of the
Harry Yount National Park Ranger Award
!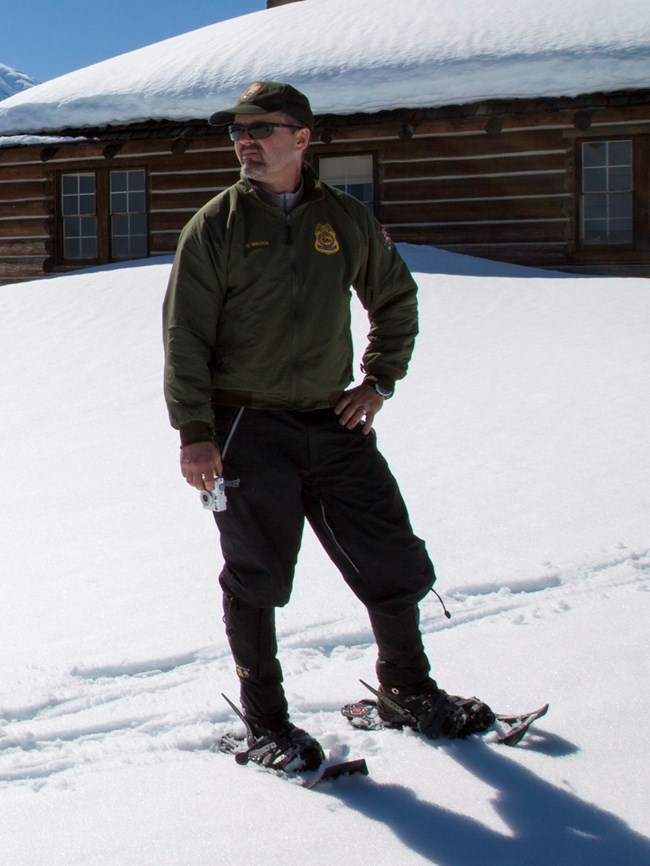 Geoff Walker, District Ranger
Mount Rainier National Park, Washington
Much like Harry Yount, who patrolled Yellowstone National Park in the 1880s and is regarded as the world's first park ranger, Geoff Walker can do it all. Walker is a skilled law enforcement officer, EMT, first responder, criminal investigator, wildland firefighter, wilderness expert, helicopter crewman, mountain climber, training coordinator, supervisor, mentor, and rescuer.

Walker began his career with the National Park Service as a seasonal park ranger at Mount Rainier National Park from 1995 to 1999. After spending time as a as a park ranger at the Jefferson National Expansion Memorial and as a U.S. Customs inspector, Walker returned to Mount Rainier National Park as a permanent employee in 2002 and currently serves as the park's East District Ranger.

Walker's arrival on scene is a welcome sight for any situation. He has participated in scores of incidents, from upper mountain rescues, to wilderness searches, to roadside accidents. As an experienced EMT, he has responded to all manner of medical issues, including severe injuries and fatalities. Among his accomplishments, he initiated the longest successful CPR save in the state of Washington. Walker also manages the park's wildland fire program and serves as a firefighter and engine boss.

"Geoff exemplifies all of the personal and professional characteristics desired in a park ranger, a colleague, a supervisor, and a leader," said acting National Park Service Director Michael T. Reynolds. "His positive attitude, calm demeanor, exceptional skills, and desire to serve others shine through everything he does."
Last updated: August 1, 2017