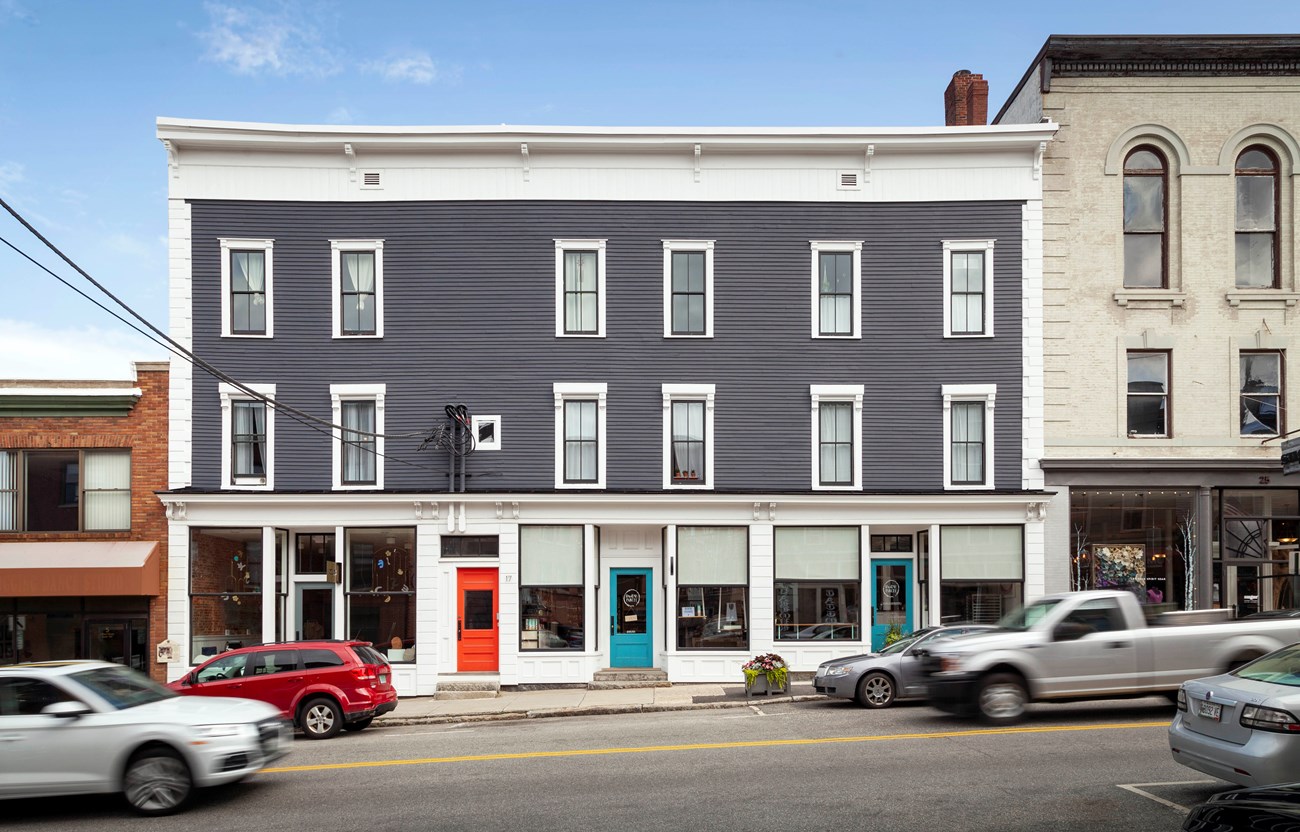 History and Downtown Context
The City of Biddeford, Maine, like many other New England towns, realized its economic beginnings alongside a powerful river—the Saco River, where textile mills began to appear in the early 19th century. When the region's dominance over the national textile industry began to erode more than a century later, growth and opportunity for many towns in the Northeast slowed and downtowns began to languish. Biddeford, too, suffered for decades until an improving regional economy, several mill redevelopment projects, and historic preservation incentives helped catalyze the city's resurgence.

In the heart of Biddeford's downtown, the three-story, wood-and-masonry building at 17 Alfred Street is an excellent representation of the mixed-use development that came to typify Maine's rapidly expanding industrial cities in the late 19th century. This building, and many others like it in downtown Biddeford, served both the social and commercial needs of the thousands of textile workers, largely immigrants, who labored in the nearby mills. The top floor of 17 Alfred Street was constructed as one undivided room with an ornate pressed-metal ceiling. It was here that mill workers belonging to one of the city's eight fraternal clubs, The Improved Order of Red Men, made their headquarters.

The first floor of the building was originally divided into three commercial shops with large double-hung windows and recessed entrances. These spaces were occupied at different times by a fruit seller, a casket maker, a haberdasher, and a café. The middle floor served as offices and apartments. A 1980s-era remodeling largely blocked the first floor from the street when the commercial storefronts were reconfigured, eliminating the recessed entrances, and with smaller windows. Prior to the building's rehabilitation, signs of deferred maintenance were plentiful, including evidence of long-term moisture damage in the basement crawl space and severely cracked roof trusses.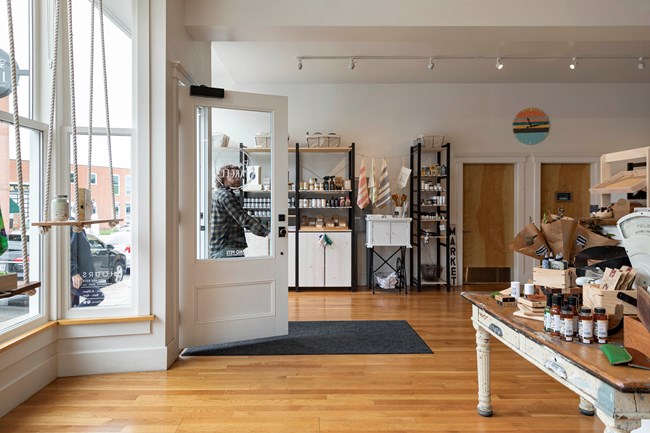 Scope of Rehabilitation
The rehabilitation began with first replacing the roof, which was severely damaged due to excessive snow load, and required the removal and replacement of the entire roof deck and supporting trusses. The three storefronts with their recessed entries and large operable windows were rebuilt to match their original design. The first floor and underlying framing had to be removed and replaced, decayed floor joists throughout the building were repaired by sistering, and rotten portions of framing on the back wall were reframed. Twelve incompatible, vinyl replacement windows on the upper façade were replaced with historically-appropriate wood windows. More than a year was spent repairing the third-floor pressed metal ceiling and other metal ceilings that were revealed in the course of the rehabilitation. The building now consists of six market-rate apartments on the upper stories and two commercial businesses on the first floor.
Role of the Historic Tax Credit
According to owner and developer Seth Harkness, the project would not have been feasible without the historic tax credits, which offset federal and state tax liability and created a stronger annual cash flow for the property. The credits allowed for a more extensive rehabilitation and the use of high-quality building materials, which has in turn brought new life to a downtown building long associated with Biddeford's historic economic boom.
Economic Impact on Downtown Biddeford
In a city that has long suffered from a significant commercial vacancy rate, 17 Alfred Street has been fully occupied since completion of both the residential and commercial spaces. Heart of Biddeford Executive Director Delilah Poupore notes that "This project took a building that looked dangerous with a bad paint job and a service business that didn't attract much foot traffic and transformed it into a beautiful anchor building in our downtown with two successful retail/restaurant businesses." The two businesses, Leader Bags, which designs and sells chic diaper bags, backpacks and accessories for parents; and Part & Parcel, a specialty market and café, have created attractive storefronts that draw shoppers and diners. Part & Parcel, which began primarily as a "provisions" shop with wine, cheese, and local farm goods, has already successfully expanded food offerings for its customers. The entire block is now filled with businesses that complement each other and are starting to bring more people into downtown Biddeford. The rehabilitation of 17 Alfred Street is helping fuel Biddeford's resurgence and is encouraging other downtown building owners to explore historic rehabilitation solutions.
Learn More
Fiscal Year 2018 Highlights and Reports
Additional Case Studies
Case Study: Thomson-Lyons Implement Company Building (Crowley, Louisiana) Rehabilitating the Thomson-Lyons Implement Company Building is a vital step in catalyzing more downtown development in Crowley (pop. 12,839). The value of this historic building has significantly increased as a result of its rehabilitation, and the City has invested in public infrastructure, as well as main street events and other amenities, to enhance the appeal of the downtown. Due to the growing downtown appeal, new businesses have started locating in downtown Crowley, and residents are looking for places to remodel in order to live downtown.

Case Study: Cheney High School (Cheney, Washington) School House Lofts' rehabilitation of the former Cheney High School now provides contemporary and fun living spaces within a cherished historic building and a community icon. It not only provides much-needed student housing at Eastern Washington University, but also reduces automobile use and alleviates parking on-campus, given its close proximity. The project also breathed new life into the vacated high school and supports continuity in the neighborhood by blending a large historic building into a residential section of Cheney (pop. 12,446).

Case Study: Germania Building (Milwaukee, Wisconsin) The rehabilitation of the Germania is a major milestone for development in the City of Milwaukee and the Central Business District (CBD). The need for additional affordable housing in the CBD and greater downtown area is acute, and the Germania demonstrates that high-quality rehabilitations of historic buildings can help fill this need. By involving unemployed and underemployed city residents to work on the building, the project also created jobs and trained people to start new careers.