In the tradition of Harry Yount, the National Park Service honors rangers who have the skills to perform a wide scope of ranger duties protecting resources and serving visitors. Congratulations to the 2020 recipient of the Harry Yount National Park Ranger Award!
Visit our keyboard shortcuts docs for details
Duration:

2 minutes, 6 seconds
Todd Austin is a skilled canine officer who has improved the National Park Service's canine program nationwide and nearby communities. He shares his thoughts on receiving the Harry Yount Award in recognition for his service.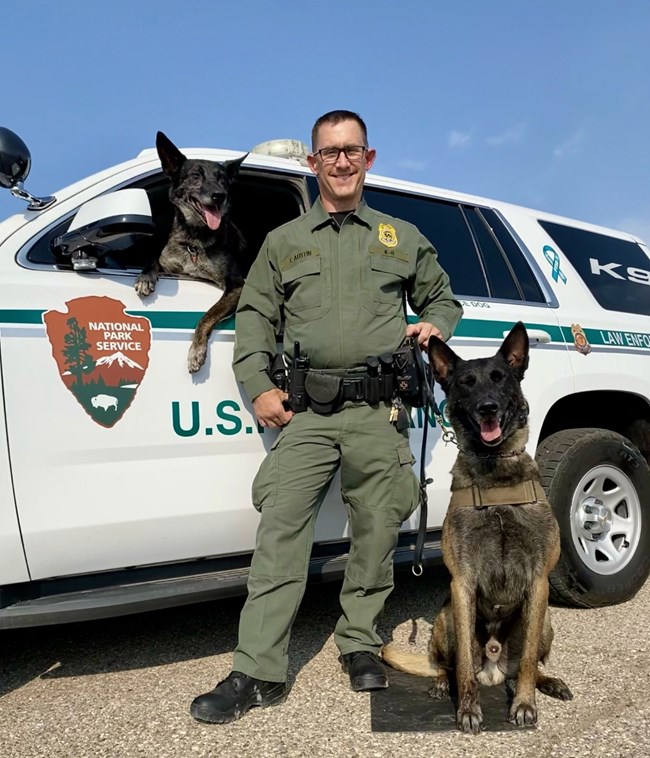 Todd Austin
Lake Mead National Recreation Area, Arizona and Nevada

Todd Austin has spent most of his career as a canine ranger at Lake Mead National Recreation Area. He is a skilled paramedic, firefighter, boat operator, firearms instructor, and control tactics instructor.

Austin serves as the National Canine Program Manager and has worked tirelessly to professionalize and manage the canine program on a national level. He is considered the primary subject matter expert on law enforcement canines in the National Park Service, and is largely responsible for the program as it stands today. He trains canine officers and handlers, often connecting training dogs with canine handlers across the country. He has also strengthened partnerships in surrounding communities by developing canine teams for municipal police departments.

As a law enforcement officer and paramedic, Austin has responded to all manner of complex and dynamic situations to protect life and the park's resources. As a paramedic, He is a National Park Service Law Enforcement Training Center accredited instructor). Throughout his career, Austin has quietly but dligentydiligently saved lives not seeking public recognition. He also serves on the National Park Service's National Emergency Services Coordination Counsel.