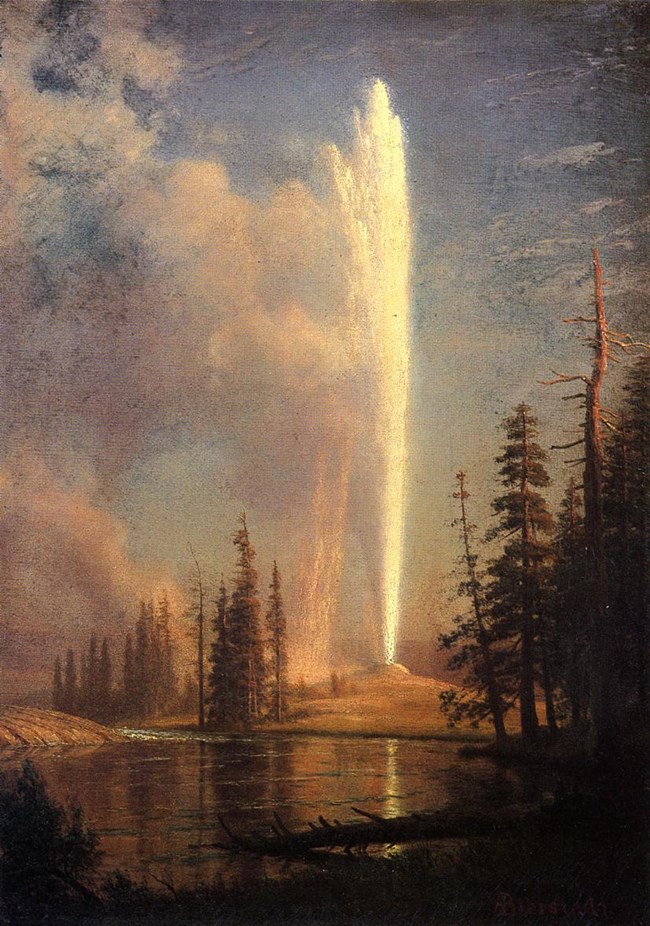 Yellowstone National Park was established as one of the two first U.S. World Heritage sites along with Mesa Verde. In 1978, just over one hundred years later, it was inscribed by UNESCO on the World Heritage list -- the United States' first World Heritage Site. It encompasses over 2 million acres (800,000 ha) in the northwestern corner of Wyoming and includes portions of Idaho and Montana. Sited atop a gigantic volcanic caldera, Yellowstone is famous around the world for its geologic features and abundant wildlife.

The park is part of the most seismically active region of the Rocky Mountains, a volcanic "hot spot." Three cycles of past volcanic eruption produced huge explosive outbursts of ash. The latest eruptive cycle formed a caldera 45 kilometers (28 miles) wide and 75 kilometers (47 miles) long, when the active lava chambers erupted and collapsed. The crystallizing lava is the source of heat for hydrothermal features such as geysers, hot springs, mud pots and fumaroles. Yellowstone contains 200-250 active geysers and perhaps 10,000 thermal features.

Along with the geysers and hot sprints, Lodge Pole pine forests dominate the landscapes of the park. There are seven species of coniferous trees and some 1,100 species of vascular plants growing in the park. The park is one of the few remaining intact large ecosystems in the northern temperate zone of the earth. The park's bison are the only wild, continuously free-ranging bison remaining from herds that once covered the Great Plains. The park is also home to grizzly bears, gray wolves, and large herds of elk, among others.

Yellowstone National Park is also a place with great historic and cultural value. American Indian archeological sites date back 10,000 years. Perhaps of equal importance is the fact that the park's establishment spawned the "national park" idea that has spread throughout the world.

Among its natural wonders, Yellowstone preserves heritage sites and historic buildings that are important features. The Grand Loop Road Historic District encompasses a 140 mile stretch of road that was constructed to blend into its natural setting and connects all of the park's most famous destinations.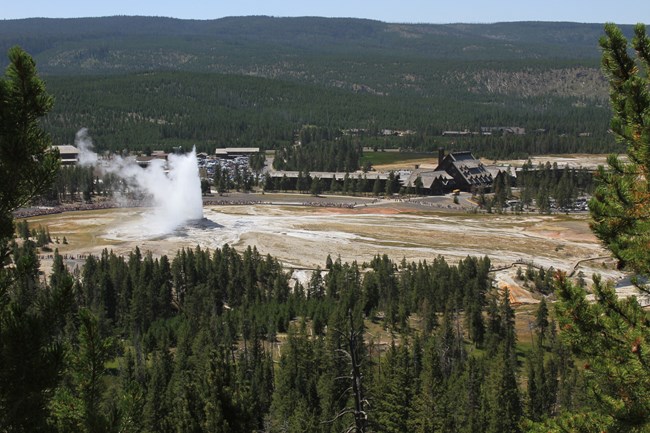 Fort Yellowstone, a National Historic Landmark that was the historic and is the current administrative center of the park, is on the Grand Loop Road. In 1891, Fort Yellowstone was formally established as a western military outpost dedicated to the protection of the natural resources and wildlife of the first national park of the United States. Fort Yellowstone embodies the initial American military and civilian efforts to implement conservation policies and procedures. The historic fort encompasses the area the army set aside to preserve and protect the natural resources and wildlife of the park from 1886-1919.

Another historic place to see along the Grand Loop Road is the Lamar Buffalo Ranch. By the start of the 20th century, the bison population in Yellowstone had dwindled significantly, bringing the species close to extinction. In response, the park opened Lamar Buffalo Ranch in 1907 with the sole purpose of raising 27 bison and keeping them safe and alive. The ranch operated until 1952 when the bison were released back into the wild.

The remains of the first structure the government built for the public in a national park are in Yellowstone. Constructed in 1881, the Queen Laundry Bath House was a simple log building that was designed to preserve "the park's natural features 'from injury and spoliation' while providing a place for visitors to enjoy. The early public policy reflected by the Queen's Laundry Bath House has influenced the National Park Service's approach to managing parks and making them accessible to visitors to the present day.

Four decades after the park's creation, the Lake Fish Hatchery Historic District in Yellowstone became the site for a fish hatchery in 1912. The hatchery stocked the rivers and lakes with fish for commercial sport. For over half a century, nearly 818 million trout eggs were grown to distribute to the waters of Yellowstone and other waters in the National Park System. The Lake Fish Hatchery Historic District represents the struggle between Yellowstone's early wildlife conservation efforts and commercial fishing aspirations.

Yellowstone also offers splendid opportunities to stay in historic lodgings. The most spectacular example is Old Faithful Inn, a National Historic Landmark which dates from 1903-04 -- one of the few remaining log hotels in the United States and a masterpiece of rustic architecture. Lake Yellowstone Hotel is another option, and there are others.

The park provides a number of visitor and information centers with a wealth of information to assist visitors as they explore the park. Opportunities for visitors with a range of interests and abilities abound throughout the year. It is recommended to check the park website for information about seasonal closings and changes before going to the park.

NPS Park Page: https://www.nps.gov/yell/index.htm

World Heritage Information: https://whc.unesco.org/en/list/28