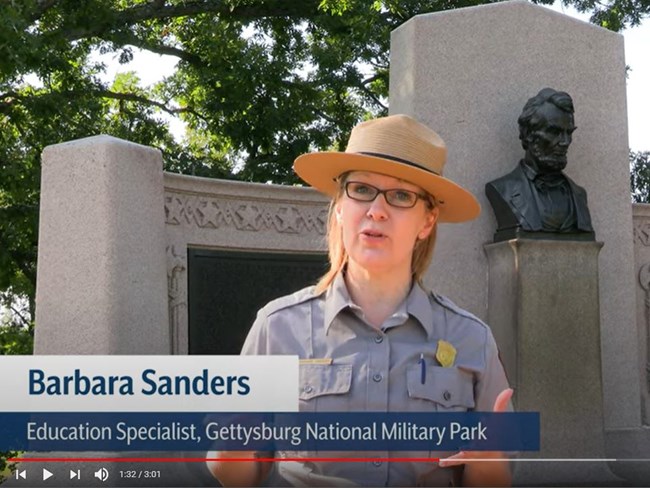 Recipient: American Battlefield Trust
Amount
: $107,037.50 
"Lots of schools don't do field trips, unfortunately. [They] give kids a visual about what they have been reading… [and] always get everybody really excited to learn!" Sara, 12, after a field trip to Gettysburg in 2014.
That need for engaging educational content for teachers and students has only been exacerbated by the COVID-19 pandemic and decreasing school budgets in recent years. With a Battlefield Interpretation Grant from the
American Battlefield Protection Program
, the American Battlefield Trust hopes to help in that endeavor.
With this funding, the Trust will create in-depth videos for teachers to use in their classrooms as virtual fieldtrips. Many teachers, especially those in underserved communities, lack the ability to take trips. These videos, accompanied with teacher resource guides, lesson plans and supporting primary documents, will satisfy Common Core and National Council of Social Studies standards and will be free to educators. Focusing on four states that are home to pivotal American battlefields, the project includes Lexington and Concord in the American Revolution, New Orleans in the War of 1812, Fort Sumter and For Wagner in South Carolina's Civil War history and Vicksburg, Mississippi's Civil War battlefield.
This initiative is part of the Trust's larger Field Trip Fund, which helps to offset costs of field trips for school districts. "Though we spend more than $40,000 per year… [we] cannot remotely meet the demand for field trip funding…. For every field trip application we approve, we reject two. Virtual field trips can be created once and used for many years, bringing the per-student cost to a mere fraction of an on the ground field trip."
NPS ABPP's Battlefield Interpretation Grants empower preservation partners nationwide to modernize and enhance battlefield interpretation – to inspire wonder, understanding and empathy at the places that witnessed some of our nation's most challenging events. In addition, the program administers three other grants: Battlefield Land Acquisition, Preservation Planning, and the newly authorized Battlefield Restoration Grants. This financial assistance generates community-driven stewardship of historic resources at the state, tribal and local levels.
Get Your Project Funded
Check out the American Battlefield Protection Program's website for more information about various grant offerings and eligibility.
Learn more!