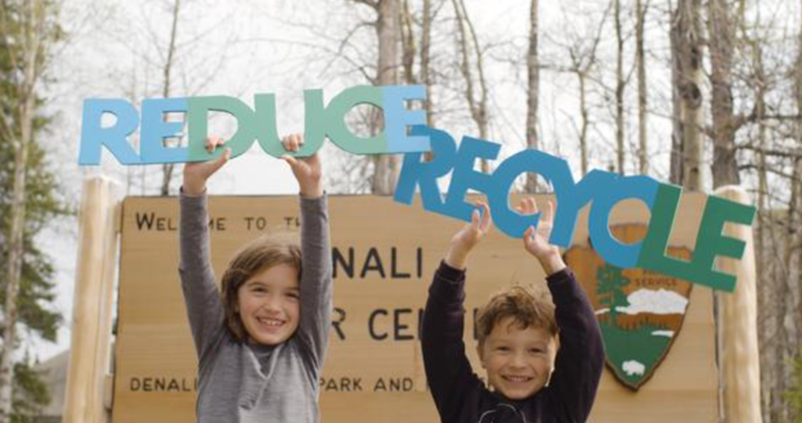 More than 300 million people visit the national parks each year, bringing in and generating nearly 70 million tons of trash. The National Park Service (NPS) is faced with managing all that waste – everything from plastic to food to discarded camping gear and much more.
The NPS, National Parks Conservation Fund (NPCA), National Park Foundation (NPF) and Subaru collaborated to create the multi-year "Don't Feed the Landfills" initiative at three pilot parks –
Denali
,
Grand Teton
and
Yosemite
. Since the program's launch in 2015, more than 16 million pounds of waste have been kept out of landfills, which is equivalent to one million garbage trucks.
It (really) takes a village
Customizing waste reduction solutions with community partners for each park greatly contributes to the program's success, including Grand Teton Lodge Company, Signal Mountain Lodge, Yosemite Hospitality, Aramark, Doyon Limited Aramark, Denali Education Center and Nature Bridge.
Another critical driver is connecting with the millions of people that visit national parks – as they plan their trips, while they are in parks and after – about waste challenges and what they can do to help.
Additionally, providing nearly 1,000 clearly labeled recycling containers in high-traffic areas makes it easier for visitors to correctly sort and recycle while encouraging the use of reusable items to help reduce single-use plastic bottles and bags, and coffee cups.
Looking ahead
The success of the "Don't Feed the Landfills" Initiative in the three pilot parks created a road map that can be shared with other national parks.
"The Subaru ZLI partnership with the NPS is designed to investigate ways to significantly reduce waste going to landfills. Over the course of this project, the NPS benefitted greatly from the lessons that we learned and the relationships that we established. And this work will enable us to help many other parks in their efforts to be better stewards of our National Parks.," said Shawn Norton, Branch Manager for the NPS
Sustainable Operations and Maintenance Branch of the Park Facility Management Division.
Why team up with a car company?
Subaru has extensive experience in understanding waste diversion to landfills, as the first automotive assembly plant in America to achieve zero-landfill status in 2004. Because of this, Subaru committed to sharing its knowledge of zero-landfill practices by working with NPCA, NPF and NPS, toward their shared goal of reducing landfill waste.
Subaru recently expanded its commitment to supporting America's national parks as a premier sponsor of the NPF's
Outdoor Exploration
,
Parks of the Future
, and
Resilience and Sustainability
initiatives. In addition to being the largest corporate sponsor of the NPF, Subaru of America provided more than $68 million to organizations working to conserve national parks.
"National parks are America's treasures, and so many people have found fun, adventure and relaxation in these natural wonders of our country. Subaru owners have a deep connection with national parks, and we're committed to protecting them," said Alan Bethke, Senior Vice President of Marketing, Subaru of America, Inc. "As long-time partners of the National Park Foundation, we're proud to renew our commitment to support national parks by helping apply our expertise in sustainability, preserving these pieces of America's history for future adventures."
Learn More
Video:
See how Subaru and the NPS reduce park waste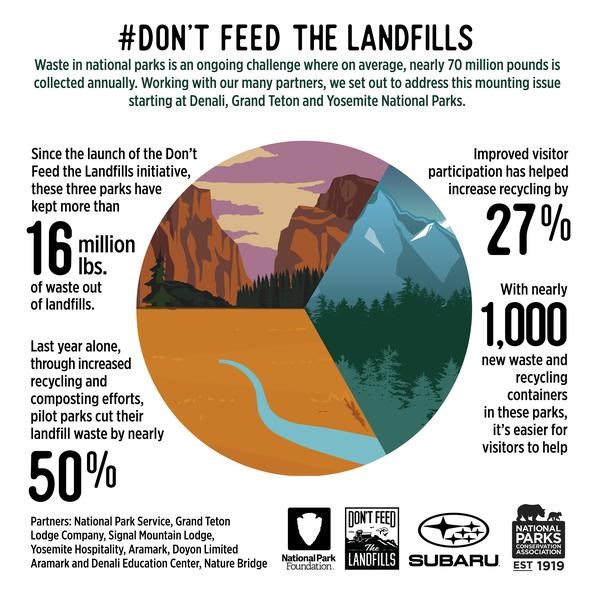 Get Involved: Five Ways to Support #DontFeedTheLandfills
Visitors play an important role in helping to significantly reduce park waste. Do your part by following these simple steps when planning your next trip:
Plan and Prepare – especially with additional health and safety precautions amid the global pandemic including requirements to wear masks, social distancing and new reservation systems. Think about what you bring into the parks and check to see if it can be recycled or composted in the park you are visiting. Choose materials that can be reused and take them with you. Avoid buying single use items and disposing of them while in the park.
Opt for Online when you can – instead of a paper map, try smartphone apps to help navigate your way around the park, when/where access is available.
Bring Your Own Coffee Mug - bring a reusable coffee mug or buy one from the park visitor center or concession to help reduce waste at parks.
Bring Your Own Water Bottle – bring or buy a refillable water bottle and take advantage of convenient water refilling stations located around the parks.
Choose Reusable Bags - bring your own reusable bag or tote for your supplies to help eliminate plastic bag waste.