Article
Take the Scenic Route: Recharge at National Parks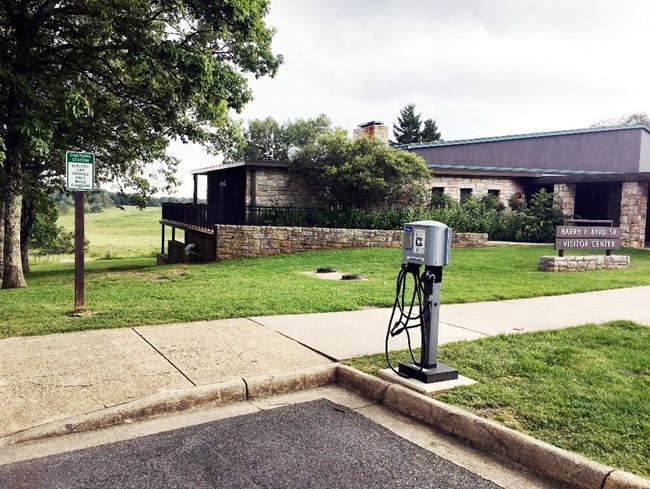 Across the country, national parks allow visitors to discover and connect with our treasured open spaces. The classic national park family road trip is now possible for electric vehicle (EV) drivers as the National Park Service (NPS) installs EV chargers in parks and gateway communities.
Efforts to install EV chargers in the national parks have been underway for almost a decade, ever since the first major auto manufacturers began offering current generation EV models in 2010. Through partnerships with the U.S. Department of Energy (DOE), National Park Foundation, BMW of North America, and California Energy Commission (CEC), NPS allows drivers to charge while exploring America's landmarks. These partnerships also support the businesses and communities adjacent to parks, where visitors find hospitality services and recreational activities that are essential to the park experience.
In 2012, there were approximately a dozen EV chargers in national parks. With EVs becoming more mainstream, NPS and its partners are ensuring that visitors can access the parks in their EVs by offering them a charging station. In 2016, BMW donated funding to
install 100 chargers
in or near national parks. Other EV chargers have resulted from the
Clean Cities National Parks Initiative
, established in 2010. This partnership with DOE supports transportation projects that educate visitors on the benefits of using cleaner and more efficient vehicles, puts alternative fuel and fuel-efficient vehicles on the road, and installs EV charging and other alternative fuel infrastructure at parks.
Currently, there are more than 140 chargers in parks and gateway communities across the country, and more are in the works. NPS is working with CEC to complete 20 additional EV charger installations at national parks in California.
Expanding access to EV chargers reduces greenhouse gas (GHG) emissions from visitors' vehicles and the NPS fleet. Transportation is responsible for approximately 28% of the annual GHG emissions in the United States, and transportation operations within NPS contribute to over 30% of its annual GHG emissions. NPS recognizes the importance of reducing emissions and strives to utilize efficient and alternative transportation operations in as many parks as possible.
These projects can help NPS meet its energy, economic, and environmental goals and fulfill its mission to preserve the natural and cultural resources and values of the National Park System for the enjoyment, education, and inspiration of this and future generations.
EV charging at parks extends the reach of EVs into areas once out of range and allows visitors to help preserve the long-term quality of the parks. With the Biden Administration's goal to install
500,000 EV charging stations
, EV drivers will have access to even more national parks.
Last updated: April 19, 2021