Clean Cities National Park Initiative
The National Park Service and U.S. Department of Energy "Clean Cities National Parks Initiative" supports alternative transportation projects aimed at reducing greenhouse gas emissions and educating park visitors about the environmental benefits of reducing our dependence on petroleum.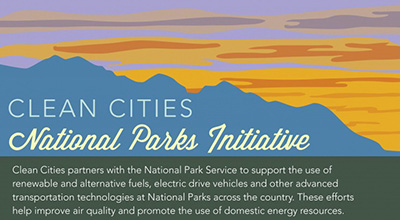 The National Park Service (NPS) recognizes the importance of reducing greenhouse gas (GHG) emissions and we strive to utilize efficient and alternative transportation operations in as many parks as possible. To do so, the National Park Service and Department of Energy (DOE) partnered to create the Clean Cities National Park Initiative. Since 1999, both agencies have worked together to "Green Our Rides" by reducing our dependence on petroleum and cutting GHG emissions through the use of alternative fueled vehicles. This partnership has succeeded in bringing hybrid and alternative fuel vehicles to Grand Canyon National Park, Mammoth Cave National Park, Yellowstone National Park, among others, saving an estimated 13,000 gallons of gasoline and nearly 100 tons of GHG emissions every year!
As the partnership embarks on another year, sites like Shenandoah National Park, Blue Ridge Parkway, San Antonio Missions National Historical Park, and Golden Gate National Recreation Area plan to incorporate alternative energy such as propane-powered mowers and new technology including public electric vehicles chargers into their daily operations.
Last updated: January 3, 2018