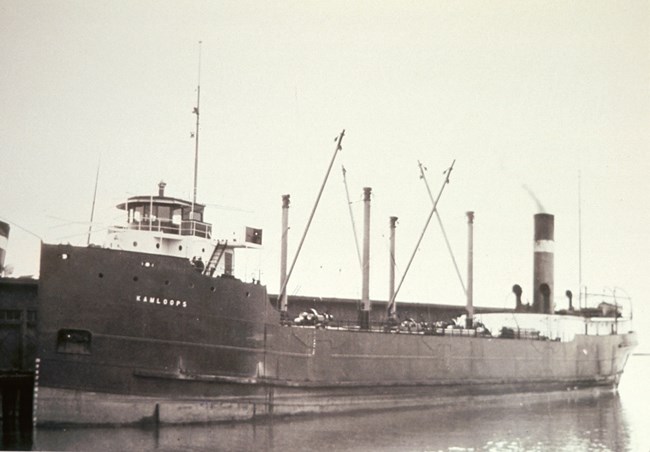 Construction
Kamloops was built in England by Furness Shipbuilding Co., Ltd. at its shipyard at Haverton Hill on Tees in 1924. Built for Steamships, Ltd. of Montreal, Canada for use in the Great Lakes package trade, the single-screw, steel freighter was designed as a canaler, with dimensions appropriate for passage through the Welland Canal system. Its primary intended function was to transport package freight, but it could also carry bulk cargo.
Kamloops had a length between perpendiculars of 250 feet, molded breadth of 42 3/4 feet and a molded depth of 26 1/2 feet. Its deadweight capacity was 2,400 tons on a 14-ft. draft (Canadian Railway and Marine World, July 1924). Kamloops was of the vessel type built to the maximum possible canal dimensions.
Steamships Ltd., the company that ordered both sister ships built (Kamloops and Lethbridge), was a subsidiary of Canada Steamship Lines, Ltd., and all of its principal company executives were also officers of Canada Steamship Lines. Steamships, Ltd. was incorporated in November 1923, stating its purposes as "to carry on the business of transportation of passengers, freight, etc., towing, wrecking and salvage in or over any of the navigable waters within or bordering on Canada, and to or from any foreign port, and various other businesses connected therewith" (Canadian Railway and Marine World, August 1924:422-3).
The first of the two new ships slid down the ways on May 20, 1924, after being christened Kamloops by Agnes Black, daughter of the Canada Steamship Lines superintendent. Lethbridge followed on June 14.
The triple-expansion engine and the Scotch boilers were made specifically for Kamloops by Richardson, Westgarth and Co., Ltd. of Hartlepool, England, and rated at 1,000 indicated horsepower. The engine could push the ship at an estimated speed of 9 1/2 knots.
Kamloops completed its builder's trial on July 5, 1924 and proceeded to Copenhagen to load the first cargo, which was bound for Montreal. The ship went on to Houghton, Michigan. The vessel, along with its sister, would run regularly between Montreal and Fort William, Ontario carrying package freight west and grain east (Canadian Railway and Marine World, Oct. 1924:527).