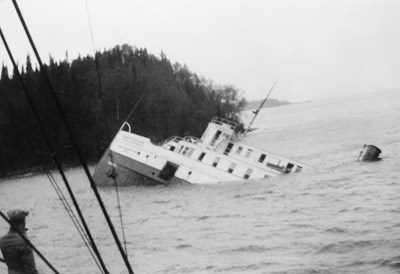 Wreck Event
America's 1928 season began as many before it. There were no signs at all that this would be America's final season. America last steamed out of the Duluth Ship Canal on Wednesday, June 6, 1928, headed up the north shore and expected to touch at all the usual ports of call. From Grand Marais it headed toward Isle Royale to drop off a number of passengers in the darkness of early morning so they would not have to wait out the trip to Port Arthur. It went on to navigate around the northeast tip of the island, before landing at the customary Washington Harbor destinations the following day (Duluth News Tribune, June 7, 1928; Superior Evening Telegram, June 7, 1928; Holden interview with Capt. Stanley Sivertson, Duluth, Minn, in 1973 and with James R. Marshall, Pike Lake, Minn, in Oct. 1974, 1986).
Soon after clearing the dock in Washington Harbor, Capt. Smith turned command of America over to First Mate John Wick, with Fred Nelson at the wheel, and retired to his cabin behind the bridge. Five minutes later America thudded over a reef, bumping four times and tearing a small hole through its single bottom below the engine room on the starboard side. Mate John Wick was a new mate on America, having served previously as mate under Capt. Gus Ege on Jack of the Minnesota Atlantic Transit Co., popularly known as the "Poker Fleet." Wick quit MATCo because Capt. Ege would not recommend him for his own ship in the fleet (Ken Hafner interview with Capt. Duncan Schubert at Sault Ste. Marie, Mich. ca. 1977, copy in "Holden Collection").
Stanley Sivertson: Wreck of the America

Oral History 61: Stanley Sivertson 3 & 4

Credit / Author:

Dave Snyder: ISRO Archives.

Date created:

2020-10-14 00:00:00.0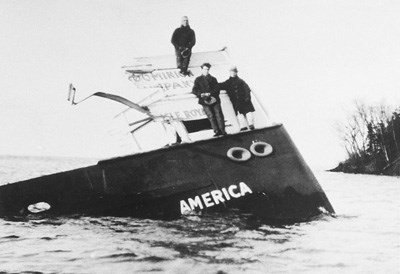 At first it seemed as though America's pumps could handle the inrushing water, but Chief Engineer Frank McMillan quickly reassessed the situation - America was going to sink. Meanwhile Capt. Smith returned to the bridge where he found Mate Wick ringing the ship's bell to alert all aboard of the disaster. Moments later Capt. Smith yelled, "Beach her! Beach her!" (Holden interviews with Marshall, 1974, 1986).
Capt. Smith remembered a small gravel beach nearby in the North Gap of Washington Harbor. It would be a good place to try to nose America ashore before she foundered in deep water. He ordered Fred Nelson to swing the wheel to point America directly toward the beach. Then another thud and America ground to a halt about 30 yards short of the beach that probably would have assured its imminent salvage, subsequent repair, and return to service.
Below deck in the engine room, Engineer McMillan ordered his crew to relieve boiler pressure and grease down everything in sight so America's power plant could be made readily functional when salvage work was completed. Water already had snuffed fireman Hans Fjorne's boiler fires (Holden interviews with Marshall, 1974, 1986).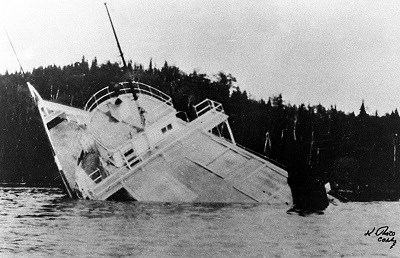 America was carrying 31 crew and 16 passengers at the time of the accident (Duluth News Tribune June 9, 1928), shortly after slipping away from the Singer Hotel dock at Washington Island. It is possible Louis P. Hogstad, Manager of United States & Dominion Transportation Company, was aboard at the time of the accident and considered by Capt. Smith as a member of the crew ("Record of Casualties to Vessels." U.S. Treasury Department, p. 17, bound journal, copy in Canal Park Marine Museum collection).
The estimated value of the vessel was $100,000; the 55-ton cargo of miscellaneous merchandise was valued at $10,000. The amount of insurance on the hull was $60,000; disbursements was $40,000. The cargo was uninsured ("Record of Casualties to Vessels." U.S. Treasury Department, 17, bound journal, copy in Holden Collection).
Media Coverage / Survivor Accounts
The loss of the steamer America was covered in newspapers and journals ranging from the American and Canadian Lakehead port cities to Chicago and New York ("1928 Annual Report ." Lake Carriers' Association: 51-52; Canadian Railway and Marine World, ca. July 1928). First news of the wreck was carried over the wireless station affiliated with Singer's resort on Washington Island and sent to Duluth (Port Arthur News Chronicle June 7,8, 1928).