Article
Sequoia and Kings Canyon post-fire efforts focus on restoration of sequoia groves and Pacific fisher habitat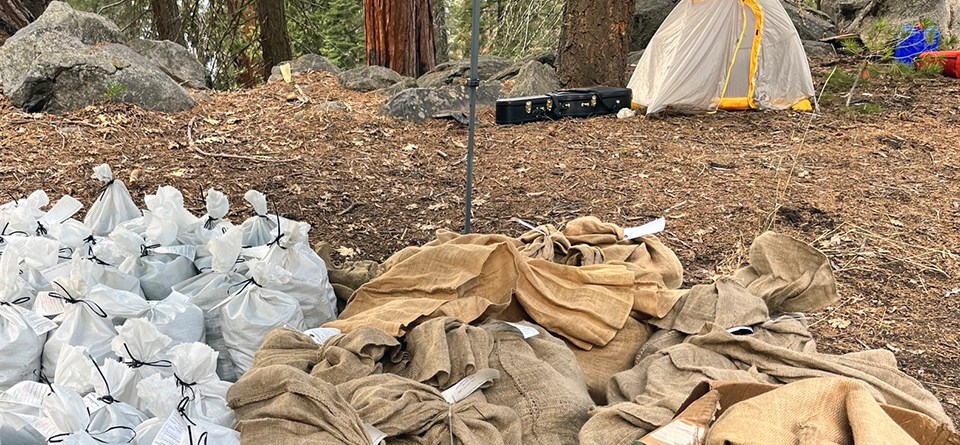 Using $2.6 million from the Bipartisan Infrastructure Law (BIL) Burned Area Rehabilitation (BAR) funds, the National Park Service (NPS) has begun habitat restoration in Sequoia and Kings Canyon National Parks (SEKI) in areas outside of designated wilderness, and is in the planning stages for restoration within designated wilderness. This work is taking place in areas that burned during the 2020 SQF Complex and the 2021 KNP Complex. Both the SQF Complex and the KNP Complex included multiple fires managed together. Among other impacts, the severity of these fires resulted in the mortality of as much as 19% of the world's large monarch giant sequoias. Without intervention, natural revegetation may not be successful in regenerating impacted groves. In response to these unprecedented events, BAR plans developed for these fires recommended reforestation in giant sequoia groves, including portions within designated wilderness.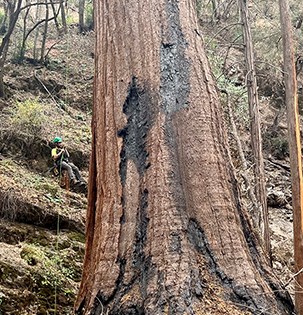 To facilitate sequoia restoration, the NPS is collaborating with the US Forest Service through an interagency agreement and Sequoia Parks Conservancy to harvest sequoia cones and propagate seedlings. Supported by BIL BAR funding, sequoia cone harvesting was conducted at Redwood Mountain, Big Stump, Board Camp, and Cedar Flat in September 2022. Currently, 110,000 giant sequoia seedlings germinated from these seed collections are being grown at private nurseries and a USFS nursery, with the intention of using them to replant sequoia groves that experienced catastrophic wildfire.
Field work in fiscal year 2022 also included developing detailed site plans, building species lists, and collecting seeds from other mixed conifer species, including sugar pine, Jeffrey pine, ponderosa pine, and the rare mouse buckwheat (Eriogonum nudum var. murinum). In late 2022, seeds were sown in the park's native plant nursery to be planted during 2023 in areas damaged by the KNP Complex at Tunnel Rock, Potwisha, Giant Forest, and along the Generals Highway. Restored vegetation will replace prior conservation plantings lost in the wildfire, which were originally installed to restore damaged ecosystem structure and prevent erosion due to trampling and informal trails.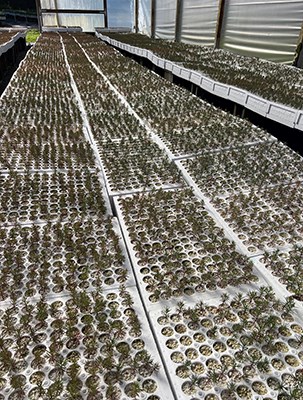 The park is also working with American Forests to fund a Cone Corps member to collect cones for post-fire restoration projects. Through a partnership, American Forests will provide logistical and implementation support for planting projects throughout the park. Additional cone collections will occur in late summer 2023. The potential for planting in designated wilderness areas in early fall 2023 is currently being evaluated though an Environmental Assessment.
In addition to impacts to giant sequoia groves, a considerable amount of federally-listed Pacific fisher habitat burned at high severity during these wildfire events, and many of these areas have been deemed unlikely to regenerate naturally. Analysis indicates that replanting mixed conifer species across 480 acres of Pacific fisher critical habitat may be required to maintain habitat connectivity for local populations. Accordingly, BIL BAR funding is being used to grow out an additional 150,000 mixed conifer seedlings which will be planted in affected areas in early fall 2023, pending the outcome of current environmental analyses.
Last updated: November 21, 2023