Article
I Cast Iron: Bridget Mara-Williams
I cast iron for what it communicates.
Transcript
My name is Bridget. I'm from Western Mass and I'm a senior at MassArt. I saw that MassArt had this foundry class and my grandfather worked in a foundry, and my uncle teaches a foundry class, so I wanted to try it. And taking that class naturally progressed into working with the Iron Corps and becoming one of the current chiefs.
Iron casting is hard work. It is a multistep process, from creating the pattern of what is to be cast, to the best type of mold for that pattern, to then actually pouring iron into the mold and then detailing the piece and finishing it with a patina from there. This process requires persistent problem solving, but each problem is a new opportunity for creativity.
So, I cast iron for what it communicates.
I chose to make a traditionally light object from a heavy material, emphasizing that it can no longer float.
This life jacket represents things that supposedly lift a person up, but unintentionally drag them down.
It is a toddler's size, as seeking to be saved is infantile.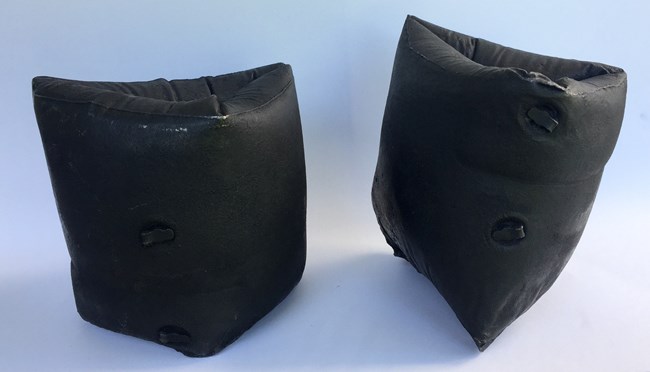 These floaties will no longer float.
Floaties give the feeling of freedom; they allow a child to float but interfere with swimming.
This piece creates a humorous illusion of freedom.
Series: Saugus Iron Works I Cast Iron Because...
Last updated: February 8, 2021