Article
I Cast Iron: Josephine Wermuth
I cast iron because it's constructive destruction.
Transcript
Hi, I'm Josey Wermuth, a senior at Massachusetts College of Art and Design, majoring in Architecture with a double minor in Sculpture and Sustainability. I'm from Northbridge, Massachusetts.
I was drawn to casting iron for a few reasons. The first was the community aspect of Iron Corps. It's this amazing group of artists who have to rely on each other to do this, which was kind of a new idea for me. It was strange at first having to rely on other people in order to get your pieces done, but it really helped me push the limits of what I was physically and mentally capable of and I made bigger and better pieces because of that community, like my piece, "Incapable/I'm Capable," which is in the online gallery. I was also drawn to casting iron because I like the idea of being able to make metal do what I wanted, mostly, and as an architect, they teach you that metal is this super strong, structural component. So, it was really hard to get out of that mindset and see cast iron as this art form until I saw the works of Beverly Pepper and Marjee Levine because they really focus on the performance, the process, and the art form of casting iron and their works really inspired me.
I dove into the process a lot and in doing so, I kind of discovered that it's a phoenix process. We melt the iron down and it rises from the ashes as this art piece and that was one of my most, one of my favorite parts of casting iron.
I cast iron because it's constructive destruction.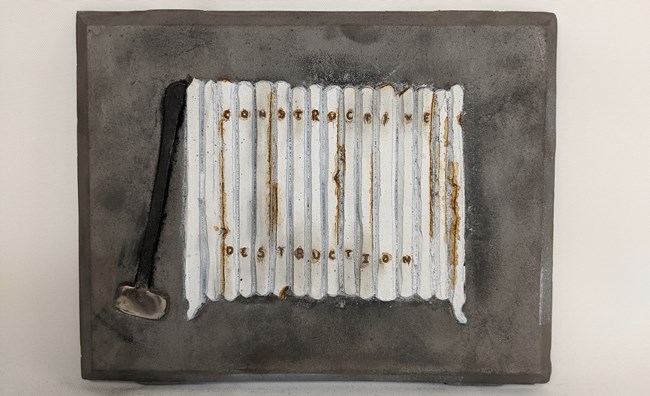 This piece is about the process of casting iron. We destroy old radiators and bathtubs and melt them to make art.
The constructive destruction, the swing of the sledgehammer, is why I cast iron.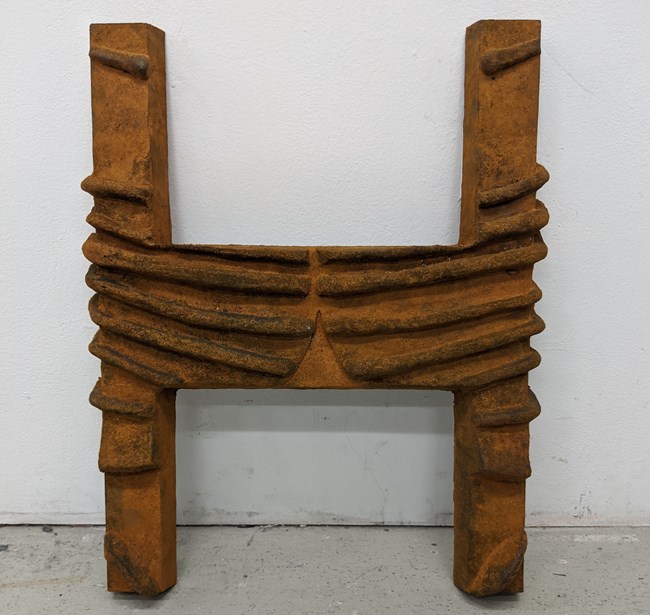 All my life I've been treated by family and friends like I'm fragile because I'm a skinny girl.
This piece is an oversized mold weight that is made with my dimensions: the length of my spine, the width of my hips, and most importantly my weight.
The piece is much larger and heavier than a typical mold weight, proving that I am more than capable of doing tough work.
Series: Saugus Iron Works I Cast Iron Because...
Last updated: February 8, 2021