Article
I Cast Iron: Molly Harrington
I cast iron because it makes me feel like part of a whole.
Transcript
Hi, my name is Molly Harrington. I'm from Pomfret, Connecticut and I'm a rising senior in sculpture at MassArt.
I was first introduced to working with iron as a freshman when I went to the MassArt Club Activity Fair. I found myself at the table for Iron Corps. I got called over by the two chiefs at the time. I saw this huge mound of safety equipment and like little iron trinkets and photos of sparks flying all over the place and I was just instantly intrigued. I was given a little leather patch by the two chiefs and, after some time and deliberation, I went to the first meeting. I was very shy at the time. After a bit of pushing, and a couple of little tiny projects, I started to really fall in love with the process. And, after the first iron pour I participated in at the school and some takeout and a movie with the rest of the club afterwards, I realized I had really found my first home away from home at MassArt.
After that, I really started to throw myself head first into the process and the rest of the corps really inspired me to be a stronger and more confident person in general. And when I was a junior, I became co-chief of the Iron Corps and started to run the text list and the Instagram page, which was like a dream come true for me.
What really inspires me about the process of casting iron, in general, is just the amount of time and effort needed to make something. When I first finished a piece in iron, especially like a big piece, it felt so gratifying after spending dozens and dozens of hours on every single aspect of the process. The community aspect is also a huge part of why I love it so much. You know every iron piece that comes out of the school is collaborative in some way. Like you can't pour, you can't do an iron pour alone.
We're always together working on a giant mold or breaking up radiators with sledge hammers or pouring a giant wood block mold that gets sparks everywhere, or just talking about how passionate we are about the art we're making.
I cast iron because it makes me feel like part of a whole.
Visit our keyboard shortcuts docs for details
Duration:

2 minutes, 4 seconds
Tune in to hear from Molly Harrington, a Massachusetts College of Art and Design (MassArt) Iron Corps student, about her experiences with iron casting.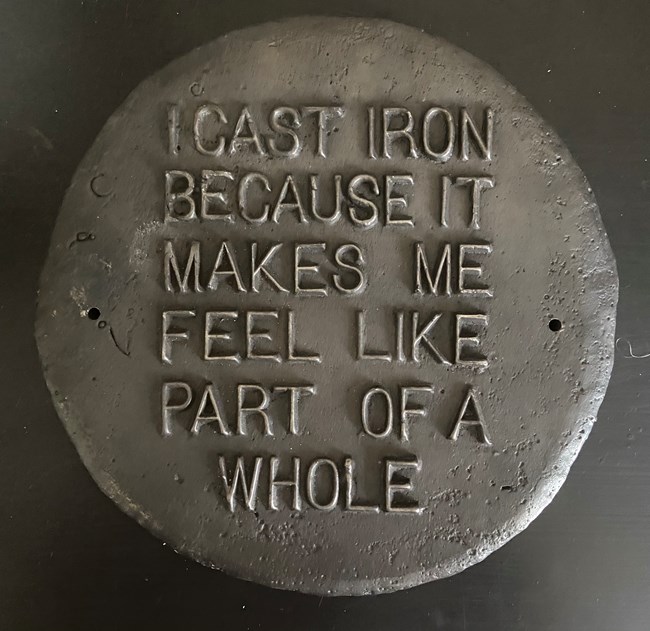 The cast iron community has made me much more passionate about my sculpture and it makes me feel like a more complete person.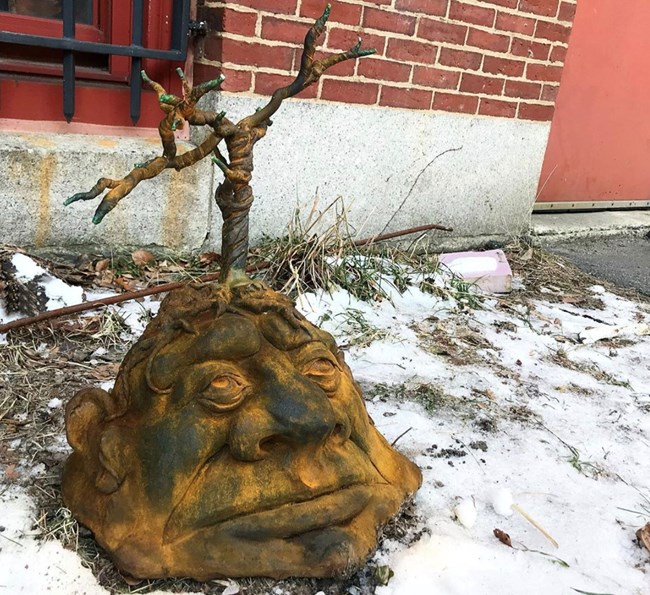 This piece portrays a head sprouting out of the ground, covered in greenery.
What happened to this figure for it to end up in this position? Is there more of this creature hidden underground starting to sprout or perhaps starting to sink into the earth further?
This piece discusses these mysteries and narratives, as well as the idea of decay and decomposition.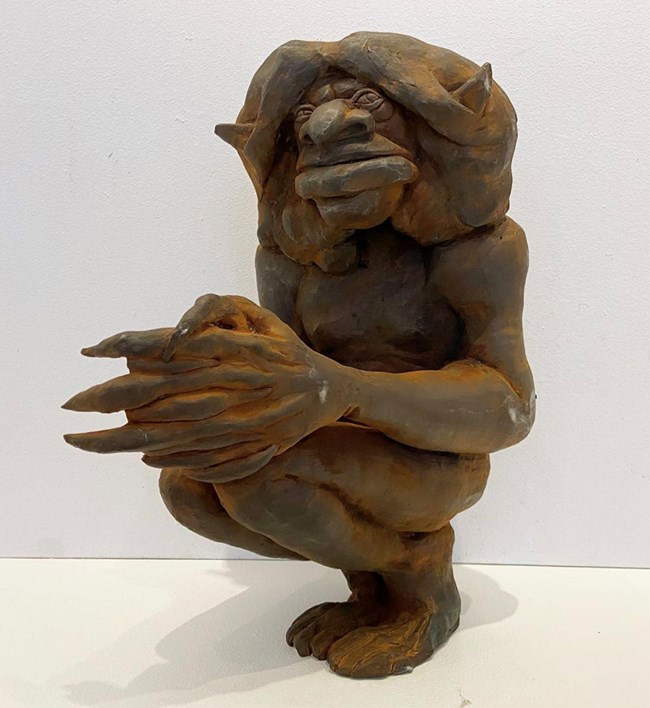 A strange goblin-like figure steadily watching, poised to act at any time. When will she move and what will she do, if anything?
This piece discusses this feeling of mystery and unease, as well as the sense of fantasy that this sculpture communicates.
Series: Saugus Iron Works I Cast Iron Because...
Last updated: February 8, 2021