Article
Route 66: 2023 Cost-Share Grant Awards Announced
The National Park Service, Route 66 Corridor Preservation Program, is pleased to announce the recipients of its 2023 cost-share grant awards. The program provides grant assistance for eligible historic preservation, research, oral history, interpretative, and educational projects related to historic Route 66. Since 2001, 175 projects have been awarded $2.72 million with $4.36 million in cost-share match, totaling $7.08 million in public-private investment toward the revitalization and commemoration of the Route 66 corridor.
The 2023 grant awards go to: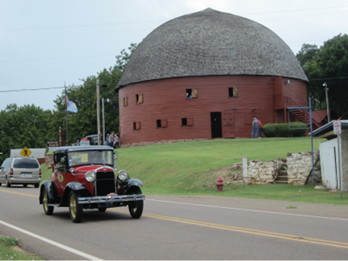 Round Barn Siding Repair
Location: Arcadia, Oklahoma
Applicant: Arcadia Historical and Preservation Society, Inc.
NPS Grant: $30,000 Cost-Share Match: $79,850

The Round Barn is an iconic landmark located on Route 66 in Arcadia, Oklahoma. Built in 1898, the lower level has served as a livery stable and hay storage facility for much of its life. Construction workers who built the barn donated funds to have wood flooring installed on the second floor for community parties, dances, and other functions. The barn was built using native burr oak trees that grew by the Deep Fork river near the site. To construct the curved roof rafters, green 2x4's were soaked in the river and dried in a curved form. In 1988, the barn roof collapsed, resulting in a large-scale community effort to preserve the barn. Today, the upper floor is still used for community functions, while the lower floor now serves as a museum. The barn has become a popular rest stop on Route 66, is subject of countless photographs and paintings, and is listed on the National Register of Historic Places. Grant funds will assist with re-siding the barn, using materials and methods that were used historically to create the curved form.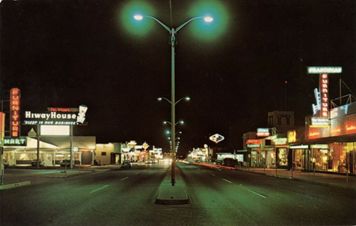 Albuquerque Neon: The Stories Behind the Signs Video Series
Location: Albuquerque, New Mexico
Applicant: City of Albuquerque
NPS Grant: $30,000 Cost-Share Match: $52,122

The City of Albuquerque boasts an eighteen mile stretch of urban Route 66, with a unique and memorable neon landscape. City leaders have long sought to spotlight the historic and commercial vitality of Route 66, and acknowledge the importance of preserving and re-imagining Route 66 including its many historic neon signs. Grant funds will support the production of a video series that documents Albuquerque's Route 66 neon signs and their stories. The project will approach neon signs as works of art and modern architecture, vital landmarks, and artifacts that tell us about the city and nation. Themes will include design evolution, sign preservation, creative processes used to make neon, and neon's impact on Albuquerque art, culture, and commerce—past, present, and future.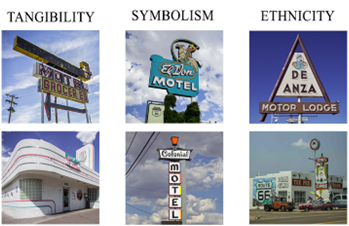 Route 66 Connected Research Project – Phase 2
Location: Route 66 in New Mexico
Applicant: Independent Researcher
NPS Grant: $28,840 Cost-Share Match: $29,354

The impact of the automobile on United State culture is far-reaching, and Route 66 is known as a symbolic representation. Much of the imagery and iconography of the road focuses on the past, the romance of travel, and the American Dream. However, as an icon of America, what is the meaning and value to society today? This project will build upon a 2022 NPS grant award to continue to explore New Mexico Route 66 to provide a realistic and comprehensive view of the cultural, social, and economic narratives of the Mother Road and how they are reflected in its contemporary reality. By examining the historic commercial properties still in operation, the project will undertake archival research and photographic survey of their tangible architectural legacy and current use, Route 66 iconography, and ethnic features from a cultural anthropological perspective. Phase I of this work has culminated in the creation of a photographic collection, a detailed database, and a report to be archived at the University of New Mexico Center for Southwest Research. The current phase will develop, finalize and release an online, public exhibition.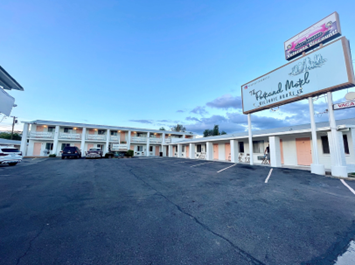 Nomad Motel Roof Restoration
Location: Seligman, Arizona
Applicant: Private Owner
NPS Grant: $30,000 Cost-Share Match: $30,000

The historic Nomad Motel is a 30-room motel that has been in continuous operation since 1964 in Seligman, Arizona. The motel operated as the Nomad Motel until approximately 1970 when it became part of Romney Hotels International and was renamed the Romney Motel. One of several mid-century motels along Route 66 in Seligman, Arizona, it is now known as the Postcard Motel, and contributes to the National Register of Historic Places listing, the Seligman Commercial Historic District. New owners are restoring the motel to retain as many historic features as possible while also introducing modern amenities and hospitality standards. Grant funds will support a much-needed roof replacement for the property.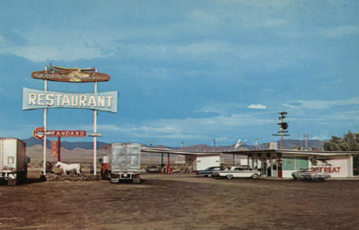 Road Runner's Retreat Neon Sign Restoration - Phase 3
Location: Chambless, California
Applicant: Private Owner
NPS Grant: $17,000 Cost-Share Match: $18,246

The Road Runner's Retreat is located on National Trails Highway/Route 66 in the small town of Chambless in the Mojave Desert of California. The property was first developed in 1961 and soon after sold to the Dotson family in 1962. The Dotson's had previously owned and operated Duke's Western Wear in Montclair, California, and with their expert marketing skills were able to amplify this unique, desert location. The business included a googie-style gas station, auto repair shop with a tow truck service and a cafe. The business prospered until 1972 when I-40 opened. The Dotson's sold the property ca. 1973 to the Murphy family who continues to own the property today. Today, it remains a popular stopping place for photo opportunities, has been used as a movie set by the film industry, and is eligible for listing on the National Register of Historic Places. The owners are actively envisioning a new future for the property, including restoration of the iconic sign. Grant funds will support the third and final phase to restore the sign to full operating condition.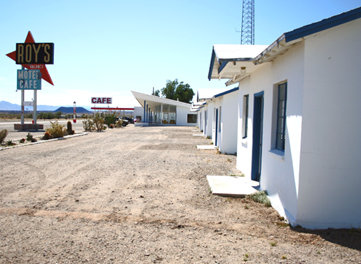 Roy's Motel & Cafe Septic System Rehabilitation
Location: Amboy, California
Applicant: Private Owner
NPS Grant: $30,000 Cost-Share Match: $172,000

Amboy is a small town in the California Mojave Desert that was founded in the 1800s by mining and railroad interests. In the 1930s it became a key desert landmark for Route 66 travelers needing gas, food and lodging. When it was bypassed by the interstate in the 1970s, Amboy became a virtual ghost town. However, many important buildings remain, including Roy's cafe, motel and gas station. With a dedicated owner and a caretaker onsite, Amboy continues to attract thousands of visitors each year. Fuel and limited-food services have been restored at the gas station, and plans are afoot to restore other buildings and services. Grant funds will assist with upgrade and replacement of the septic system to support cafe and public restroom operations, and to support future development of the motel lobby and cottages.
Last updated: October 24, 2023