Article
Route 66: 2022 Cost-Share Grant Awards Announced
The National Park Service, Route 66 Corridor Preservation Program, is pleased to announce the recipients of its 2022 cost-share grant awards. The program provides grant assistance for eligible historic preservation, research, oral history, interpretative, and educational projects related to historic Route 66. Since 2001, 169 projects have been awarded $2.55 million with $3.98 million in cost-share match, totaling $6.53 million in public-private investment toward the revitalization and commemoration of the Route 66 corridor.

The 2022 grant awards go to: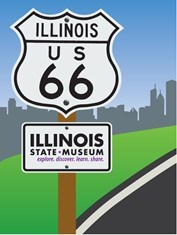 Route 66 Oral History Project
Location: Springfield, IL
Applicant: Illinois State Museum Society
NPS Grant: $8,000 Cost-Share Match: $23,500

Route 66 was many things to many people. For some, it was an open road to freedom, exploration, and vacation travel. For others, it was an economic lifeline, bringing motorists and their dollars to their small businesses. For travelers of color, it was a route to be negotiated with the help of the Green Book and other travel guides. For American Indian communities, Route 66 cut through homelands providing economic opportunities, increased mobility, but also appropriated iconography by others in the form of merchandise, marketing and tourism. The Illinois State Museum actively seeks to capture these stories and the full complexity and impact of Route 66 on the lives of the people who traveled and lived alongside it. With grant support the Illinois State Museum will collect 100 oral histories in Illinois as part of a planned exhibition to commemorate the Route 66 centennial in 2026.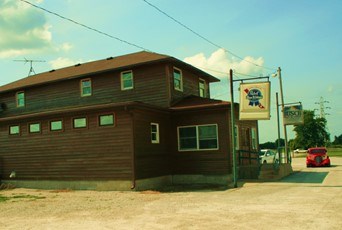 DeCamp Station Septic System Upgrade
Location: Staunton, IL
Applicant: DeCamp Station, Inc.
NPS Grant: $13,499 Cost-Share Match: $13,499

DeCamp Station was built from a building kit ordered out of the Montgomery Ward catalogue in the 1920s. The building was originally assembled on the east side of Route 66 in Staunton, Illinois, however the owners did not own the land the building sat on. When land became available on the west side, they picked up the building and moved it the west side with a team of horses. Through the years, living quarters were added to the rear, and the front porch was enclosed. A second story was added and a single-story addition on the north and south sides. It has operated nearly continuously as a roadhouse ever since under many names including Duda Place, Elenora's Cafe, Vic and Ann's Cafe, and Rucks Lounge. According to legend, customers included celebrities and outlaws like Al Capone. Today it's known as DeCamp Station and retains much of its historic appearance including all-wood siding, oak and mahogany booths, hard maple floors, original light fixtures and tin ceilings. It is also still serving its original pizza recipe. This project will replace the septic system to maintain the viability of the building as an authentic roadhouse stop on historic Route 66.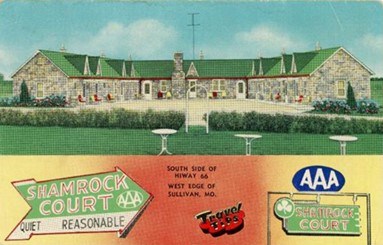 Shamrock Court Restoration, Phase II
Location: Sullivan, Missouri
Applicant: Private Owner
NPS Grant: $30,000 Cost-Share Match: $30,000

The Shamrock Court in Sullivan, Missouri was built in 1947-1948, and has been owned and operated by one family for much of its 73 years on Route 66. With very few alterations, the motel retains most of its original design and appearance, including native stone construction known as the "giraffe rock" style, which is n unique to the Ozarks region. During its construction, stonemason artisans incorporated sunbursts, flowers and diamond patterns into the stone design, which added a unique, whimsical touch still present today. With its high pitch dormers, shingled roofs, native stone facades, and distinctive horseshoe-shaped configuration, the motel retains a very high degree of historic integrity. Since the passing of its owners 13 years ago, the property sat vacant and underwent significant deterioration. With demolition on the horizon, a new owner has stepped in to rescue and stabilize the buildings, with plans to bring the Shamrock Court back to life as a functioning motel. In 2021, grant funds assisted with Phase I of the restoration, which including listing the property on the National Register of Historic Places, restoring the subfloors, dormers, roof, gutters, HVAC system, electrical system, and plumbing system. Phase II 2022 grant funds will assist with the completion of the electrical and plumbing system upgrades.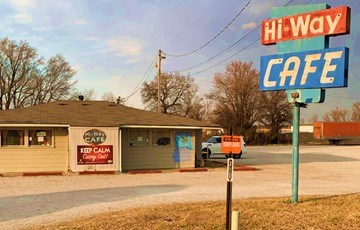 Hi-Way Cafe Neon Sign Restoration
Location: Vinita, OK
Applicant: Hi-Way Cafe, LLC
NPS Grant: $17,200 Cost-Share Match: $17,200

Like many historic businesses on Route 66, the Hi-Way Cafe has an unusual beginning. In the 1950's, Tom Schwartz opened the Champlin Truck Stop on Route 66 in Vinita, Oklahoma. The truck stop included a motel and cafe. Not long after opening however, the Oklahoma Highway Department condemned his business site in order to build a new set of westbound lanes for the expansion of Route 66. Mr. Schwartz re-purchased the buildings from his former site (except the motel) at auction and moved them 100 feet to the north to rebuild his business. The relocated truck stop reopened in 1962, including the Hi-Way Cafe and its charming neon sign that was designed and installed by Mr. Schwartz. The business has been in continuous operation as the Hi-Way Cafe ever since. The overall interior with its counter and booths is remarkably unaltered and provides a strong sense of time and place from its period construction. The current owner has been working tirelessly for over a decade to restore the property for both locals and travelers. Grant funds will assist with restoration of the neon sign to operating condition.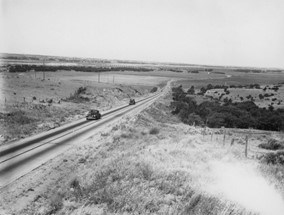 National Register Significance Addendum – US 66 Hydro-Bridgeport
Location: Bridgeport to Hydro, OK
Applicant: Independent Researcher
NPS Grant: $6,950 Cost-Share Match: $7,075

Highway engineering in the early 20th century differed significantly from highway engineering today, and US Highway 66 from Hydro to Bridgeport, Oklahoma reflects this in an exemplary way. Listed on the National Register of Historic Places, this 17-mile stretch of concrete pavement was constructed in 1933-1934 and represents premier if not experimental engineering standards of its time. Often referred to as the "El Reno Cutoff", it is also important for completing US Highway 66 across Oklahoma as part of a historically controversial yet critical national quest to make the highway as short and direct as possible. Constructed in conjunction with the Bridgeport Bridge (Pony Bridge) across the formidable South Canadian river, the district reflects a highly significant and unaltered example of roadway. In 2021, the Bridgeport Bridge was re-evaluated for its National Register significance, resulting in elevation from local to national significance. The current project will now re-evaluate the National Register significance of the associated 17-mile stretch of pavement as a strategy for increasing awareness, recognition, and protection of this special stretch of highway. (Photo courtesy of ODOT. Bridgeport alignment, 1946.)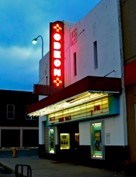 Instructional Video: Do-it-Yourself Neon Sign Servicing and Repair
Location: Various communities, NM
Applicant: New Mexico Route 66 Association
NPS Grant: $6,500 Cost-Share Match: $7,500

Neon signs have always been vital to promoting business along Route 66. They are also a valuable form of folk art, serving as landmarks for Route 66 travelers and a source of community pride. Upkeep can be challenging however, as even one hailstorm can damage a sign and require repairs. Neon repair services are often found in larger cities, but can be elusive in smaller, isolated communities. For some, the closest repair services are hundreds of miles away, which can discourage owners from repairing their signs. With proper instruction however, a layperson can often service their own neon signs. Given their simplicity, troubleshooting neon signs can be straightforward and easily learned. Replacing broken neon tubing is comparable to changing a light bulb. This project will produce a 25-minute instructional video on the typical construction of neon signs and their components along with troubleshooting and how to make simple repairs with common tools. The video is intended to support business owners and others to maintain and repair neon signs in affordable ways that help keep their lights on and the Route 66 corridor burning brightly.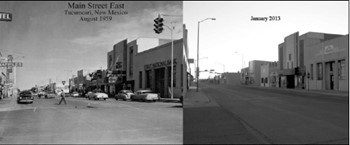 Recording & Preserving Route 66 Cultural Landscapes
Location: Tucumcari, NM
Applicant: The Trustees of the University of Pennsylvania, New Mexico Highlands University
NPS Grant: $29,636 Cost-Share Match: $113,492

Documentation is a valuable form of preservation that captures a place in time and space for future generations to understand and learn from. Traditional methods of documentation tend to focus on individual buildings or districts, but what about the places in between, and the overall experience of a place? The objective of this project is to record and document the built environment of Route 66, using Tucumcari, New Mexico as a model. Project activities will be managed collaboratively by the University of Pennsylvania Weitzman School of Design and New Mexico Highlands University. Activities will include field visits, lesson development, and student instruction in geomatics, public history, media studies, archeology and historic preservation for the purpose of capturing historic and cultural resources through photography, video, drawings, and GPS and 3D spatial data. The result will be a layered, geo-cultural history of Tucumcari's Route 66 landscape as it has evolved over time, and a Conservation Management Plan. The work will be made available to the public through a web-based platform and will explore best practices on how to record the physical landscape of Route 66 while providing opportunities for public participation in the on-going construction of the people's history of Route 66.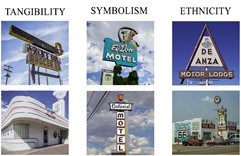 Route 66 Connected Research Project
Location: Route 66 in New Mexico
Applicant: Independent Researcher
NPS Grant: $20,000 Cost-Share Match: $20,267

The impact of the automobile on United States culture is far-reaching, and Route 66 is a symbolic representation. Much of the imagery and iconography of the road focuses on the past, the romance of travel, and the American Dream. However, as an icon of America, what is the meaning and value to society today? This project will explore Route 66 with a focus on New Mexico to provide a realistic and comprehensive view of the cultural, social, and economic narratives of the Mother Road and how they are reflected in its contemporary reality. By examining the historic commercial properties still in operation, the project will undertake archival research and photographic survey of their tangible architectural legacy and current use, Route 66 iconography, and ethnic features from a cultural anthropological perspective. This work will culminate in the creation of a photographic collection, a detailed database, and a report that will be available to the public and archived at the University of New Mexico Center for Southwest Research.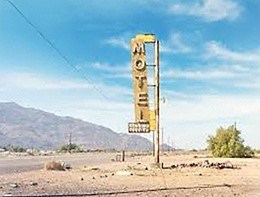 Henning Motel Sign Restoration
Location: Newberry Springs, CA
Applicant: Private Owner
NPS Grant: $10,000 Cost-Share Match: $10,000

The Henning Motel was built in 1947 along Will Roger's Highway, Route 66 in Newberry Springs, California. Travelers were drawn to the motel by its towering 35-foot neon sign offering motel rooms and "free TV' for over 40 years. In 1973, Route 66 was bypassed with the completion of Interstate 40, and without steady business the Henning Motel closed its doors. In 1988 however, the motel and adjacent Bagdad Cafe were used to film the award-winning German film called Bagdad Cafe. The film shares a fictional story of a German tourist who finds herself alone and stranded on Route 66. The storyline follows Jasmine's new-found life at the Bagdad Cafe & Truck Stop and Henning Motel. This quirky movie quickly catapulted into a cult classic lasting over 30 plus years. While the site has become a tourist attraction, a lack of funds and understanding of the motel's historic significance led to disrepair and ultimately to demolition. While the motel has been lost, the current owners are committed to preserving the orphan sign (a sign that has lost its associated building) as a testimony to the historic motel. Grant funds will assist with the full restoration of the sign to operating condition as an important part of the cultural landscape.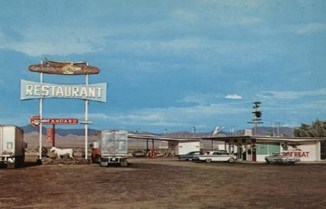 Road Runner's Retreat Sign Restoration Planning
Location: Chambless, California
Applicant: Private Owner
NPS Grant: $5,386 Cost-Share Match: $5,386

The Road Runner's Retreat is located on National Trails Highway/Route 66 in the small town of Chambless in the Mojave Desert of California. The property was first developed in 1961 and soon after sold to the Dotson family in 1962. The Dotson's had previously owned and operated Duke's Western Wear in Montclair, California, and with their expert marketing skills were able to amplify this unique, desert location. This included DJ radio broadcasts live from the parking lot, a signature white statuary horse and the construction of the iconic Road Runner's Retreat neon sign in 1965. The business included a googie-style gas station, auto repair shop with a tow truck service and a cafe. There was also housing for workers, trailers, cabins, and a small, shared laundry room. The business prospered until the unforgettable day in 1972 when I-40 opened. Duke Dotson Jr. remembers, "It was just like the movie "Cars". One day we had brisk business and the diner was full. The next day it was like someone shut off the tap of a water faucet. There were no more travelers on the road. Overnight we were put out of business." The Dotson's sold the property ca. 1973 to the Murphy family. Today, it remains a popular stopping place for photo opportunities, and has been used as a movie set by the film industry. The grandson of the Murphy's together with the Dotson family are actively envisioning a new future for the property, beginning with restoration of the neon sign. Grant funds in 2021 assisted with preparation of planning and design documents. 2022 grant funds will restore the sign box and upgrade electrical service to the sign.

Pathways Project: Preserving Route 66 in a Multimedia Map
Location: California Route 66
Applicant: Claremont Graduate University
NPS Grant: $30,000 Cost-Share Match: $30,000

Route 66 is a complex layering of geologic, historical, social, technological, movement and other phenomena that can be difficult to capture and understand in its totality. This project however, will try to do just that. Utilizing GIS, 3D modeling and animation the project will render changes in time, space, topography, human use, and habitation along Route 66 in California as a model for other states to consider. The data will be wide-ranging and unique including fault-lines, flood plains, indigenous footpaths, flight paths, car culture, neon-signs, film, TV, music, architecture, and fields of cell phone reception alongside many other layers of this data-rich spatial experience. In addition to the online experience, the project will culminate in a 500 ft long emakimono hand-scroll print of the road and its tributaries in time for the 2026 centennial celebration of the road. As an interactive, multi-media, augmented reality project it will illustrate the exceptional diversity of experience and history found along Route 66.
Last updated: November 9, 2022