Article
Revitalized Colonial Complex at York County's History Center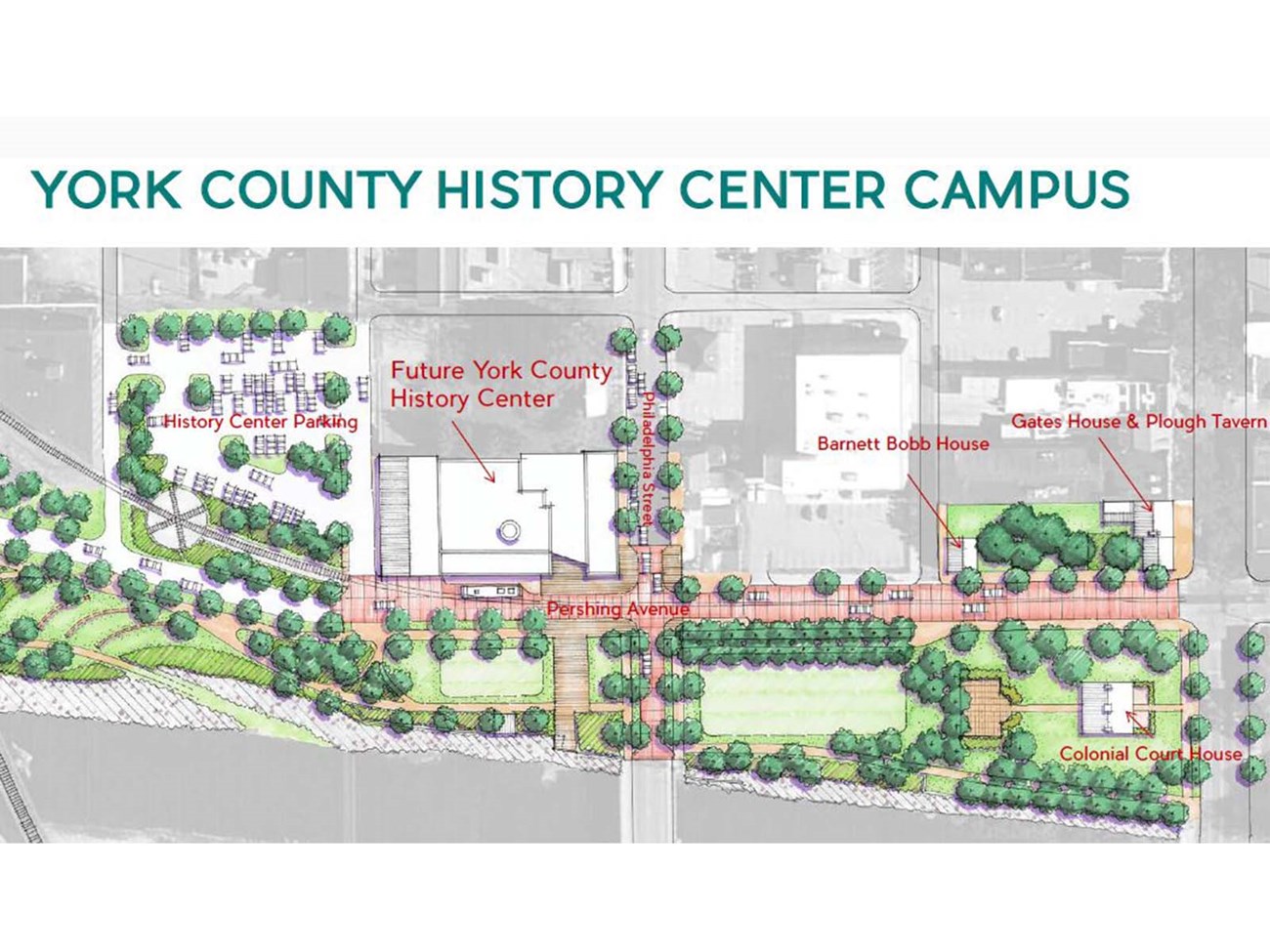 Recipient: York County History Center
Amount
: $37,171.50
You're standing just outside the Golden Plough Tavern & Gates House, looking into the face of a life-size bronze statue of a jovial man in a wig, arm raised in a toast. You pull out your smartphone and aim the camera at the statue. Within seconds, an animated Marquis de Lafayette is making an impassioned toast in honor of General George Washington – right in front of you. The York County History Center hopes to bring this statue and beloved local landmark to life before your eyes with the help of Augmented Reality technology.
With help from a Battlefield Interpretation Grant from the
American Battlefield Protection Program
, the History Center will be able to explore exciting new technology in their efforts to revitalize the Colonial Complex in York, Pennsylvania. The city has rich ties to the American Revolution. While the Continental Congress met here during the winter of 1777-78, they adopted the Articles of Confederation, the country's first constitution, and signed the Treaty of Alliance with France.
Technology like augment reality not only infuses a vitality into historic sites, it also makes them accessible to all visitors. Smartphone apps offer captions for hearing-impaired visitors, audio descriptions for the visually impaired, and content in different languages for international visitors. The York County History Center will explore these possibilities and more as they redesign a community center and campus of learning. For locals, this experience will help foster a sense of pride. For out-of-town visitors, it would help them connect York to the greater story of American history.
NPS ABPP's Battlefield Interpretation Grants empower preservation partners nationwide to modernize and enhance battlefield interpretation – to inspire wonder, understanding and empathy at the places that witnessed some of our nation's most challenging events. In addition, the program administers three other grants: Battlefield Land Acquisition, Preservation Planning, and the newly authorized Battlefield Restoration Grants. This financial assistance generates community-driven stewardship of historic resources at the state, tribal and local levels.
Get Your Project Funded
Check out the American Battlefield Protection Program's website for more information about various grant offerings and eligibility.
Learn more!
Last updated: February 4, 2022