Article
Revisiting Fort Rutledge & Esseneca Battlefield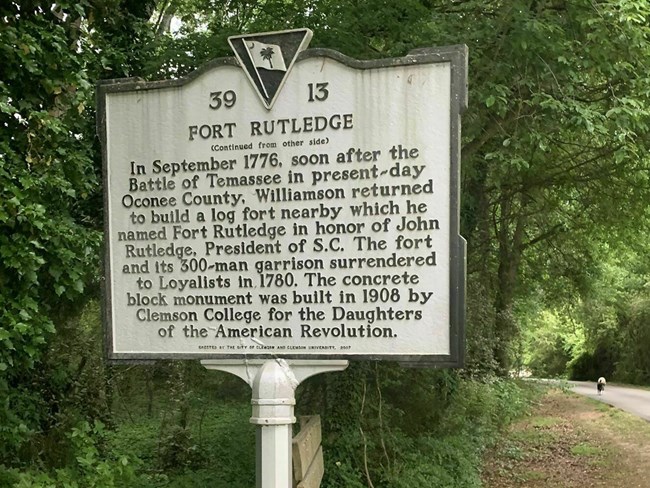 Recipient: Clemson University
Award Amount:
$133,539.00
In the early morning of August 1, 1776, Cherokee and British Loyalists ambushed the South Carolina militia in the town of Esseneca. Along the Blue Ridge Mountains, the Revolution was waged as "la petite guerre," French for small-scale warfare, or surprise raids and unrestricted targets. The aftermath of this ambush, however, illustrates the very personal nature the conflict had on the Carolina frontier. The American militia reformed and counter-attacked the Cherokee-Loyalists, burning the Cherokee town to the ground and building Fort Rutledge on its charred remains. Over the following months, the American militia systematically burned every lower Cherokee town and farm in the region, forcing them into a cease-fire by May 1777. By the end of the Revolutionary War, American Independence meant one thing for the Cherokee – subjugation.
Thanks to a Preservation Planning Grant from the
American Battlefield Protection Program
, Clemson University will conduct an archeological survey of Fort Rutledge. Additionally, the university will convene a group of stakeholders among the Eastern Band of Cherokee Indians, the Nikwasi Initiative, and the Museum of the Cherokee in South Carolina, to develop an interpretive plan that advances a more complete account of the site's history.
Preservation Planning Grants
are the American Battlefield Protection Program's broadest and most inclusive grant program, promoting the stewardship of battlefields and sites of armed conflict on American soil. In addition, the program administers three other grants: Battlefield Land Acquisition Grants, the newly authorized Battlefield Restoration and Battlefield Interpretation grant programs. This financial assistance generates community-driven stewardship of historic resources at the state, tribal and local levels.
Get Your Project Funded
Check out the American Battlefield Protection Program's website for more information about various grant offerings and eligibility.
Learn more!
Last updated: April 1, 2022