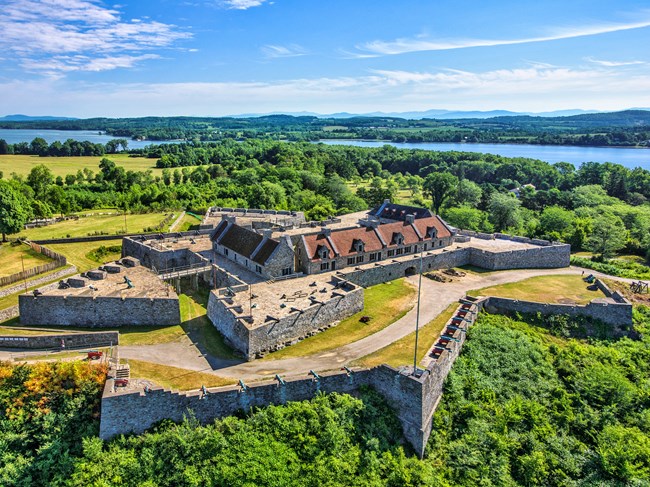 Recipient: Fort Ticonderoga Association
Amount
: $40,473.00
In the mind of American colonists, Fort Ticonderoga in upstate New York served as the last bulwark against British forces from Canada during the early days of the American Revolution. Soon after the Battle of Lexington and Concord in 1775, Benedict Arnold, Ethan Allen and the Green Mountain Boys of Vermont seized the British fort, effectively blocking their access to the Hudson River and ensuring the American colonies would remain whole. The fort's value lay not just in its location, though. During their retreat from the failed invasion of Quebec in 1775, the Continental Army sought refuge behind its walls. Additionally, Henry Knox retrieved cannons and other artillery from the fort, bringing these essential resources back to the Continental Army's headquarters in Massachusetts. General George Washington famously used these cannons to compel the British to evacuate, ending the Siege of Boston in 1776.
In October 2021, the
American Battlefield Protection Program
awarded the Fort Ticonderoga Association a Battlefield Interpretation Grant to roll out a new interpretive plan. Coming out of years of historic and archeological research, the Association will use these funds to increase access to an area of the National Historic Landmark known as "Liberty Hill." The project team will leverage long-standing relationships with universities and descendent communities to co-create inclusive and accessible experiences for visitors. The Association will initiate conversations with Tribal communities to ensure that Native perspectives of the fort's history are front and center. New York University's Ability Project also joins the project team to develop universally designed trails and interpretive signs for all visitors.
NPS ABPP's Battlefield Interpretation Grants empower preservation partners nationwide to modernize and enhance battlefield interpretation – to inspire wonder, understanding and empathy at the places that witnessed some of our nation's most challenging events. In addition, the program administers three other grants: Battlefield Land Acquisition, Preservation Planning, and the newly authorized Battlefield Restoration Grants. This financial assistance generates community-driven stewardship of historic resources at the state, tribal and local levels.
Get Your Project Funded
Check out the American Battlefield Protection Program's website for more information about various grant offerings and eligibility.
Learn more!