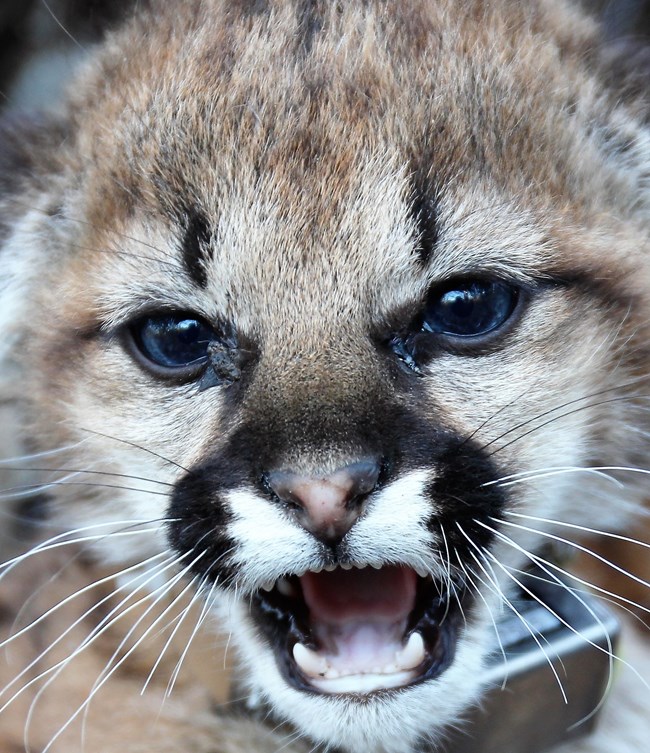 Female.
Initial capture date: Nov. 30, 2021
P-103, a six-week-old female kitten, was captured on November 30, 2021.
P-103 is part of a litter of four female kittens, She and her siblings were discovered under a picnic table of an office building that abuts open space in Thousand Oaks. Read press release here.
The four kittens were alone and thin, but in stable condition. NPS biologists fitted all four kittens - P-100, P-101, P-102, and P-103 - with tracking collars and collected biological samples. The mother of the kittens is unknown and was not being tracked by the NPS.
Because the kittens were in a public space, biologists from NPS and the California Department of Fish and Wildlife (CDFW) continued to monitor them for a few days hoping their mother would return. When that didn't happen, CDFW biologists took the kittens to a local veterinarian where two - P-100 and P-102 - died overnight.
The other two kittens, P-101 and P-103, were transferred to a veterinary hospital in Orange County. Clinicians at the animal hospital are currently waiting on some tests and then the kittens will be temporarily housed at the Orange County Zoo until a permanent home can be found for them.
Currently, we are tracking 15 mountain lions with GPS collars in the region.