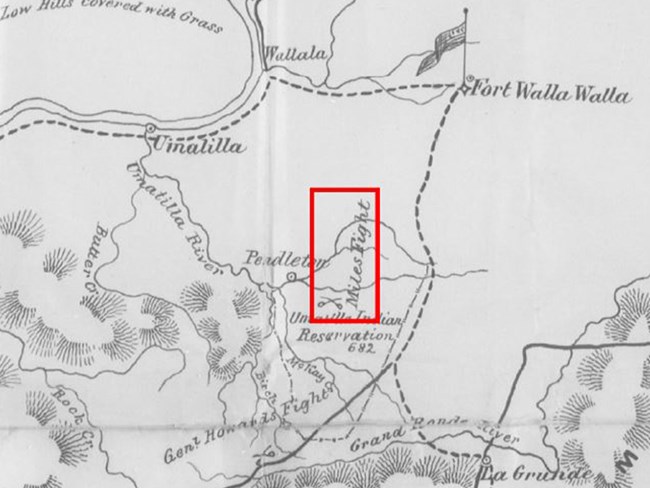 Recipient: Confederated Tribes of the Umatilla Indian Reservation
Award Amount
: $90,822.40
In July 1878, hundreds of Shoshone-Bannock crested the long hill beside Mission Creek in Oregon. In the grassland below, members of the Umatilla Indians formed a mile-long line with the US Army. An unexpected alliance, the Umatilla had joined forces with Captain Evan A. Miles when the Shoshone-Bannock entered Umatilla lands. Leaving near-starvation at the Fort Hall Indian Reservation in Idaho Territory, the Shoshone-Bannock had skirmished with American militia and US cavalry for weeks as they moved west into Oregon. At Mission Creek, the Shoshone-Bannock charged the US-Umatilla line but were forced back up the hill by repeated counterattacks and US cannon fire. At nightfall, the Shoshone-Bannock broke off from the fight, ending the last concentrated armed resistance of the Bannock War.
With a Preservation Planning Grant from the
American Battlefield Protection Program
, the Cultural Resources Protection Program (CRPP) of the Confederated Tribes of the Umatilla Indian Reservation seek to locate, document, and protect "Miles's Fight." They will develop a preservation plan by conducting archival research, a viewshed analysis, and a site survey. Through this preservation plan, CRPP hopes to expand the lines of communication between the local government and community to facilitate preservation of Miles's Fight, and to a larger extent, the importance of maintaining Tribal sovereignty.
Preservation Planning Grants
are the American Battlefield Protection Program's broadest and most inclusive grant program, promoting the stewardship of battlefields and sites of armed conflict on American soil. In addition, the program administers three other grants: Battlefield Land Acquisition Grants, the newly authorized Battlefield Restoration and Battlefield Interpretation grant programs. This financial assistance generates community-driven stewardship of historic resources at the state, tribal and local levels.
Get Your Project Funded
Check out the American Battlefield Protection Program's website for more information about various grant offerings and eligibility.
Learn more!