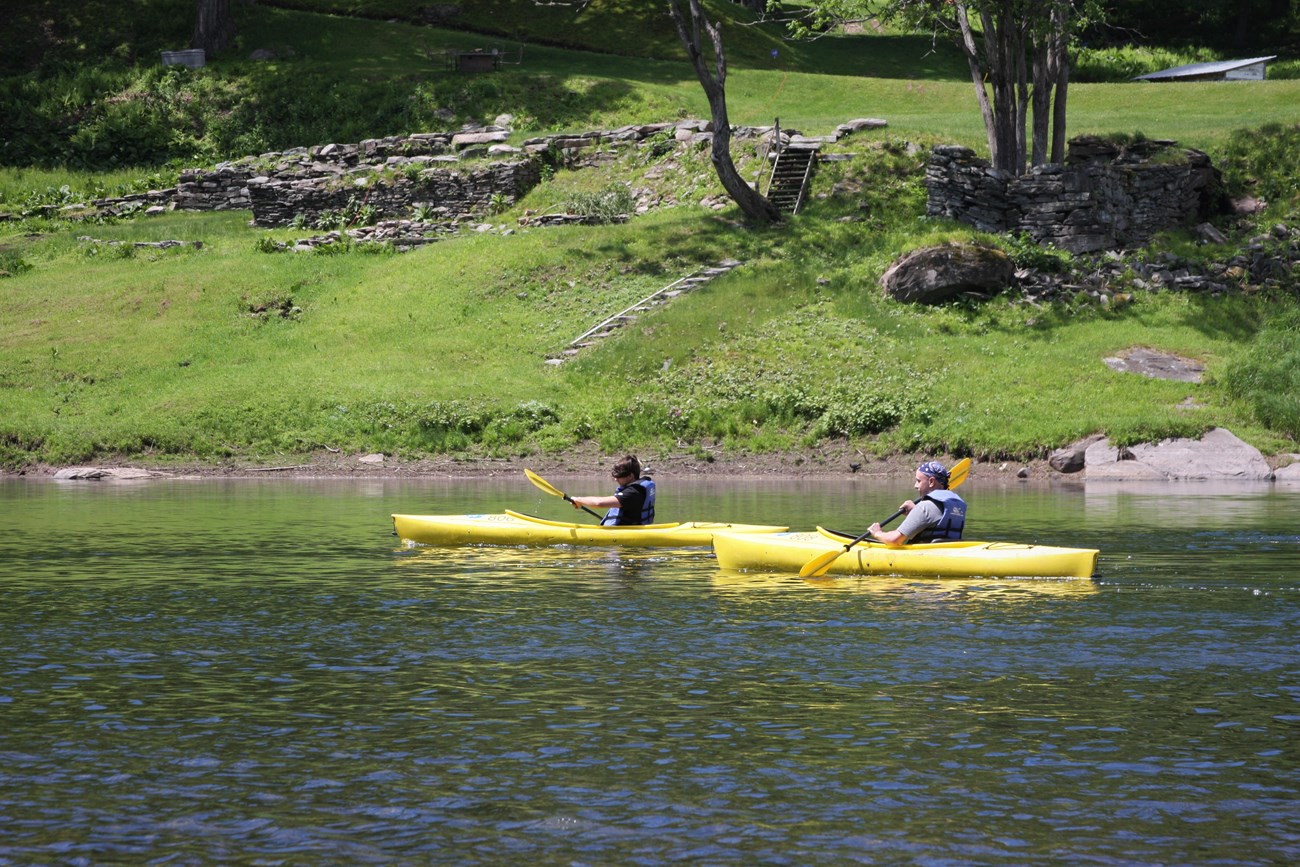 Summer is a wonderful time to come and visit your national parks and especially Upper Delaware Scenic and Recreational River. Whether you like to paddle, hike, bird watch, or just take in the scenery we have something for everyone.
To help keep you safe and to share some wonderful things to do the Top 10 listed below will make your trip safe and enjoyable.
Check out our park website for information about what to see and do on your visit to the park.
¿Vas al río? Debes de llevar un vestimento (que sea approvado de USCG) adecuadamente un chaleco de salvavidas a su medida. Por cada persona cuando esten a bordoy un silbato por barco. Ninos menores de 12 anos DEBEN DE USAR un chaleco de salvavidas a su medida (que sea approvado de USCG). Cuando valla en proceso.
Stretch your legs on the six trails of the park's "Take A Hike!" program. Remember to wear sturdy shoes, bring plenty of water and a snack, apply sunscreen, wear a hat, and give wildlife a wide berth. Hike all six trails and earn the coveted "Take A Hike!" patch!
Want to get your passport book stamped? Check out our new passport cancellation station located at park headquarters – 274 River Road, Beach Lake, PA. The passport cancellation station is available seven days a week, 24 hours a day!
Try your hand at catching a trout or smallmouth bass. Just remember to have a New York or Pennsylvania fishing license.
Have you heard of the wondrous Brooklyn Bridge in New York City? Well prior to building that great bridge, Engineer John Roebling built the Delaware Aqueduct for the D&H Canal. Today you can stroll across the bridge and get an impressive view of the Delaware River.
Planning a river trip? Call the River Hotline at 845-252-7100 to get the daily weather forecast, height of the river, the river temperature, and how fast the river is flowing.
When walking or wadding in the Delaware River be aware of uneven surfaces, slippery rocks, and sudden deep drop offs. When around the river it is always recommended that a life jacket be worn especially when swimming or wading.
The Upper Delaware River Valley is home to both resident and wintering American bald eagles. Whether paddling on the river, hiking the trails, or enjoying a scenic drive keep your eyes open for these majestic birds.
If you are going to kayak, tube, canoe, or raft you MUST CARRY a wearable (USCG Approved) appropriately sized life jacket for each person aboard. Children 12 years and younger MUST WEAR an appropriately sized USCG life jacket.