Article
Paleontology in the Parks Fellowships: A New Collaborative Program between the Paleontological Society and the National Park Service

Christy C. Visaggi, John M. Clinton, and Megan M. Rich
Department of Geosciences, Georgia State University
The Paleontological Society (PS) and National Park Service (NPS), along with the Society of Vertebrate Paleontology, signed a Memorandum of Understanding in 2018 as championed by the NPS Senior Paleontologist and Paleontology Program Coordinator, Vincent Santucci. This historic agreement emphasized the importance of promoting and supporting scientific endeavors and stewardship of paleontological resources across the NPS. Few paleontologists are employed by the NPS to work exclusively on fossils, yet paleontological resources are documented in 283 NPS units either in geologic settings, museum collections, or cultural contexts. Enhanced collaboration between members of the professional paleontological community and the NPS is intended to better serve scientific research on fossils and the preservation of these non-renewable resources.

The Paleontological Society is a professional organization dedicated to advancing an understanding of fossils, evolution, and Earth history through research, education, and advocacy. Programs run by the PS are wide-ranging and include many in support of students and early career professionals. We are overjoyed to announce here a newly developed collaborative program between the PS and NPS that provides opportunities for students and their professional mentors to contribute to paleontological needs identified by the NPS through the Paleontology in the Parks Fellowship Program.

This program is currently in the pilot phase and is expected to fully launch this summer. Here we share details about the structure of the program and report on progress from pilot projects at Gulf Islands National Seashore and Vicksburg National Military Park. These projects are being conducted by graduate students in the Department of Geosciences at Georgia State University, a minority-serving public research institution in downtown Atlanta. The first author of this article is the MS advisor for these students, a former paleontological intern for the NPS herself, and passionate member of the PS Education and Outreach committee who has worked to build this new joint program.

The Paleontology in the Parks Fellowship Program will involve addressing NPS paleontology projects by soliciting interest from student-mentor pairs. Students or recent graduates must apply alongside a professional mentor who has the expertise to contribute to particular projects for the parks. Funding supplied by both the NPS and PS will include a stipend for student work as well as dedicated support for both the mentor and student for field expenses as needed. Timelines for projects will vary depending on the scope and scale. Projects are anticipated to range from shorter/smaller needs (e.g., drafting a chapter for a paleontological resource inventory, developing education/outreach resources or programming, identifying/documenting fossils for a park) to much longer/larger efforts (e.g., completing a thematic or park-specific comprehensive paleontological resource inventory). These projects could be suitable as summer or semester-long independent research opportunities or constitute Honors/senior capstones or graduate-level theses.

Through this fellowship program, students will gain experience studying fossils through the lens of paleontology in the NPS, meaning that instead of only engaging in coursework and building basic research skills as part of their schooling, students might learn about the permitting process, collection procedures, park interpretation, management considerations, and more depending on the project. They will gain exposure to federal careers, serve park needs, and strengthen their collaboration skills by working with their home mentor and the NPS. Keep reading to learn more directly from the graduate students who are conducting research this year as part of the pilot program for these fellowships. We encourage parks to consider their paleontological needs and submit Technical Assistance Requests that might be suitable for this program.
Gulf Islands National Seashore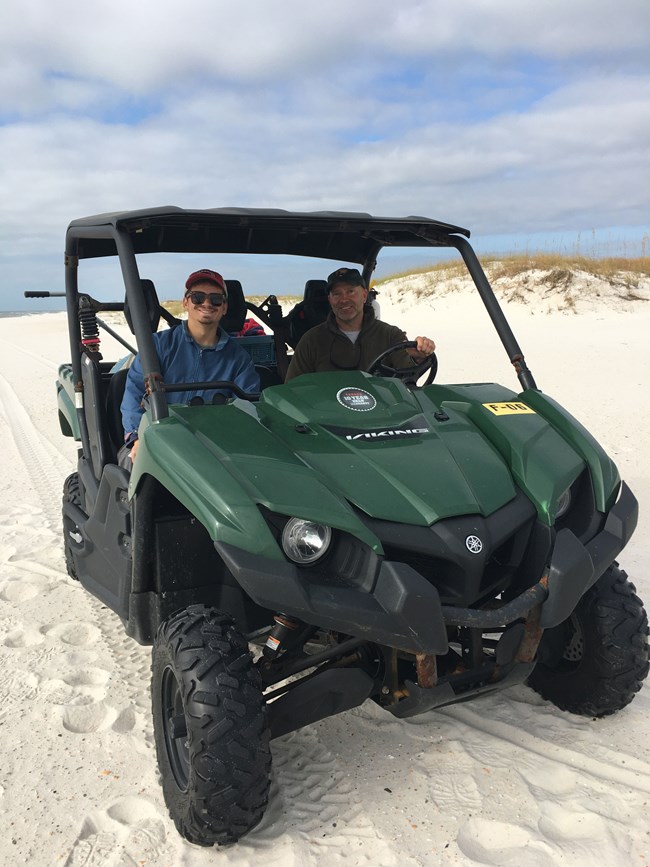 Sharks have existed on Earth for more than 400 million years, occupying oceans worldwide. Fossil shark tooth collecting is a popular hobby for many, but problems arise when those fossils are located on federally protected lands. The purpose of this project is to gain a better understanding of the occurrence, diversity, and distribution of fossil shark teeth and other paleontological resources at Gulf Islands National Seashore (GUIS). This NPS unit encompasses mainland areas as well as seven barrier island areas distributed over 160 miles along the Florida panhandle and Mississippi coastlines. Previous NPS reports had noted shell material and microfossils at GUIS but included no mention of shark teeth that were presumed to be in the park. A Technical Assistance Request was placed in 2020 for a formal paleontological investigation to be conducted at GUIS focusing specifically on fossil shark teeth.

My name is Michael Clinton and I am a graduate student at Georgia State University in Atlanta, Georgia. I was fortunate to have this project recommended to me by my graduate advisor, Christy Visaggi, as an opportunity I could pursue for my Master's capstone research. I am the lead investigator and I am joined by Christy Visaggi, Vincent Santucci, Justin Tweet, and Kelly Irick. Kelly, who is the GUIS park resources manager, has been my main point of contact with the park during this project, and Vince and Justin have supported the development of ideas, avenues for research, and so forth. Working in collaboration with this team, I have conducted literature review and extensive web searches to identify the underlying lithology and previously reported occurrences of fossil shark teeth at GUIS. The use of social media has been very beneficial to this project: I have found several accounts of visitors finding shark teeth at the park by searching social media platforms. In addition to online research, I have led field collection efforts across the park with the support of NPS staff (Figure 1). So far, fieldwork has been conducted at the Florida portion of GUIS, where numerous shark teeth were recovered (Figure 2). Fieldwork in Mississippi is scheduled for this spring.

Preliminary results indicate that fossiliferous sediments underlying or near GUIS include the Oligocene Chickasawhay Limestone, Pliocene Perdido Key and Citronelle Formations, and Pleistocene Biloxi and Gulfport Formations. Teeth identified thus far as part of collection efforts confirm the presence of chondrichthyan genera Carcharhinus, Galeocerdo, Negaprion, Rhizoprionodon, and Sphyrna. Fossil stingray dental plates, fish otoliths, a crab claw, and chimaeran dorsal spines were also found. New knowledge of fossil shark teeth at GUIS now provides an opportunity to consider expanding park interpretation efforts to include these paleontological resources, as well as demonstrating a need for increased management actions to better protect these important fossils that are not common along this part of the Gulf of Mexico.
Vicksburg National Military Park
My name is Megan Rich, and I am also a graduate student pursuing my Masters at Georgia State University. As part of NPS efforts to increase knowledge of fossils in southeastern park units, I was enlisted to survey and document fossils found throughout Vicksburg National Military Park (VICK). This project started as part of the pilot NPS-PS fellowship program, but additional funding came in that allowed me to work at the park for a full 12 weeks to conduct the first paleontological survey of its kind for VICK.

The park was established in 1899 to commemorate the Civil War Siege of Vicksburg in which Union troops surrounded and cut off the Confederate stronghold for 46 days until their surrender on July 4, 1863. Much attention at VICK has focused on the preservation of the Civil War battlefield and artifacts, taking priority over that of natural resources. VICK contains many outcrops of the eponymously named Vicksburg Group, a fossiliferous Oligocene stratigraphic unit that stretches across multiple southern coastal states. The formations that comprise the Vicksburg Group, from stratigraphically oldest to youngest, are the Forest Hill, Mint Spring, Marianna Limestone, Glendon Limestone, Byram, and Bucatunna Formations. The Mint Spring Formation in particular has beautiful exposures within the park that serve as the type locality for this formation.

During my on-site internship that is now funded through the Scientists-in-Parks program, I have split my weekly hours in half between online investigation of these geologic units and field surveys of the park. The majority of fieldwork, rather than looking at the sparse Oligocene outcrops, consists of finding exposures of the Pleistocene loess which blankets much of VICK (Figure 3). Each week's progress and discoveries are recapped in a meeting with Vincent Santucci and Justin Tweet of the NPS, my graduate advisor, Christy Visaggi, and Chuck Beightol, my mentor and VICK's natural resources manager. Preliminary findings include the discovery of greater gastropod diversity in the Pleistocene loess than previously thought, as well as identifying exposures from the Miocene that were not well established before. Through examining stream gravel, we have also discovered Paleozoic fossils transported by the ancestral Mississippi River. With the help of James Starnes and Jonathan Leard from the Mississippi Department of Environmental Quality, we have been able to better determine the identification of these pre-loess deposits as well as which outcrops are Oligocene, Pleistocene, and occasionally Miocene as noted above, from which the Catahoula Formation has been confirmed.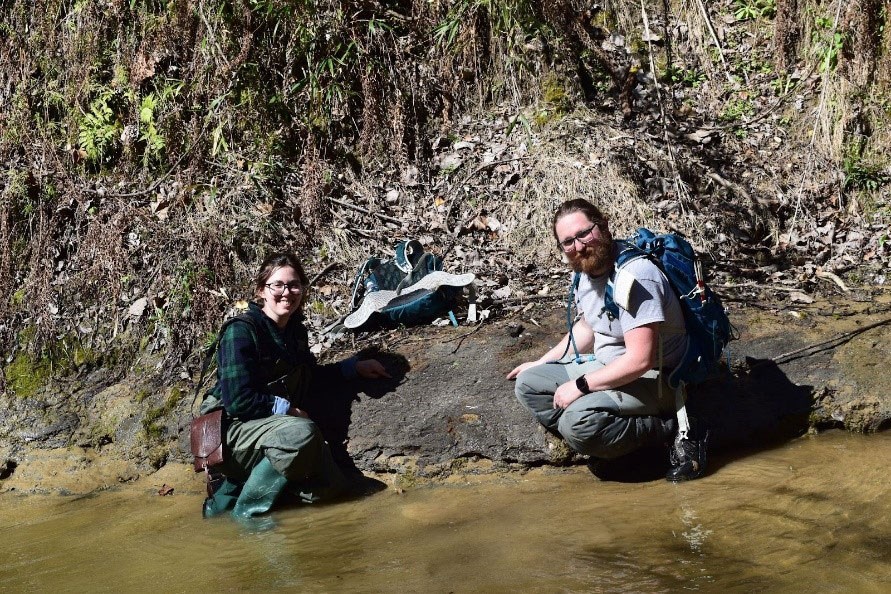 A major goal of the project is to incorporate this growing knowledge of fossils at VICK into future interpretive programming for the park. Another story that will likely take center stage is the history of paleontological work within VICK. Before this survey, fossils were studied in the area by notable figures including John Wesley Powell, Charles Lyell, and the French naturalist Charles Lesueur. Powell, a foundational American geologist and former director of the USGS, according to legend collected fossils in the trenches of Vicksburg during the siege. Lyell and Lesueur also passed through on their American expeditions, representing the earliest scientific interest in the unique regional paleontology. In the present, this inventory represents a new chapter in Vicksburg's natural history, a resource that can be communicated to staff, visitors, and the scientific community at large.
Last updated: March 30, 2022