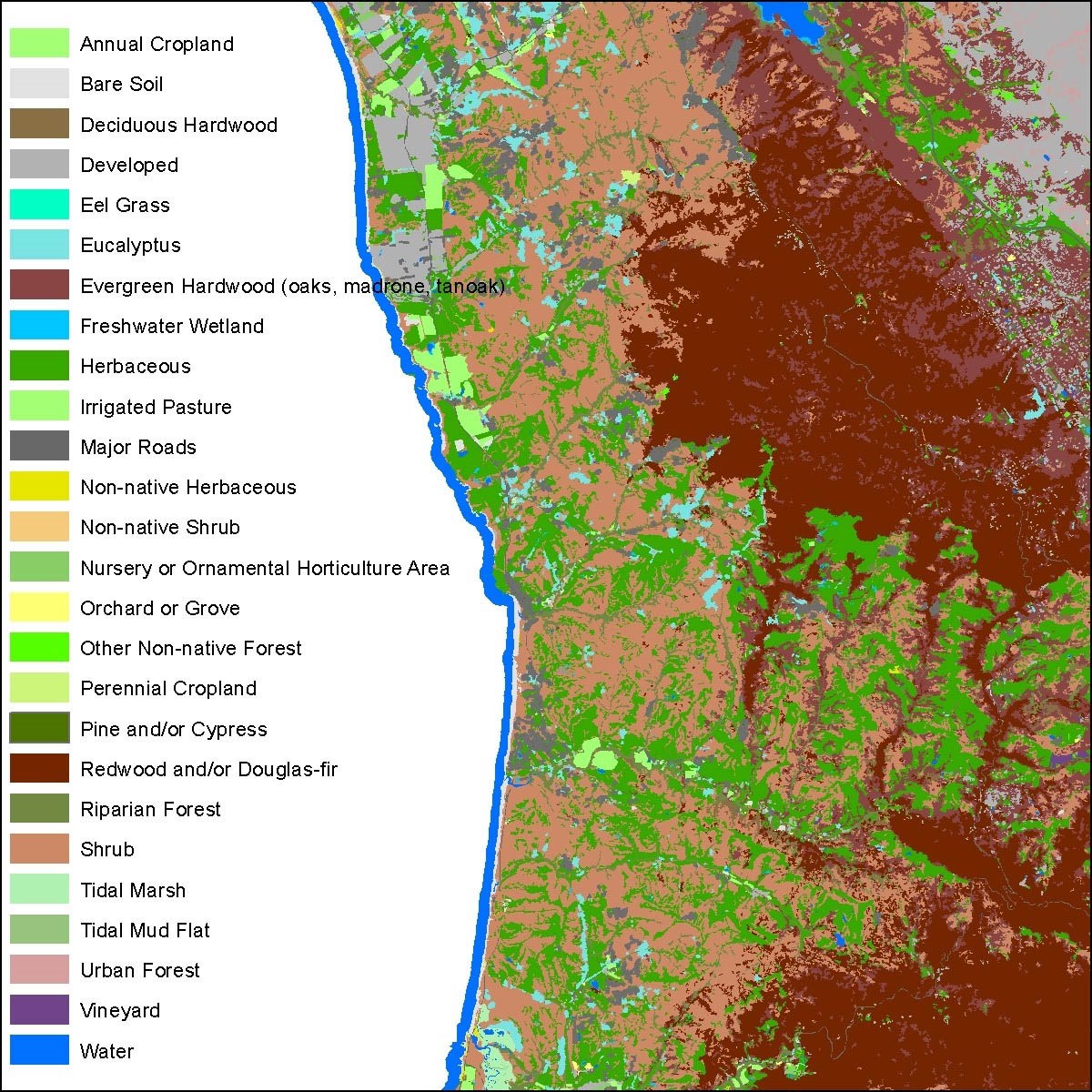 June 2020 - Earlier this year, a broad coalition of agencies and partners co-led by the Golden Gate National Parks Conservancy released a draft "Lifeform Map" for Marin County. Now, a different but overlapping coalition* has released a similar draft lifeform map for San Mateo County. It represents the latest milestone in the San Mateo Countywide Fine Scale Vegetation Map and Landscape Database Project. The project's ultimate goal is to produce highly detailed maps of land cover and plant communities, for the first time at a countywide scale. With this data, private land managers and public agencies will be better able to develop climate change adaptation strategies, perform watershed and flood management, focus wildfire planning and forest health projects, and plan restoration and conservation efforts.
The new draft lifeform map was created in part using new aerial imagery of San Mateo County, which the project team published last year. Other inputs included measurements like tree canopy height that were modeled from LiDAR data collected by the County of San Mateo in 2017. The imagery and LiDAR information were automatically analyzed based on a set of rules informed by expert image analysts to create a preliminary map with 26 different lifeform and land cover classes. For example, Redwood and/or Douglas Fir, Shrub, and Herbaceous (having no woody stems) are among the most prevalent lifeform classes on the draft map.
The draft lifeform map reflects the state of the San Mateo County landscape during the summer of 2018. It will be a critical input for the forthcoming San Mateo Countywide 5-meter Fuel Model and Map. This map will integrate vegetation, topography, ladder fuels, and forest structure data to support fire departments and land managers as they plan and prioritize fuels reduction and forest health projects. The mapping team aims to have the fuels map ready to go in August 2020.
The lifeform map will also be a key input for a fine scale vegetation map, to be released in January 2022. The San Mateo County fine scale vegetation map will have significantly more floristic detail than the enhanced lifeform map.
For more information
* Project partners include: County of San Mateo, National Park Service, Midpeninsula Regional Open Space District, San Francisco Public Utilities Commission, Peninsula Open Space Trust, San Mateo County Parks, California State Parks - Santa Cruz District, San Mateo FireSafe Council, Santa Cruz Mountains Stewardship Network, CAL FIRE, National Oceanic Atmospheric Administration, United States Geological Survey, San Mateo City/County Association of Governments, California Native Plant Society, California Department of Fish and Wildlife, San Mateo County District-3 Supervisor Don Horsley, and more!