The area known today as the Grand Canyon has been home to people for over 13,000 years, with 11 contemporary tribes having links to the area. Many individuals in these tribes have inspired their own communities, and the country, with their
traditional art
. Some tribal members have bestowed historic structures around the canyon with their artwork, while others have utilized art as one of many tools towards activism and uplifting their communities.
"When I first began to paint, I used to go to the ancient village and pick up pieces of pottery and copy the designs. That is how I learned to paint. But now, I just close my eyes and see designs and I paint them." - Nampeyo 1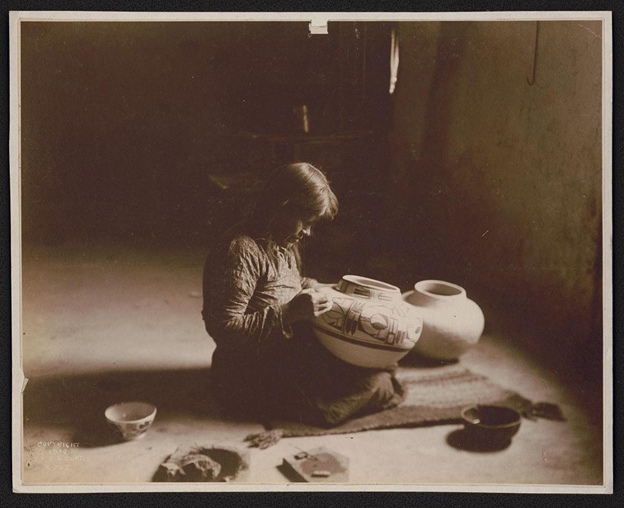 Nampeyo was a Hopi woman born around 1860 at Hano, also known as Tewa Village, on First Mesa in Arizona. Her mother, White Corn, taught her how to make pots. At the age of 19, Nampeyo began studying pottery shards she found at archaeological sites to inspire her creations. In 1905, she moved into Hopi House at the Grand Canyon with her family for a three-month stay. Nampeyo returned home to First Mesa for the planting season, and upon her mother's passing became the matriarch of the Corn Clan. While her tenure at Hopi House was brief, only returning once more for three months in 1907, Nampeyo created a lasting legacy. Her pottery continues to inspire artists and is collected and displayed in museums around the world to this day.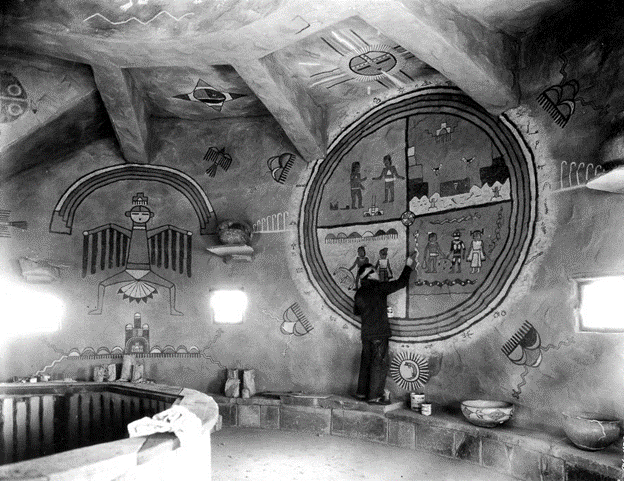 Fred Kabotie
was another important artist in Grand Canyon history, born in 1900 on the Hopi Reservation. He worked as in illustrator and in 1920 gained great acclaim when his exhibit was showcased in New York City. In the 1930s, he was hired to
paint
murals on the walls of the
Desert View Watchtower
. After he finished
his paintings
at Grand Canyon, he continued to receive recognition and encouraged Native artists of the next generation.
Artists from the Grand Canyon's affiliated tribal communities not only created influential works of art, but also long last impacts on their nations.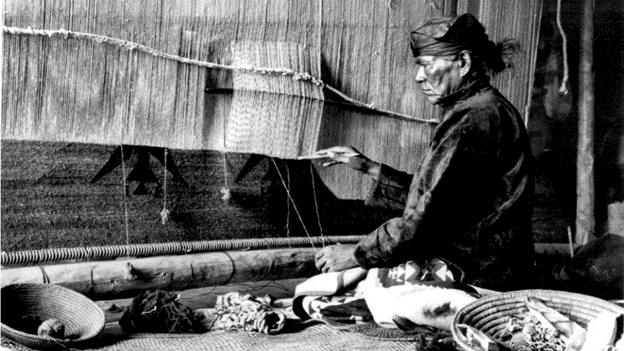 Hastíín Klah
(In Navajo Hastíín Tł'a) was born in 1867 to the Navajo Nation and was a two spirit individual, a beloved weaver, and a healer. The term
two spirit
describes an individual who balances or combines both male and female qualities. It is used in reference to both male-bodied and female-bodied native people. Diné, which means "the people" in Navajo, traditionally have four genders. Klah's gender would be described as nádleehí, which translates to "one who is changing". Klah dispelled the western ideas of gender conformity and fulfilled both female and male roles in the Navajo community.
Hastíín Klah's mother and sister taught Klah
weaving
from a young age. It was Klah's uncle that shared the skills of chanting and sandpainting, both important healing practices in the Navajo community. Learning these chants is an incredibly intricate skill and requires intense training. Klah mastered many chants over the years and helped to immortalize these important traditions. Hastíín Klah also preserved traditional weaving techniques.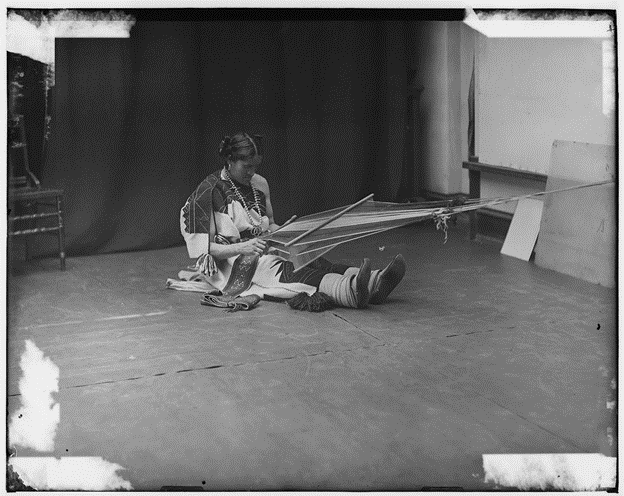 Another Native artist who did not conform to traditional western ideas of two genders was
We'wha
of the Zuni tribe. We'wha was born in 1849 and was a two spirit male, or in Zuni lhamana. For many cultures two spirit individuals are beloved and held in high regard by their communities. We'wha was a talented potter and weaver. We'wha was an incredible artist, but also a pioneer in representation and advocacy for the Native community. During a trip to Washington DC in 1886 to meet President Cleveland, We'wha was widely perceived as a woman. Two of We'wha's pots were signed by the artist and given to the American Museum of Natural History. We'wha worked to raise awareness of the importance of protecting Zuni people and cultural traditions.
Even We'wha's advocacy could not stop the eventual pressure from the U.S. Office of Indian Affairs. Like many tribal communities across the country, the Zuni tribe faced violence, forced assimilation, and loss of cultural tradition. This included pressure to no longer recognize lhamana individuals like We'wha, and to force two spirit individuals to assimilate to western gender roles and presentation. This forced assimilation was felt by many Native communities across the country. The term "two spirit" was created at a gathering of Native American and First Nations people in 1990. This was a means to rediscover and reclaim an important part of their cultural traditions and identities. It has since been embraced as the best way to articulate a tradition that has always existed in many native cultures. Two spirit individuals have been documented in at least 155 tribes, although it is important to note that native communities are not a monolith and so this term cannot always be used universally.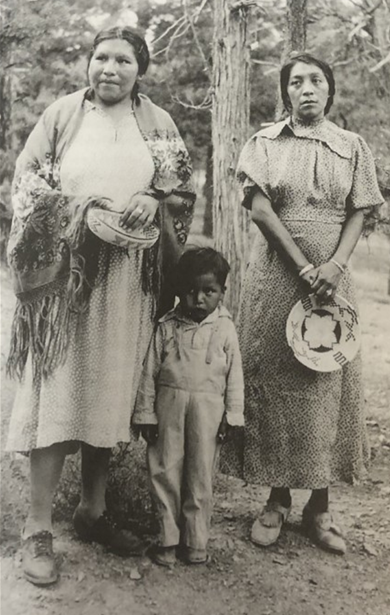 Many Native American tribes continued to fight for their right to their homelands and the importance of preserving their cultures. Ethel Jack of the Havasupai Tribe was another artist who fulfilled the role of advocate and activist. Jack was born in Havasu Canyon in Supai in 1908. She was a talented basket weaver and sold some of her work to the Smithsonian. Before the Grand Canyon became a National Park, the Havasupai people spent the summers farming plateaus that are now within park boundaries. By the 1880s, White settlers began to encroach onto Havasupai land. In 1880 the Havasupai were forced onto a reservation, the size of which was dramatically decreased in 1882. The reservation contained only 518.6 acres. Ethel Jack's grandfather, Billy Burro, continued to farm the lush plateau. Ethel Jack had found memories of her grandfather's laughter on the farm. Billy Burro was physically forced off this land in 1928 by two park rangers. In 1942, Ethel Jack's husband, Clark Jack, was hired by the Park Service to maintain Bright Angel Trail. He also took tourists on mule trips through the land Jack's grandfather had once been forcibly removed from. Ethel and Clark Jack lived on this land for a year as Park Service employees, but generational memories remained.
Many Havasupai people lived in Supai village in the Grand Canyon, some employed by the National Park Service. In 1955 the Park Service told any Havasupai individuals who were not employed by the park service to leave the village, and then began terminating the employment of many tribal members. The Havasupai Tribal Council called upon Ethel Jack to advocate for their people. Jack traveled to Washington, DC to demand the return of their lands. She worked with governmental officials on bills, spoke to representatives, and waited long hours in government buildings for results. She said, "This isn't for me, it is for the younger members of the tribe." In 1975 Ethel Jack, alongside other tribal members, succeeded in securing 185,000 acres for the Havasupai Tribe.
Ethel Jack said of sharing the news with young members of the tribe, "I'll tell them that the land is our grandmother and our grandfather, for it feed us and provides for us. Then the land was taken from us, and we were alone for many years. But now we have our grandmother and grandfather back. I'm just so very happy."2
Many inspiring Indigenous artists have influenced the park. They have shown how the Canyon and tribal communities are intrinsically connected. This influence is not only seen at the Grand Canyon in Hopi House or at Desert View Tower. This impact can also be seen in beyond the walls or rim of the canyon, throughout Indigenous communities and the country at large.
Sources:

1 Kramer, Barbara, Nampeyo and Her Pottery. University of New Mexico Press, Albuquerque. 1996.

2 Leavengood, Betty, Grand Canyon Women: Lives Shaped By Landscape. 2nd ed. Grand Canyon, AZ.: Grand Canyon Association. 2004.

Desert View Watchtower. American Southwest Virtual Muesum.

Crawford-Lackey, Katherine. Springate, Megan. Identities and Place: Changing Labels and Intersectional Communities of LGBTQ and Two-Spirit People in the United States. Berghahn Books. Nov 1, 2019.