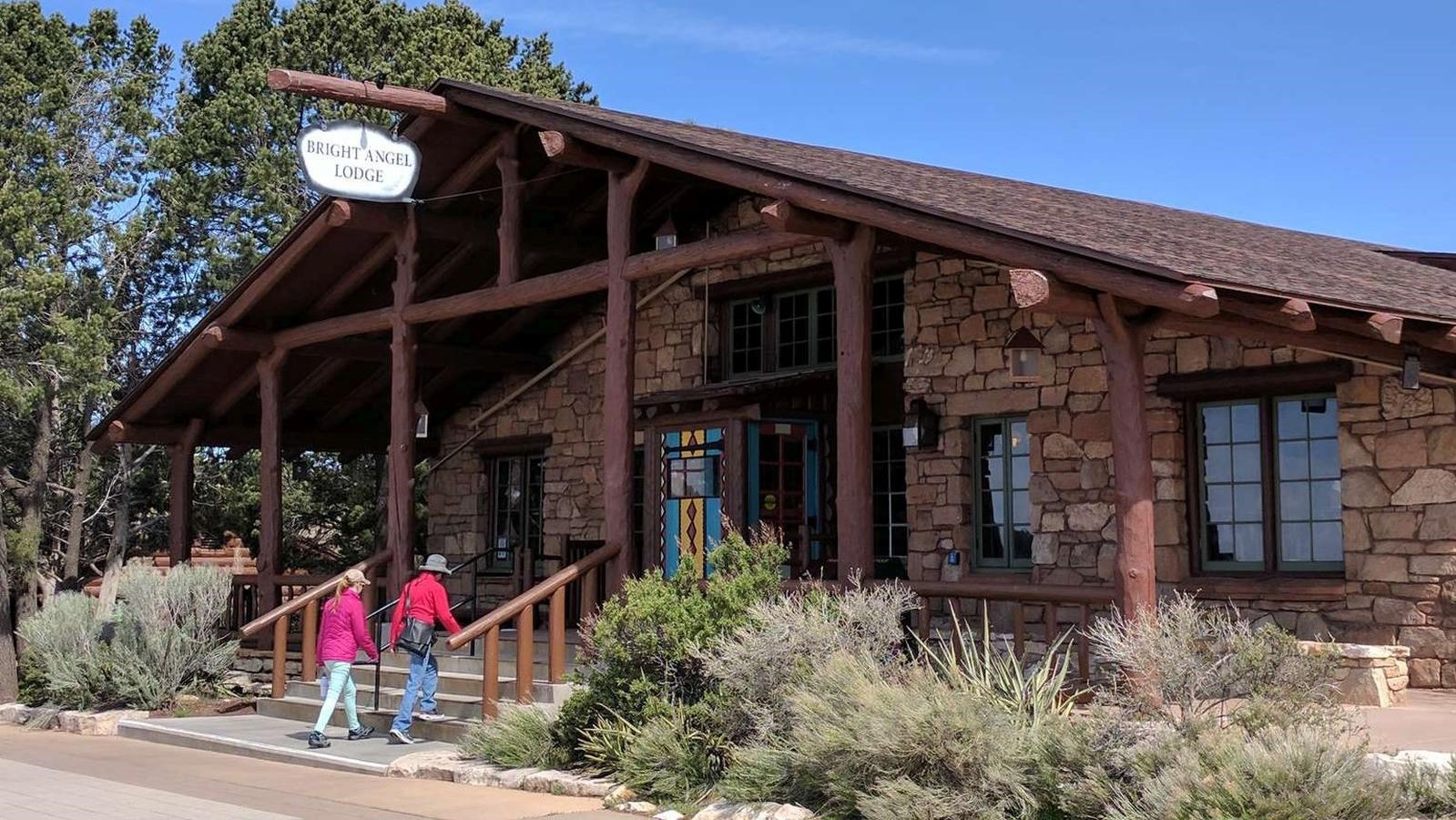 Location:
Village Historic District
Significance:
Historic Lodge
Accessible Rooms, ATM/Cash Machine, Audio Description, Automated Entrance, Automated External Defibrillator (AED), Baby Changing Station, Benches/Seating, Bicycle - Rack, Bus/Shuttle Stop, Fire Extinguisher, First Aid Kit Available, Food/Drink - Bar/Alcohol For Sale, Food/Drink - Cafeteria, Food/Drink - Coffee, Food/Drink - Ice Cream, Food/Drink - Restaurant/Table Service, Food/Drink - Snacks, Food/Drink - Vending Machine/Self Service, Gifts/Souvenirs/Books, Historical/Interpretive Information/Exhibits, Information, Information - Maps Available, Information - Ranger/Staff Member Present, Information Kiosk/Bulletin Board, Parking - Auto, Recycling, Restroom, Restroom - Accessible, Restroom - Family, Scenic View/Photo Spot, Telephone, Toilet - Flush, Trash/Litter Receptacles, Water - Bottle-Filling Station, Water - Drinking/Potable, Wheelchair Accessible, Wheelchairs Available
Bright Angel Lodge front desk is open 24 hours.

Located right on the canyon's edge at the west end Village Historic District, the lodge was designed by Mary Colter in 1935, to resemble a rambling pioneer settlement with a variety of buildings that feature exposed timber, adobe and natural rock walls. The lodge has, two restaurants, a gift shop, lounge, fountain and coffee shop, a small museum, and a transportation desk, where mule trips and bus tours may be booked.
Dining
The Bright Angel Lodge offers several dining options. Hours vary seasonally.

Bright Angel Lodge Fountain - open daily
6 am to 11 am: Coffeehouse style. coffees, teas, and light breakfast items
11 am to 3 pm: Grab and Go sandwiches, Ice cream, pretzels, and soft drinks.
A snack bar located right on the edge of Grand Canyon that offers outdoor seating, ice cream, and quick grab-and-go dining options. 

Fred Harvey Burger (Bright Angel Restaurant) - open daily
Breakfast: 7 am to 10:30 am
Lunch: 11 am to 3 pm
Dinner: 4 to 9 pm
A casual family-friendly restaurant featuring healthy diner-style fare prepared in the Harvey House tradition. 

Bright Angel Lodge - Fred Fred Harvey Tavern - open daily
11 am to 10 pm
Located inside the building and adjacent to the lobby, Bright Angel Lounge offers local beverages, appetizers, occasional live music, and decor featuring historical murals and cultural depictions.

Arizona Steakhouse - open daily
Lunch 11:30 am – 3:00 pm
Dinner 4:30 pm – 9:30 pm
Accessed from the canyon rim, the Arizona Steakhouse is attached to the eastern end of Bright Angel Lodge and offers a sit-down experience with large, clear windows for canyon viewing while dining.
Accommodations
Bright Angel has 90 lodging units ranging from cozy historic units with shared bathrooms, to standard lodge rooms and historic cabins, to the one of a kind "Buckey O'Neill Cabin". Accommodations range from rustic cabins (with in-room coffee maker, satellite TV, and private bath) to lodge rooms (with no television and a shared bath). All rooms are equipped with telephone and refrigerator. Most rooms have only one bed.

Please note: Rooms with canyon views are very limited and cannot be guaranteed.
Lodging and Contact Information
For day-of check-in and availability information at Bright Angel Lodge, check with staff directly at the lobby desk or call 928-638-2631.

Advance reservations are recommended for all holidays and throughout the summer. Visit www.grandcanyonlodges.com or call toll-free in the US 888-297-2757.
For outside the US, call 303-297-2757.
Tours
Interested in a bus tour or mule ride?
Check in at the Bright Angel Transportation Desk for information about Grand Canyon tours offered by Xanterra.

To make tour reservations in advance, call toll-free in the US, 888-297-2757 or from outside the US, call 303-297-2757.
Bright Angel History Room
This small museum on the lobby's north side highlights the impact of restaurateur and hotelier Fred Harvey, architect Mary Elizabeth Jane Colter, and the Santa Fe Railway on Grand Canyon National Park and the Southwest.

Discover original and reproduced Fred Harvey company artifacts. Learn about Mary Colter's architectural influence in the Southwest, and see the marvelous fireplace she designed to represent Grand Canyon's layered geology.
Last updated: September 26, 2022