Can't visit the park but want to become a Mesa Verde Junior Ranger? Well, now you can enjoy Mesa Verde online and earn a virtual Junior Ranger badge. Follow along with two friends, one from today and one from the past as they explore the park with you online.
| | |
| --- | --- |
| First: | Download the online version of the Junior Ranger booklet below. |
| | |
| Second: | Read through the 3 steps within in the square on the first page and learn what age symbol to look for to complete your age's activities. (Activities are broken down into three age groups, 4-7, 8-9, 10+.) |
| | |
| Third: | Using the links provided, complete your choice of activities. |
| | |
| Fourth: | Read the pledge with your friends or family then download and print your virtual Mesa Verde Junior Ranger badge. |
*
Parents:
Keep in mind that this is a family-friendly activity, so you may want to help guide your younger children through the program.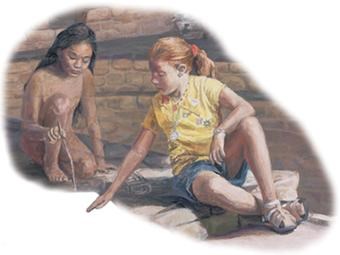 Hi! My name is Kathy and this is my friend Gentle Rain. She and her family used to live in a Mesa Verde cliff dwelling 750 years ago. She helped me become a junior ranger, and now both of us want to help you.
Becoming an online Junior Ranger is fun! As you explore the park online and complete activities in this booklet, you will learn about Gentle Rain's culture, discover items her family and friends once used, and see the types of homes they lived in.
Just follow our directions in the booklet and you'll become a Mesa Verde Junior Ranger and earn a virtual badge in no time! (The link to the virtual badge is provided in the booklet.)


Here are all the links to the pages you can explore in the Junior Ranger booklet: