Article
Marine Debris Bites: Finding Artful Opportunities to Bring Awareness to Issues in the Marine Environment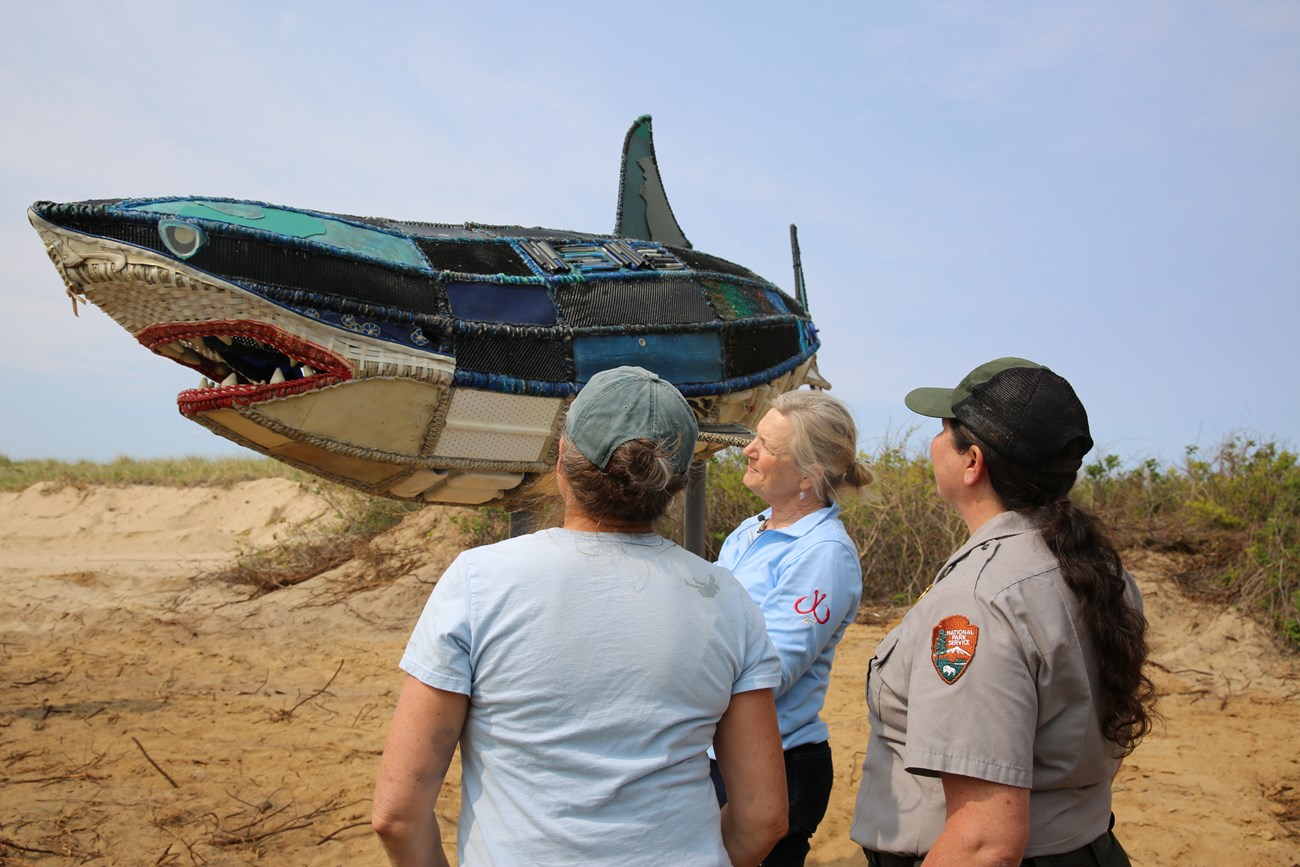 Written by Kristin Vinduska, NPS
The "Debris-fing"
Marine debris pollutes natural areas across the globe, including the waters of Cape Cod National Seashore. Marine debris is "any persistent solid material that is manufactured or processed and directly or indirectly, intentionally or unintentionally, disposed of or abandoned in the marine environment or the Great Lakes," as defined by the National Oceanic and Atmospheric Administration (NOAA). (Learn more on NOAA's website.) Many items can become marine debris, from single-use plastics to fishing gear.
To address the impacts of marine debris, we can remove and document what is there, spread awareness of the issues, and focus on prevention. With support from the NOAA Marine Debris Program, Cape Cod National Seashore (CCNS) – in partnership with the Center for Coastal Studies (CCS) and debris artist, Cindy Pease Roe – has installed a marine debris display at Herring Cove Bathhouse. (Check out the artist's work.) The display is a 14-foot white shark made entirely of marine debris collected from the National Seashore's beaches by the Center for Coastal Studies volunteers which will shine a spotlight on the debris in our backyard.
Get to Know the Project Team
Cindy Pease Roe, the creator of the shark sculpture, has fond memories of growing up on Cape Cod in a creative household in West Dennis, Massachusetts. Inside an old sea captain's house where she lived with her family, she was taught the important skill of repurposing items, giving them new life. Cindy reflected, "There was always an emphasis in our household of saving resources and reusing everything. It was imprinted on me as a young child that everything could be repurposed – baby food jars were used for holding nails and screws, other jars covered with wax paper and sealed with rubber bands were used to store food, water was used for washing dishes and then for watering the wild grape vines." When the chores were done inside, outside she found joy in exploring the natural, healthy ecosystem around her, being only blocks from Nantucket Sound and a brackish pond. She has fond memories of swimming in the pond and experiencing the phosphorescence in the water, and vividly remembers the thriving ecosystem that surrounded her. She would often observe the horseshoe crabs and clams while watching her brothers fish for striped bass.
Around twelve years ago, Cindy was living in Long Island, New York. She would take walks on the northern shoreline, where the tides bring marine debris along with them. This is when she began working with plastic as a medium, in addition to the paint she already used for artistic expression, starting with a holiday wreath made from marine debris. Cindy shared, "Being an artist, I saw the materials in a way that I could use them." Her love of the ocean and memories of the healthy ecosystem she grew up in raised concerns about the debris she was finding. This made her question where it came from and how it got there. After educating herself on the issue of marine debris, she became passionate about sharing this knowledge with others. About seven years ago, Cindy founded a company called UpSculpt, a combination of upcycling and sculpture. Through this non-profit, Cindy and her team use art to educate people about the impacts of marine debris and encourage the reuse of household items.
Cindy has created many works of art out of "100% non-natural materials" that represent the types of single-use or lost items that are polluting natural areas. She discussed the process of creating these impactful pieces, talking about the effort it takes to go out the beach to source materials (or to work with groups conducting beach cleanups), clean the materials, and initiate the creative process. Sometimes she is inspired by the pieces as she collects them; other times, the inspiration comes much later. It is a common occurrence to find many of the same kind of materials on every beach cleanup, such as shotgun shells, tampon applicators, lighters, straws, and bottle caps. (Find out more about the most commonly found items on Cape Cod shores on our Marine Debris Page.) She says of her projects, "It is the ultimate upcycle – you are creating something of value that didn't have value before."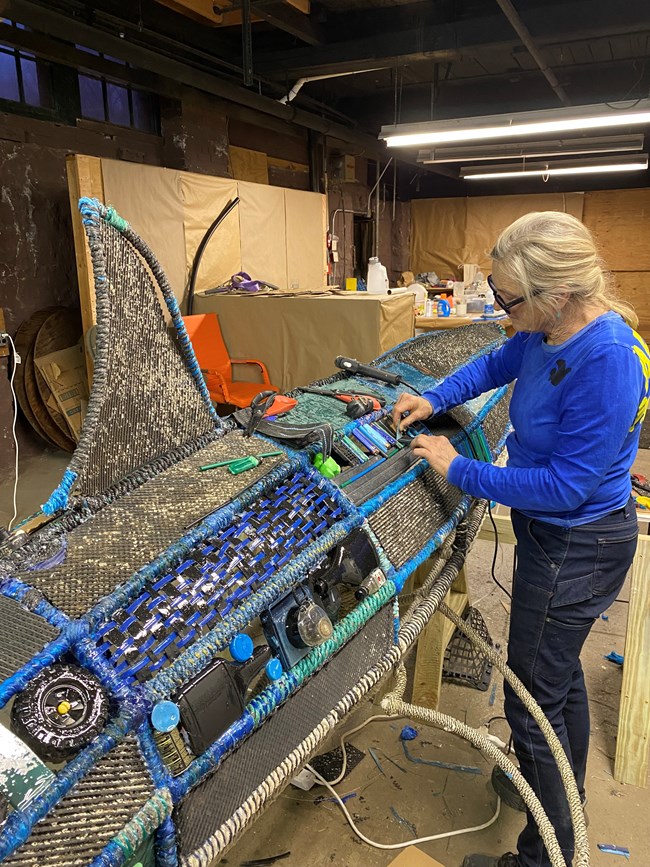 Cindy was selected from a competitive pool of artists for this project and designed a sculpture that represents a significant Cape Cod species, the white shark, while still imparting the negative effects of marine debris. Once the design was drawn to scale and transferred onto wood, a metal armature was welded, providing a base around which the sculpture was created. Then, the armature was wrapped in rope collected from National Seashore beaches. Cindy then attached marine debris materials to create the shark. She uses these layers of materials to tell the story of marine debris and the species affected in this protected place. Finally, Cindy worked with her brother, Brad Pease, who has been a wooden boat builder for many years. Together, they coated the entire sculpture in a two-part epoxy system and a heavy-duty automotive U.V. protector so the sculpture can withstand exposure to the elements.
The marine debris materials used for the shark sculpture were collected on National Seashore beaches by the Center for Coastal Studies Beach Brigade, a volunteer group of over 350 members who conducted 27 beach cleanups last year. After the haul, volunteers conduct a "trash tally" where debris is sorted, counted and documented. Tallying the totals after the cleanup allows the Brigade to focus on collecting as much debris as they can during the cleanup and provides more accurate data afterward. "When you have good data, you can use it to promote changes in behavior, inform policy, and overall, make people more aware," according to Laura Ludwig, CCS Marine Debris and Plastics Program Director and coordinator of the Beach Brigade. (Learn more about the program here.) Data from CCS cleanups have supported single-use plastic regulations across the Cape, including bylaws for water bottles, balloons, straws and take-out containers.
Laura's interest in marine debris came from her previous work in both the commercial lobster industry and whale research, work which gave her a front row seat to the issues of entanglement and fishing gear being lost in the ocean. (Read more about entanglement on our Marine Debris Page.) Her work with the industry testing gear modifications to reduce entanglements led to an understanding of gear loss and sparked a passion to help clean up the ocean. Laura continues to work with the fishing industry in Maine and Massachusetts to remove abandoned, lost, and discarded gear from the ocean. She reflected, "Because all of this gear is made primarily of plastic, over the years I've become much more aware of the impacts of plastic in the marine habitat." Laura grew the CCS shoreline cleanup program by expanding to new locations and collecting finer-scale data on the debris removed. She said of the information she collects, "It remains focused on the fishing gear because we are trying to figure out ways of preventing fishing gear debris, but it has also grown to include everything else from balloons to tampon applicators."

The large number of volunteers that participate in the Beach Brigade is a testament to how much people care about the issue of plastic in the ocean. Laura shared that there also are many groups across the country who are doing similar work. "People want an avenue to help – this is something they care about a lot, and they just want an opportunity to express that," Laura said. The Beach Brigade is a mix of Cape Cod residents and visitors, and their participation is the foundation of CCS debris and data collections: from February 2022 to February 2023, Brigade volunteers contributed 1,540 hours to beach cleanups and 643 hours to trash tallies.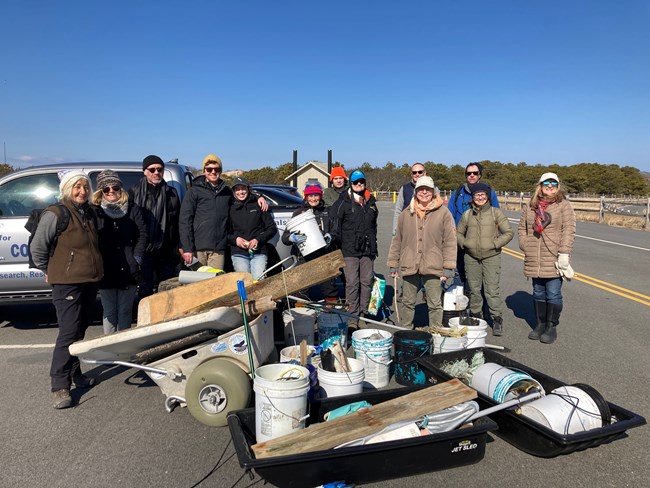 "I always knew if I kept the debris and it was all counted, sorted, and stored, that somebody would be able to use it for something," Laura shared. This shark sculpture was the perfect opportunity to use debris collected from Cape Cod National Seashore to illustrate the scope of problem here. Laura said, "I appreciate artists so much because they are storytellers. They can take things that were otherwise trash and turn them into incredible depictions communicating the issue." This project is significant to Laura because she has a deep appreciation for Cape Cod and is invested in the protection of its natural resources. To her, this place is both ancient and futuristic. She admires the incredible geology and the remarkable resilience of a landscape that has been used by many as a habitat for thousands of years. "There is a lot of age and wisdom to this land," Laura said. She talked about being able to be on the backshore of Cape Cod and be transported through time, even experiencing significant geologic moments. Laura recalled a way the significance of time has shown up during a cleanup, "There was one cleanup between Wellfleet and Truro where we collected both a 210-year-old glass bottle and 200 feet of plastic-coated electrical wire. You can see the past and future in the items you are collecting out here." Cape Cod continues to stand bold today, even after rigorous use, and preventing additional human-made pollution from entering marine habitats is what we can work on for our future.
Hope for the Future
Aleutia Scott has been North District Supervisor of Interpretation & Education at Cape Cod National Seashore since 2020. She grew up on north Florida's beaches, got a degree in Marine Science, and completed an AmeriCorps internship with the National Park Service restoring the salt marshes of Crissy Field in San Fransico, California in 2000. In 2002, she got a full-time position with the National Park Service and has moved to coastal parks across the country from Golden Gate National Recreation Area in the San Francisco Bay area to coastal Louisiana at Jean Lafitte National Historical Park and Preserve. When this ocean protection project came up, Aleutia jumped on it and brought other staff on board. Aleutia spoke about the process saying, "Working with the Center for Coastal Studies and Laura really opened my mind to how our small day to day choices and actions affect the coastal environment directly. When you join a beach cleanup and then sort and count the trash later, you can't help but think, 'Look at all of the smoking paraphernalia, I have to get my aunt to quit' or 'gosh, I can't believe we got two buckets of balloon trash... why are people still using balloons – definitely won't be getting a balloon for my niece's graduation.' This global environmental issue becomes not just local but personal."

When asked about what she hopes visitors to the sculpture will gain, Laura shared, "I don't want people to just be swayed by the beauty of the sculpture – because it will be beautiful. I want people to see themselves in it... see where they can make changes in their own practices and choices because that is what it is all about – being informed and making decisions based on that knowledge, even for the seemingly smallest things." Laura posed the question, "If you knew, for example, how many produce stickers we have found on the shore… would that make a difference to you about how you handle your fruit and vegetables in the future? Plastics that are left out in the open do not disappear – they shred into microplastics." She wants people to have an increased awareness and then feel empowered about making different choices. Laura ended by emphasizing the importance of the work put forth by volunteers. "Any single person can contribute to a solution and when you have many individuals coming together – that has a lot of power."

Cindy shared that this project is very significant for her and her family, who all love Cape Cod dearly. She wishes her parents and grandparents were able to see the completed sculpture installed at Cape Cod National Seashore as she knows how much it would mean to them. For Cindy, creating this piece is a way of giving back to Cape Cod – a beautiful place where the land and ocean intersect and a landscape that holds many memories for her. She hopes that people who visit the sculpture will be engaged as they view the overall piece, but then look closer to see the individual items of plastic and realize they are things they use in their everyday lives. "My hope is very basic… to inspire residents and visitors, any of them, to change their own habits." She ended by saying, "You never know who is looking at the sculpture – a person who has a talent for science that wants to work towards the eradication of plastics in our ecosystem, people that think outside of the box, or a person that wants to take this message forward into the world. You never know who you could inspire and what they could come up with."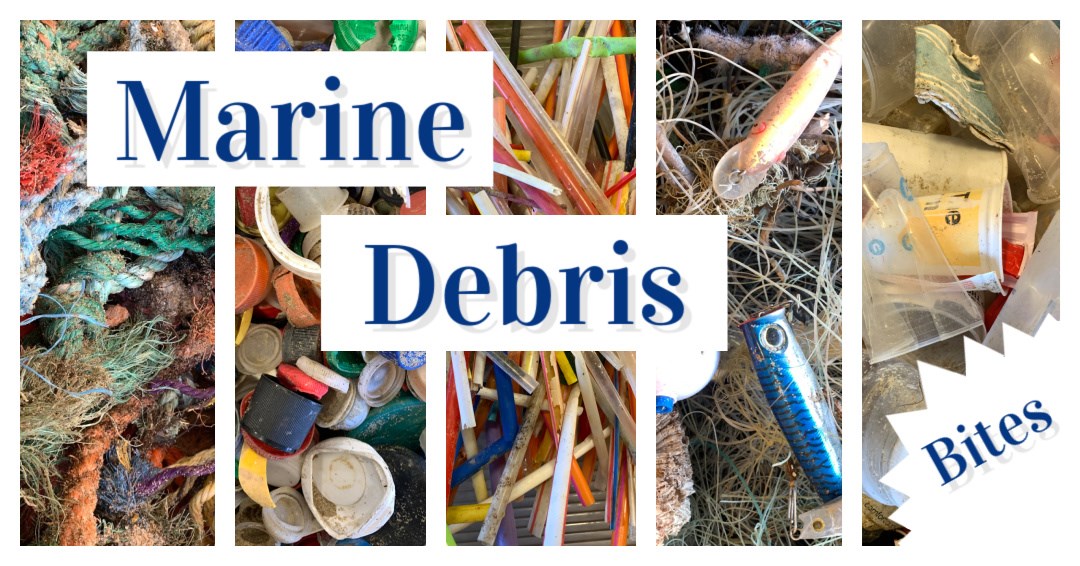 We Need Your Help!
The shark sculpture was installed spring 2023 at Herring Cove Bathhouse. Next time you visit Cape Cod National Seashore, take a trip to the end of the Cape and spend some time at the display. Ask yourself and others around you how you have experienced these impacts and what actions you can take. Share photos of the sculpture and the actions you are taking with the hashtag, #MarineDebrisBites.
Keep an eye out for beach cleanups happening near you and look for opportunities to learn about the state of our natural resources. Try to recycle when possible and opt to use reusable products rather than single-use. It is up to us how we leave our mark and our defining moments have yet to be decided. We can make the choice to make a difference and leave behind a legacy of bettering our planet, rather than leaving behind a trail of trash to be picked up by those who come next. The next time you visit a natural resource like Cape Cod National Seashore, take a minute to consider: What am I leaving behind?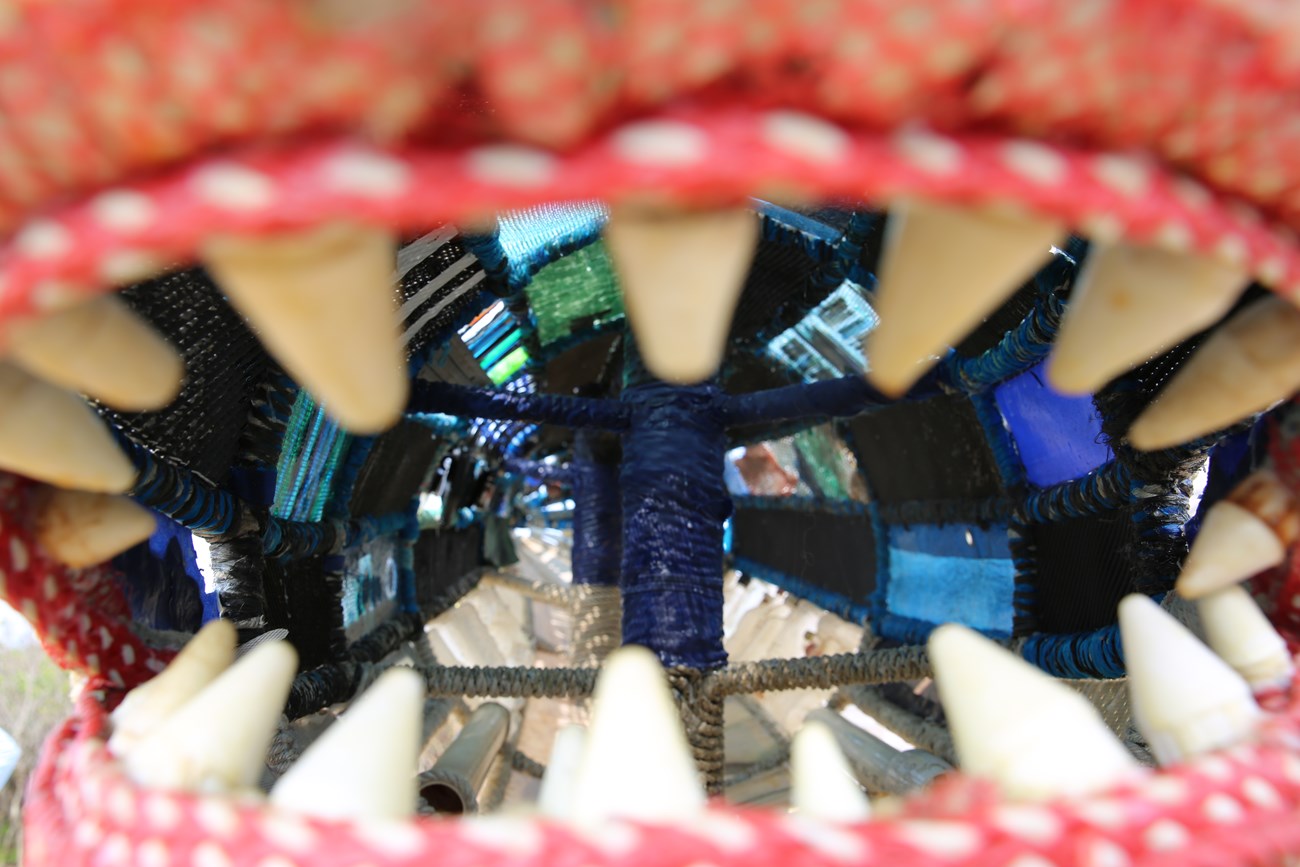 Last updated: May 24, 2023