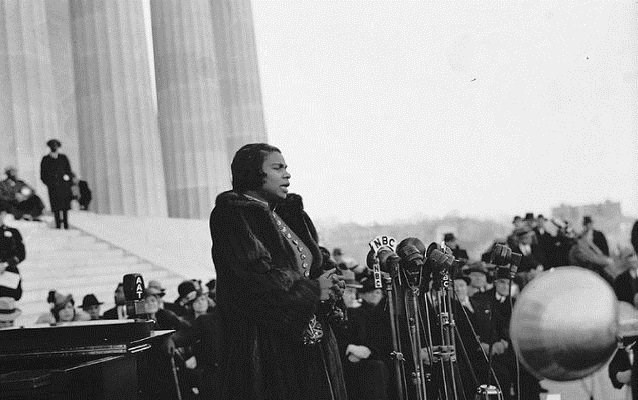 "I could not run away from this situation. If I had anything to offer, I would have to do so now."
-Marian Anderson on her Lincoln Memorial performance
In addition to its striking neoclassical design by architect John Russell Pope, Constitution Hall is noted for an important event that never occurred there. In 1939, Constitution Hall was at the center of a Civil Rights crisis when the Daughters of the American Revolution (DAR), an all-white organization of descendants of Revolutionary War soldiers, denied famous African-American opera singer Marian Anderson use of its concert hall.
At that time, Constitution Hall was the only local venue large enough to accommodate Anderson's typical audience, but the venue banned black performers. The organization would not make an exception for Anderson and claimed the hall was already booked. The National Association for the Advancement of Colored People (NAACP) and Anderson's manager, Sol Hurok, arranged for her to sing instead on the steps of the Lincoln Memorial. Secretary of the Interior Harold Ickes helped organize the Easter Sunday event on April 9, 1939. Accompanied by a piano, Anderson first serenaded an integrated crowd of 75,000 people with the patriotic ballad, "My Country, 'Tis of Thee." The entire concert lasted 25 minutes.
Although Anderson and the DAR maintained the incident was merely a misunderstanding, the singer's outdoor concert became a symbol for Civil Rights activism nation-wide. In support of Anderson and equal rights, First Lady Eleanor Roosevelt resigned her membership in the DAR. In 1943, making an exception to its racial ban, which did not end until 1952, the DAR invited Anderson to perform at Constitution Hall for a war-benefit concert. Anderson agreed under the condition that the audience be integrated. Around half of the sold-out audience was black. Eleanor Roosevelt, two Supreme Court justices, and other prominent politicians also attended. For her last song Anderson sang "The Star Spangled Banner," a powerful reminder of American perseverance through hardship.

Anderson's concert in front of the iconic Lincoln statue has become part of the popular consciousness of race relations in the United States. Contrary to its aims, the DAR unwittingly gave voice and publicity to the Civil Rights struggle. In recent years the organization has apologized for its past segregationist policies. It has pursued various methods of righting the wrong including calling attention to this important chapter in Civil Rights history by amending the National Historic Landmark nomination for Constitution Hall to document the significance of Marian Anderson's exclusion. Constitution Hall stands as a reminder of a major shift in the Civil Rights movement when one woman sang against adversity.
Sources:
Sandage, Scott A. "Apologies for D.A.R. Racism Never End." The New York Times. 26 May 1993.
Stamberg, Susan. "Denied a Stage, She Sang for a Nation." National Public Radio. 9 April 2014
National Historic Landmark Nomination of Constitution Hall.
National Historic Landmarks (NHLs) are historic places that possess exceptional value in commemorating or illustrating the history of the United States. The National Park Service's National Historic Landmarks Program oversees the designation of such sites. There are just over 2,500 National Historic Landmarks. All NHLs are also listed in the National Register of Historic Places.