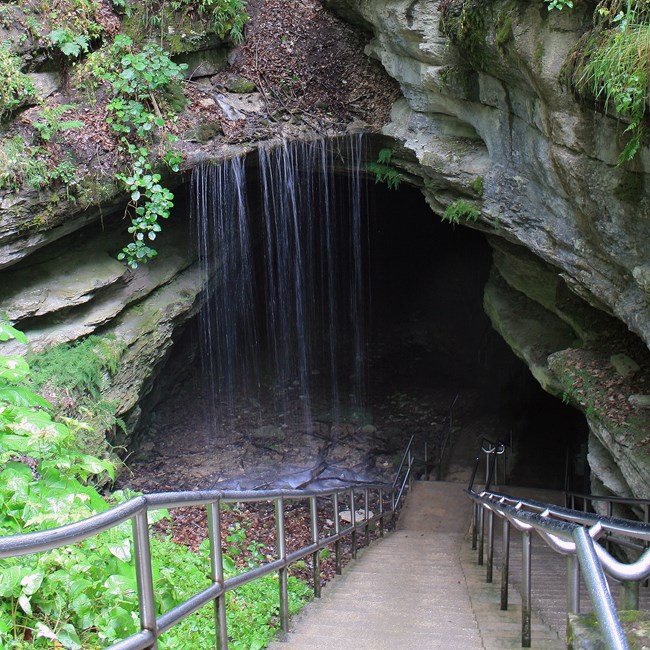 Mammoth Cave National Park is home to the most extensive cave system in the world. This extraordinary system of caves covers over 456 km (285 miles) of surveyed passageways within the boundaries of the park and at least another 128 kms (80 miles) outside the park. The site is a natural laboratory for the study of a number of stages of the earth's evolutionary history.

At Mammoth Cave, a 100 million year period of cave formation is on display, as is nearly every type of cave formation known to science. This huge and complex network of cave passages provides a clear record of the world's geomorphic and climatic changes. Outside the cave, the weathered topography is superb, with fascinating landscapes and all of the classic features of a karst drainage system – a vast water recharge area with complex networks of underground conduits, sink holes, cracks, fissures, and underground rivers and springs.

This is the longest cave system in the world exhibiting extensive passages with huge chambers, and vertical shafts, gypsum flowers, delicate gypsum needles, rare mirabilite flowers, and other natural features. All are superlative examples of their type. No other known cave system in the world offers a greater variety of sulfate minerals. The flora and fauna of the cave exhibit the richest spring-fed wildlife known, numbering over 130 species, of which 14 species of cave dwelling animals are known to exist only here.

Mammoth Cave World Heritage Site is a wondrous underground world. It offers a unique glimpse of a hidden world beneath our feet.

Before European Americans arrived, pre-Columbian cultures dominated the region. Archeological sites in the area show evidence of four pre-Columbian Indian cultures: paleo-Indian, Archaic, Woodland and Mississippian. The early Woodland culture is particularly important because it marked the independent development of organized horticulture in the Western Hemisphere, with primitive agriculture on river floodplains and was the period of the first exploration and mining in Mammoth Cave. Several mummies, sandals, campfire sites, and bare foot prints have been found preserved in the stabilizing cave atmosphere.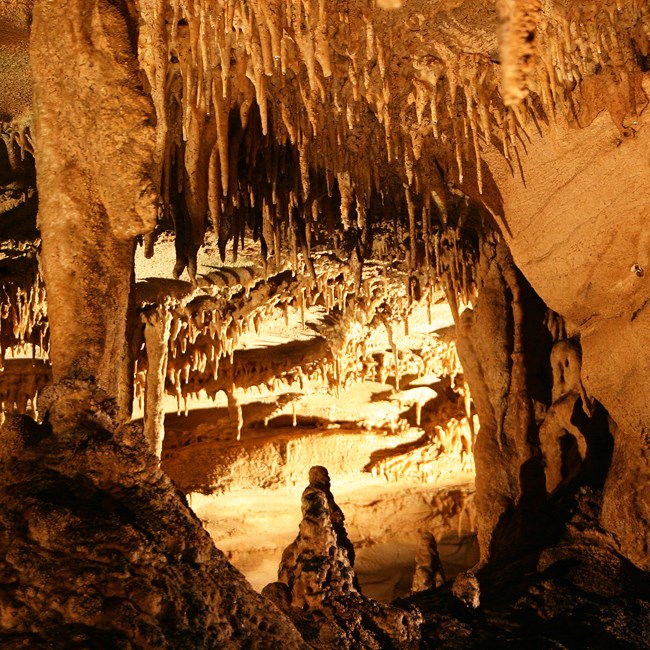 The region has attracted explorers and tourists, and supported the tourism industry since the 19th century. One historic site is the Old Guide Cemetery that contains the graves of guides, explorers, and victims of consumption. Twenty-one graves fill Old Guide Cemetery. Three are known to be patients from an experimental consumption hospital, run by the landowner Dr. John Croghan, in the cave from 1842-1843. Another grave is that of Stephen Bishop, famous enslaved cave explorer and guide of Dr. Croghan.

The park also contains the historic ruins of the railroad line used by the Mammoth Cave Railroad Company to bring tourists to Mammoth Cave between 1886 and 1929. The short line ran from Glasgow Junction to Mammoth Cave Hotel and cave bringing tourists and improving the transportation and economy of local residents. The historic railroad is now part of the Mammoth Cave Bike and Hike trail.

The caves and grounds reflect the history of the communities that existed prior to the national park's establishment. Old churches like Joppa Baptist Church and Cemetery and Good Spring Baptist Church and Cemetery remain today, telling the stories of community gatherings and everyday life in the nineteenth century.

Mammoth Cave National Park provides the thrill of exploring the caves and other sites as well as opportunities for biking, canoeing, camping, and horseback riding. The park offers ranger-led tours and campfire programs. Visitors can learn more about the history of Mammoth Cave and what to see and do at the Mammoth Cave National Park visitor center.

Mammoth Cave National Park Page: https://www.nps.gov/maca/index.htm

World Heritage Information: https://whc.unesco.org/en/list/150