Lillie Rose Hudgins was born on March 22, 1934, in South Hill, Virginia. She was the youngest of nine children and grew up valuing family above all else. She attended Bluefield State College in West Virginia and graduated with a degree in business administration. She married William Haywood Walker on November 20, 1954, at age 20. They were married 62 years before he died in 2017. They had one daughter.

She began her federal career in 1968, working as a secretary at the US Geological Survey (USGS). In 1973 USGS moved to Reston, Virginia, and Walker chose to stay in Washington, DC. She became a secretary at the Advisory Council on Historic Preservation. The next year she transferred to the National Park Service (NPS) Bicentennial Office.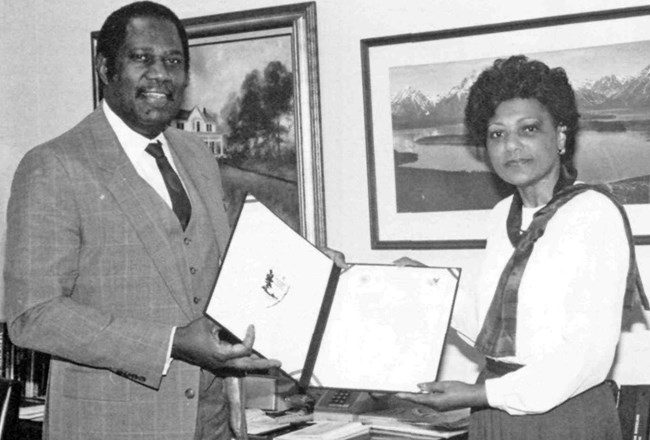 In 1976, Walker transferred to the Park Operations Program in the NPS Washington Office. Her duties put her in contact with regional directors, field personnel, others in the Washington Office, and Department of the Interior officials. In all these interactions, she was known for her pleasant personality and cooperative nature.

In 1984 Walker was promoted to secretary for the associate director of Park Operations. She received several awards recognizing her achievements and performance during her career. In 1989 Regional Director Bob Stanton presented her with an award noting that she "consistently performs at an outstanding level. Under the most pressing circumstances, she maintains the highest level of professionalism and utmost cooperation. She never hesitates to offer assistance to her fellow employees or visitors to the office."

Walker worked for the Department of the Interior for more than 30 years. She died on November 25, 2019.
Sources:
National Park Service. (1989, February). NPS People. Courier: The National Park Service Newsletter, 34 (2), pp 36.

National Park Service. (1984, October). Lillie Walker honored for performance. Courier: The National Park Service Newsletter, 29 (10), pp 18.

National Park Service. (1976, December). People on the move. National Park Service Newsletter, 11 (14), pp 18.

Obituary for Lillie Rose Walker at Oris P. Jones Funeral Establishment. (n.d.). Johnson Services: Funeral and Cremations. Retrieved January 6, 2022, from http://www.orispjones.com/obituary/lillie-walker
Explore More!
To learn more about the history of women and the NPS uniform, visit Dressing the Part: A Portfolio of Women's History in the NPS.


This research was made possible in part by a grant from the National Park Foundation.