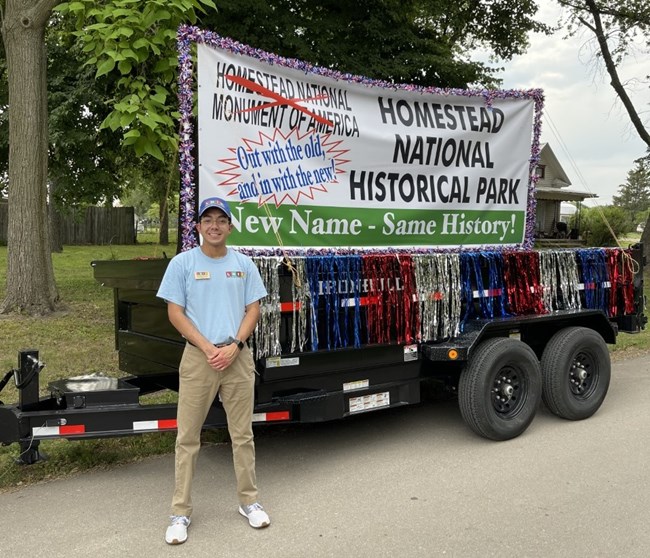 My name is Kristian Enbysk and I am an Archives Intern with the Latino Heritage Internship Program (LHIP) at Homestead National Historical Park, this summer 2021.
How did you get involved with your internship program?
During my senior year of high school in 2017, I decided to search online "internship opportunities for Latinos in the National Park Service" (NPS) and found out about the Latino Heritage Internship Program. I was thrilled to see an option to represent my community! Even though I could have applied then, I wanted to gain more education and better prepare myself if the opportunity arose in the future. Four years later and going into my senior year of college as a first generation student, I felt prepared enough to contribute.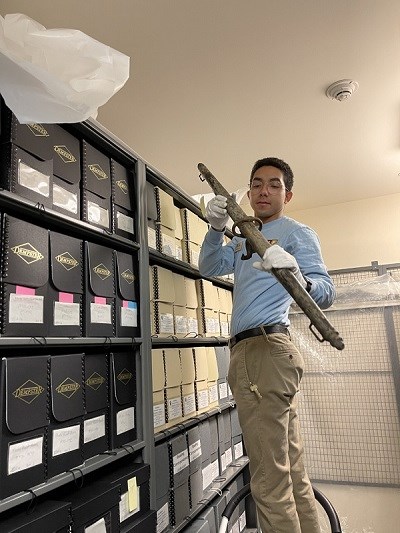 What inspired you to choose an internship with the National Park Service?
I see the National Park Service as much more than a bureau. I see NPS as an example to always find joy in America's outdoors, learn from the past, and preserve our nation's natural and cultural resources. Growing up, I was fortunate enough to explore many park units with my family. I would always see Park Rangers walking about in uniform and wanted to be just like them. Going to the parks was (and still is) a learning experience and I would be so drawn into the way history was told at the parks, I was amazed. It became my goal to contribute one day to telling those stories and uncovering new ones for the next generation to feel what I felt going to the parks.
What is the most rewarding part of the work you are doing?
First and foremost, representing the Latinx community has been gratifying. I am excited to see the diversity and inclusion of NPS expanding! Connecting with new people and gaining valuable future careers skills has also been rewarding. As I said before I am an Archives intern, so I am assisting the Cultural Resources staff at Homestead with organizing their oral history collection into archives. As I am organizing, I am listening to the stories of triumph and hardship by descendants of homesteaders. Getting to hear their experiences really puts into perceptive the sacrifices many of them made to find their happiness, that to me is humbling.
Tell us something unique and special about your site.
My site this summer is Homestead National Historical Park near Beatrice, Nebraska! It was created to commemorate the Homestead Act of 1862, which historians often refer to as one of the Nation's most significant laws ever written and in effect until 1986. The act granted up to 160 acres of free land to mostly anyone 21 years or older, which included women, African Americans, and Latinx people if they completed the requirements of cultivating and residing on the land for at least 5 years with a livable structure. What I find important is that the park invests on telling all aspects of this incredible era, especially the effects homesteading had on the indigenous people.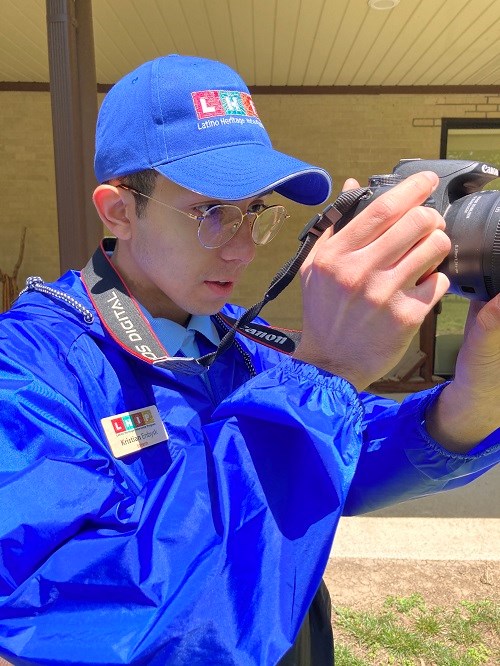 How has your cultural background influenced your passion for conservation?
Being born in Panamá to an interracial couple has shaped my outlook on life in general. Since my mother is a native Panamanian, she instilled in me the value of the Latinx culture and her love for preserving the environment. My father instilled in me the concepts of hard work and respect for history and preserving it. Going to the parks expanded that love in all of us. Being Panamanian American has shown me different aspects that create my roots. I see the Latinx communities as one people, but with many different customs, stories, and upbringings that make us unique. I urge our communities to feel proud of conserving our history and to find their passion.
What advice do you have for youth who are interested in getting involved in stewardship and the conservation field?
My advice would be to keep pursuing whatever makes you happy. A love for the environment, helping others, and learning new skills go a long way. With everything happening with the environment, specifically, there is a strength in numbers to being effective. Showing awareness spreads involvement and you can make a difference. To my community and other underrepresented communities' youth, I invite you to explore as many opportunities has you can, it shows that we are here and ready to contribute! Finally, in all things, try your best.